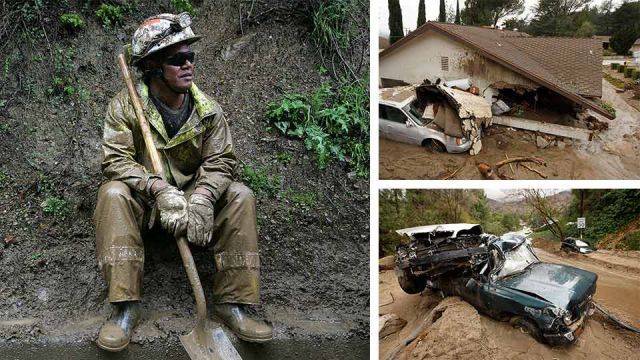 Rescue teams in Southern California are working extra hours to scan through tons of debris from the disastrous and deadly mudslides that have seriously impacted several of the state's coastal towns.
So far, nearly 17 people are dead and eight people are missing after walls of mud raged downhill. The main areas impacted are between the Pacific ocean and the Los Padres-National Forest.
Along with the fatalities, the mudslides have wiped out almost 100 homes and have injured over 28 people. "We have crews out there," said Amber Anderson, a spokeswoman for the Santa Barbara County Fire Department. "They've been working 24 hours a day."
The mudslides are a result of last month's wildfires, which were the largest in California state history. As a result, the dead grass and shrubs that held the soil in place got destroyed and baked a layer into the earth that is now preventing water from sinking deeply into the ground like normal.
Currently, residents are waiting on word for their loved ones, according to Santa Barbara County Sheriff Bill Brown.
UPDATE: As of 8 a.m. this morning there were 8 open missing persons cases and 17 confirmed fatalities related to the storm event. #sbsheriff

— SB Sheriff's Office (@sbsheriff) January 11, 2018
With rescue operation in full force, here are 21 of the most jaw-dropping images to give you some perspective on what some people are going through:
1. A highway in Montecito covered in mud
CALIFORNIA UPDATE: Authorities now say five people have been killed in the mudslide that swept away at least four #Montecito homes and shut down Highway 101. #Mudslides #CAstorm
Via @CBSLA: https://t.co/DjUI6zVENF pic.twitter.com/eSoespJIvr https://t.co/DjUI6zVENF

— The Voda Foundation (@Voda_Foundation) January 9, 2018
2. Homes destroyed in Montecito
Unbelievable devastation… this is a drive westbound on Olive Mill Rd from Hot Springs in #Montecito. The lake at the end is the 101. #Ventura pic.twitter.com/twUc3ByrLX

— Gadi Schwartz (@GadiNBC) January 10, 2018
3. A bear that got caught in the deadly mudslides
Amazing photo of bear that was caught in the #montecito mudslides #summerlandbeach pic.twitter.com/FFYc7AsisS

— Andrew Miller (@abumillers) January 11, 2018
4. Fallen trees that created major problems in the area
I've never seen anything like what I'm seeing in #Montecito today. Devastation is unbelievable pic.twitter.com/XG5uT3e9MD

— Brittny Mejia (@brittny_mejia) January 10, 2018
5. Roads completely filled with mud
Coast Village Road Exit, 101 in Montecito, CA. #Montecito #SantaBarbara pic.twitter.com/fNlNjd4KKQ

— Innovate Brand (@InnovateBrand) January 9, 2018
6. A highway completely covered in mud
My brother sent me this photo from #Montecito, CA. He tells me underneath all THAT is a hwy. He was forced to close his restaurant & like so many out there is devastated by the loss of life. #mudslides pic.twitter.com/wQMFXPI2sA

— Kara Sewell (@KaraSewellTV) January 9, 2018
7. Roads in disarray
This is intense. Dad took these while trying to get a friend out safely. #CAstorm #SantaBarbara #Montecito pic.twitter.com/4oNea4ZFSw

— Francesca Rizzo (@francescarzz) January 9, 2018
8. Boulders in the road creating major problems
Car sized boulders tossed like pebbles – the strength of the floods devastating #Montecito pic.twitter.com/jrpA28PMs5

— Dirk Blocker (@DirkBlocker) January 9, 2018
9. The damage as seen by NASA
#Montecito before and after the #DebrisFlow as seen by @NASA_Landsat. https://t.co/n0sALY1TFw #CAstorm pic.twitter.com/gcXU4XDB1d

— NASA Earth (@NASAEarth) January 11, 2018
10. A highway covered in mud
11. Oprah showing the destruction in her yard
12. First responders walking in thick mud
13. A destroyed home
14. A car being carried in the mud flow
15. A vehicle stuck in the mud
16. A beach in Santa Barbara
17. First responders at a house
18. Roads turned to swamps
101 north bound in #montecito looks more like a swamp than a freeway. #castorm #mudslide
19. A woman being rescued
20. Mud across the landscape in Santa Barbara
21. First responders looking for missing people
Un perro ayuda a los bomberos a buscar entre los escombros en Montecito. Los aludes de lodo provocados por fuertes lluvias han causado la muerte de al menos 13 personas en el sur de #California. El número de muertos aún podría aumentar, según el sheriff del condado de #SantaBárbara #MudSlide
— PJ Amirata