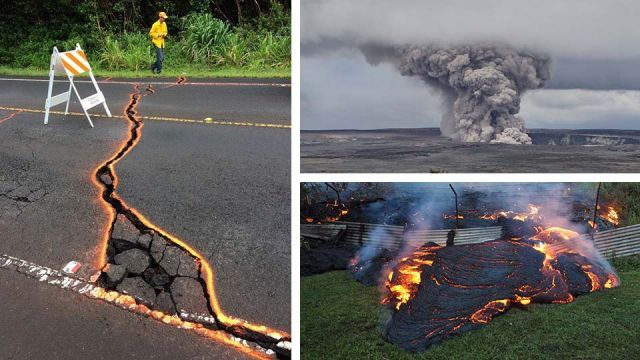 This past week, the Kilauea volcano erupted and has been blowing toxic steam and releasing lava. Kilauea is the world's largest active volcano and it is located on Hawaii's Big Island.
Geologists are now warning that a possible explosion of the summit could be the largest in over 100 years. In fact, the National Park which surrounds the caldera has been shut down indefinitely over fears of flying boulders the size of cars which can shoot out as fast as 125 m.p.h.
These fears are intensifying over the higher lava levels in the volcano drain. When the molten rock gets as high as groundwater levels, the pressurized steam can cause explosions, making the situation far more dangerous.
There have been confirmed reports of the volcano sending walls of lava into houses and cars. Additionally, there has been acid rain across the island. Sadly, officials are reporting that this could only be the beginning of the region's problems if the eruption intensifies.
Thankfully, there have been no reported injuries thus far. That being said, here are 17 of the most shocking images that have been released.
1. A road covered in lava
Before and after images illustrate the damage caused by lava from Hawaii's Kilauea #volcano: https://t.co/Qx5pDXA6aA pic.twitter.com/6mijDEiZPj

— The Weather Channel (@weatherchannel) May 6, 2018
2. House is destroyed by lava
Kilauea volcano Hawaii May 6 2018 pic.twitter.com/gjxzDnioTE

— Подсолнух Пиндостана 🇺🇸 (@pendostan) May 6, 2018
3. Lava flowing over road
4. Lava in the main vent
Lava from a volcano on Hawaii's Big Island has now destroyed 35 homes and other buildings. 1,700 people have been evacuated. Some residents of the island's eastern corner were allowed to return home briefly, but told to be ready to leave "at a moment's notice." pic.twitter.com/1Zb9c9gPTX

— AJ+ (@ajplus) May 7, 2018
5. Ground cracks from the eruption
6. Lava flowing in Leilani Estates, a nearby town
Please pray for my island ❤️ I'm so torn by this. Seeing so many peoples lives change in an instant. Losing their homes and becoming completely displaced with no shelter or food breaks my heart. On the other hand the Island is alive and although I believe in God I do respect my Native Hawaiian Ancestry and the belief in the Goddess Pele and that this is her land, and we are only caretakers. Our island is still young and growing. ::: For those that are ignorant and mock those that live there; please be respectful. Many ppl who live there have lived there for generations and it is Home ❤️ ::: Mahalo @thewongone808 for using his resources to help the island that so many of us love ❤️ ::: One thing I do love about our culture is everyone helps each other. Natural disasters no matter what island we all help and stand together. #hawaiiismyhome #prayforpuna #heartbreaking #kilauea #ehawaiiekuuonehanaue #imua #hawaiitowashington #hehawaiiau #hawaii #maui #lanai #molokai #kahoolawe #oahu #kauai #niihau
7. Lava shooting up
■ 2,140 degrees Fahrenheit

■ 26 homes destroyed

■ 1,700+ residents evacuated

■ 10 fissures

■ 1 earthquake per hour

Here's what Hawaii's volcano eruption looks like — by the numbers https://t.co/efSSQV0apO pic.twitter.com/9SEbqYSrLC

— CNN (@CNN) May 7, 2018
8. Lava eruption
9. Lava flowing in a residential area
10. Smoke from the summit
Clear from Leilani all the way back to the summit. In the Leilani image, you can clearly see the path of the NE rift all the way back to Puu Oo. #halemaumau #earthquake #Hawaii #hvnp #hppa #volcano #Kilauea #lava #NEWSで妄想 #KilaueaVolcano #LeilaniEstates #travel #BigIsland pic.twitter.com/QozA1gku0o

— lavapix.com (@lavapixcom) May 11, 2018
11. Lava
12. Lava flows near a house
Más de una semana de actividad del volcán Kilauea en Hawaii que nos ha dejado imágenes impresionantes de los ríos de lava. #kilauea #hawaii #volcano #volcan #naturephotography #fire #photooftheday #amazing #like4like #look #instalike #picoftheday #bestoftheday #instacool #webstagram #colorfull #tamagochiAB
13. Helicopter shot of the lava flow in a residential area
14. Smoke from the eruption
Smoke From The Kilauea Volcano Eruption On The Big Island Of Hawaii. Pictures from @Volcanoes_NPS #Kilauea #Volcano pic.twitter.com/4pm3iOnw3k

— PJ Amirata (@pamirata) May 11, 2018
15. Lava flows through trees
Hawaii's Kilauea Volcano has erupted. Molten lava bubbled up on paved streets and made its way near homes on the Big Island.

Nearly 1,500 residents were evacuated. No injuries have been reported. pic.twitter.com/rGRr5A7TJ3

— AJ+ (@ajplus) May 4, 2018
16. Photo taken at the Volcano House Hotel nearby
Threat of dangerous volcanic activity in Hawaii could continue for weeks and violent explosions could occur with "very little warning," Hawaiian Volcano Observatory says. https://t.co/meFVrgjce3 pic.twitter.com/RnM6NhlF6E

— ABC News (@ABC) May 10, 2018
17. A Leilani Estates resident finds lava spewing in backyard
— PJ Amirata