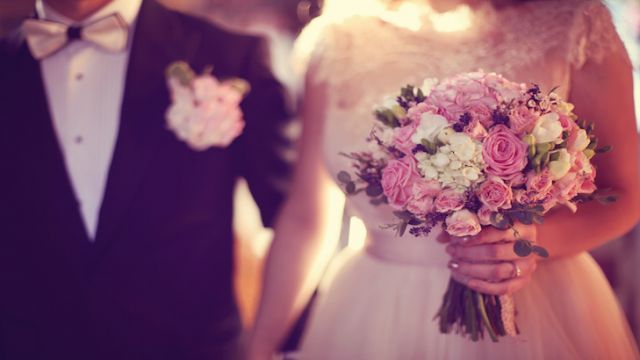 For many people, a wedding ceremony is one of the most important moments of their lives. So it makes sense to want to do something a little out of the ordinary, in a memorable place.
Riding a rollercoaster
Well, if you want your wedding to be some sort of metaphor for life, maybe riding a rollercoaster is the way to go. Or with wedding nerves and excitement and all, maybe that's just too much adrenaline for one moment?
In a library
Or, perhaps just outside of it. A couple in Britain got married outside the Bodleian Library, which has also been used as a film location for Harry Potter.
On top of a mountain
Two Nepalese climbers got married on top of Mount Everest in 2005. With little oxygen available, the ceremony could only last 10 minutes as they were exchanging their vows at 29,035 feet.
In a lake
Why stand in front of a lake when you can get your feet wet and stand in it?
The Titanic Museum
Would a wedding here be morbid or romantic? Located in Branson, Miss., and opened in 2006, the museum is shaped like the original Titanic, but it's half the size. A marriage here could turn out to be bad luck, however, as all guests are given an entrance ticket that is also a ticket aboard the boat. At the end of the visit, guests are told whether their ticketed passenger survived or not.
Inside a glacier
In March of this year a couple got married inside a glacier in Iceland.
In the sky
In Spain especially, there are a range of skydiving centers that will hoist a platform into the air big enough to accommodate 20 guests. There are a range of different backdrops to choose from, and at the end of the ceremony the couple will often bungee jump off the platform.
In a submarine
Whether at the U.K.'s Royal Navy Submarine Museum, or on an actual submarine, this would certainly be a wedding to remember.
In a hot air balloon
It would have to be a small wedding, but the view could be worth it. An alternative is a hot air balloon fair, on the ground, with the beautiful balloons in the background.
In a shop
Incredibly commercialized, or down to earth and affordable —it's hard to say which is true of this particular venue. But some couples have gotten married in a 99 cents store, with even the gowns and decor coming from the shop.
In a tree or tree house
For nature lovers, this could be a very peaceful and aesthetic place for a wedding. Music among the trees could be lovely, or perhaps nature's original music would be the way to go.
At a dinosaur museum – Many museums actually cater for weddings, and they tend to have all the right facilities, including seminar rooms for the ceremony and a restaurant.
If you plan to get married, where do you think you'd like to hold the wedding? Or if you're already married, where did you hold the ceremony? How important is the wedding location? Or is it the marriage and relationship afterwards that matters more?
-Tamara Pearson