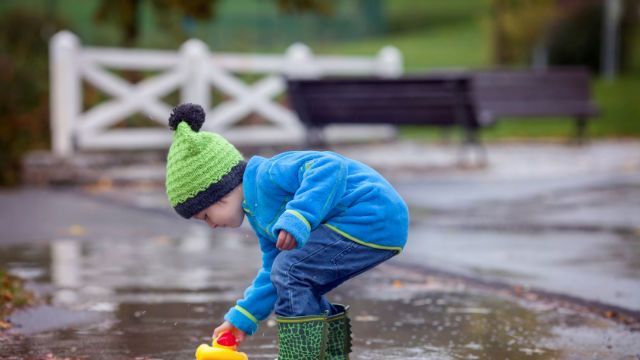 For parents with toddlers, rainy days may be most unwelcome – you may be cooped up in the house, or not looking forward to getting wet though your little one is begging to go run in the drizzle. Well, we've got your guide to rainy fun right here – for both the outdoors and the indoors.
On those mild, drizzly days, the brave and adventurous may wish to bundle up in raincoats, hats and boots, and head out to explore the great, wet outdoors! Here are a few outdoor rainy fun ideas:
Jump for joy!
Jumping in puddles is a given, but if you join your child, they will be one happy camper. Don your own rain boots, and see which one of you can make the biggest splash (you may want to let them win)!
Have a sailboat race!
Get your wading pool out of the garage, and fill it with a few of your child's bath toys and toy boats. Place the pool outdoors in a safe place, and watch out the window with your child as it fills with rain. Then, you can go out and race the boats across, with the rubber ducks serving as the cheering section!
Invent a rain dance!
If you're feeling especially cooped up and it's not too cold, go out there and make up a rain dance! It will be hard to find something to put a bigger smile on your toddler's face than some new, splash-tastic dance moves.
Observe the plants quenching their thirst
As you walk by trees, grass and emerging flowers, explain to your child that they all drink rain to quench their thirst and grow tall. Observe the drops collecting on the leaves and blades of grass.
Measure the depths
Find a stick tall enough to serve as a walking stick for your little one – and get one for you, too! As you walk by (or into!) puddles, have your child dip the stick inside to see how deep each puddle is.
Have a backyard rain picnic
For the extra-adventurous, how about a backyard picnic? If you have a gazebo, you're covered. If not, set up a big beach umbrella outside, sheltering a tarp or waterproof blanket you can place on the ground or steps. Bring a few snacks and maybe some smoothies, and sit outside with the rain falling around you.
Of course, on those cold or really rainy days, there's no heading outside with a little one. On those days, you may have to enjoy the rainy day from the view of your window. Here are a few other things you can do to make it more fun:
Decorate the windows
Place colorful, rain-themed decals on the windows, so your child can view the wet landscape through a line of ducks, a pack of frogs, or a school of fish, for just a few ideas.
Make homemade play dough
Combine 1 cup oatmeal, ½ cup flour and ½ cup water. Mold into your favorite fun shapes. You can paint them with non-toxic paint once they harden.
Have a rain-time photo shoot
Even if it's too cold to go outside, you can still dress up in your rain clothes with your child, and take some photos! Maybe have your child pose near a window looking out into the rain, or they can pretend they're rowing the bathtub to shore with a paddle. The possibilities are endless!
Learn about where rain comes from
Tell your child the story of how rain collects in the clouds and falls to Earth, only to be evaporated into the atmosphere again. You can read them a book, sing a song, simply tell the tale or even have a puppet show!
Take a drive to a lake or river and watch the ducks
If it's not too slippery to drive and you live near water, take the little one to a parking spot by a pier, where you may catch a glimpse of some ducks, or at least enjoy the sounds of the rain falling on the water.
Have a sing-along
It may not be the most original idea, but it's always fun! "Rain, Rain, Go Away…" "The Itsy Bitsy Spider…" these are likely some of your child's favorite songs. Sing them together and the rain won't feel so gloomy!
With all there is to do, you may actually find yourself looking forward to rainy days (well, sometimes)!
-The Alternative Daily