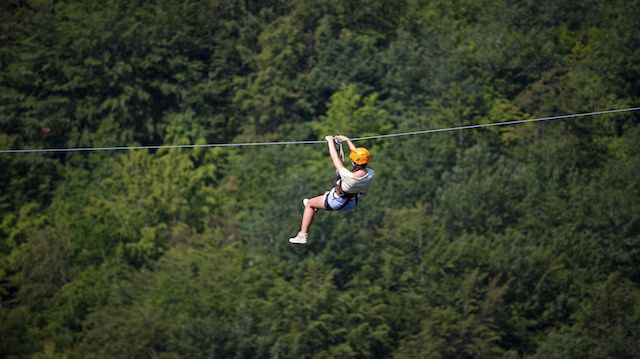 Zipping down a cable at death-defying heights as you cross between trees or soar above remote areas is certainly a thrilling alternative activity. However, zip line accidents and injuries are steadily increasing as the number of zip line enthusiasts climb, according to United States emergency room data.
A very recent study published in The American Journal of Emergency Medicine (2015) analyzed zip line associated injuries between 1997 and 2012. Researchers at the Center for Injury Research and Policy, The Research Institute at Nationwide Children's Hospital and Ohio State University College of Medicine, Columbus, Ohio, investigated the "epidemiology" of zip line injuries.
The study found that during the 15-year period, there were 16,850 zip line related injuries treated in emergency rooms across the nation. Most injuries had occurred in the last four years of the study. They included broken bones, cuts and sprains. The research did not take into consideration deaths. However, since this study is the first of its kind, it is likely to heighten awareness of zip line injuries and spawn further studies.
The data was pulled from the Consumer Product Safety Commission database for national injuries. The overall injury rates increased significantly between 2009 and 2012. In 2009, there were eight injuries per one million people. By 2012, that number rose to 12 per one million.
Tracy Mehan, one of the study's authors and researcher at the Research Institute at Nationwide Children's Hospital in Ohio, noted that 12 percent of all injuries resulted in hospital stays, which is higher than other more conventional sports. Mehan advocates for a more regulated safety oversight in order to halt potentially fatal injuries in the future.
There have been six zip line associated deaths already this year. Most deaths occur from falls. The death of a 12-year-old North Carolina girl in August 2015 sparked a whirlwind of discussion on zip line regulations by the North Carolina General Assembly.
There are currently over 200 commercial zip lines operating in the United States, as well as thousands of backyard zip lines across the nation, which are unregulated and in all likelihood, unsafe.
Most of the noncommercial zip lines are found at schools and summer camps, which is where most of the injuries occur. The remaining 30 percent of zip-line injuries happen in backyards and farms.
Have you zip-lined? I've had some extremely fun experiences on a zip line, but have also seen some slightly sketchy ones. In my case, most of my zip line experiences have been in very remote developing countries which may have more relaxed safety regulations than the United States.
Zip-lining as an alternative, exciting activity is a must-do if you are on vacation and have access to a professional, commercially operated zip-line course. On the other side of the coin, you probably don't want to use your buddy's zip line, strung up loosely between two skinny trees in the woods of his or her farm.
In all extreme activities, safety is paramount, whether it is zip-lining, hang gliding, parasailing or skydiving. Although many would consider skydiving far more dangerous than zip-lining, the rate of deaths is only about double. There were 24 skydiving deaths in 2014, according to the United States Parachute Association (USPA).
When participating in any alternative activity or sport, it is essential to understand the safety involved. Many alternative sports can be extremely fun and may offer exceptional physical and mental health benefits. However, staying safe is just as vital as staying healthy.
What alternative activities do you do?
—Stephen Seifert
Stephen Seifert is a writer, professor, adventurer and a health & fitness guru. His flare for travel and outdoor adventure allows him to enjoy culture and traditions different than his own. A healthy diet, routine fitness and constant mental development is the cornerstone to Stephen's life. 
Sources:
http://www.ajemjournal.com/article/S0735-6757(15)00688-9/abstract
http://www.uspa.org/AboutSkydiving/SkydivingSafety/tabid/526/Default.aspx