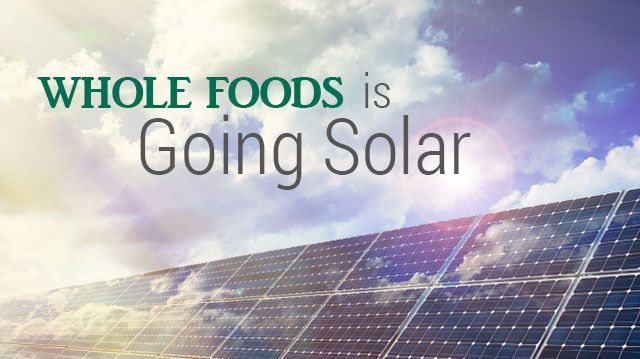 It's so refreshing to see big corporations switching to cleaner energy sources. The latest to jump onto the solar train is organic retailer Whole Foods Market. Whole Foods recently announced that they will partner with SolarEnergy to have many of their stores redesigned with solar energy systems.
According to the current deal, SolarCity, which was co-founded by Elon Musk, will install solar panels in up to 100 of Whole Foods' stores. NRG Energy is also in on the project, and is contracted to provide 84 locations with solar panels.
While this is still only a fraction of Whole Foods' 431 locations, it's a sizable start, which will not only provide Whole Foods with cleaner energy, but also lower energy costs.
In a statement, SolarCity spokespeople wrote: 
"SolarCity will custom design each solar power system to maximize the amount of grid power offset and expects to begin installation this spring. Whole Foods Market will also save money with the new solar installations by purchasing power from SolarCity at a discount to current electricity costs, locking in low solar energy rates for years into the future."
By using these rooftop solar panels, Whole Foods will become much less dependent on the traditional power grid — a move that's wonderful to see, and could set a precedent for many other retailers nationwide. Whole Foods and SolarCity expect that once the panels are complete, Whole Foods Market will make it into the list of top 25 corporate solar users in the United States.
In their annual Solar Means Business Report, the Solar Energy Industries Association (SEIA) wrote:
"While solar has long been viewed as an environmentally responsible energy choice, businesses now deploy solar because it is a smart fiscal choice as well." 
Following this announcement, stock prices for both Whole Foods and SolarCity have risen.
Some of Whole Foods stores already have alternative energy structures in place. For example, a store in Berkeley, California, has had solar energy as its main lighting power source since 2002. Another Whole Foods store, in Brooklyn, New York, has both solar power and wind turbine power sources. This store also has a greenhouse and electric vehicle charging stations.
Whole Foods is at the forefront of many movements that are benefiting both consumer health and the planet. The retailer has been strongly behind the GMO labeling movement for years, and has set a deadline of 2018 for all GMO-containing foods in its North American stores to be labeled. Whole Foods has also banned plastic bags from its stores — a positive step for the environment as plastic is a huge source of landfill waste.
In 2014, Whole Foods began a "Responsibly Grown" labeling system, which aims to help shoppers understand where their food comes from, with a focus on sustainability. While the system has some flaws, such as allowing foods using certain pesticides to be eligible for the rating, it's still an overall beneficial initiative. Knowing where our food comes from is crucially important, and though the program could use some improvements, it's again a good start.
Now, with its commitment to solar power, Whole Foods could nudge above its competition and drive other businesses to make similar clean energy initiatives a reality. 
We salute this move: The more businesses (and individuals) turn towards cleaner energy, the less dependant we as a nation will become on oil, coal, and other non-renewable, carbon-emitting sources. For our planet, this is good news, indeed.
—Tanya Rakhmilevich
Tanya is a writer at The Alternative Daily with a passion for meditation, music, poetry, and overall creative and active living. She has a special interest in exploring traditional Eastern remedies and superfoods from around the globe, and enjoys spending time immersed in nature.
Sources:
http://www.cnbc.com/2016/03/08/whole-foods-strikes-solar-panel-deal-with-solarcity.html
http://www.solarcity.com/newsroom/press/solarcity-work-whole-foods-market-install-solar-power-systems-across-us
http://fortune.com/2016/03/08/elon-musks-solar-city-spikes-after-winning-solar-panel-deal-with-whole-foods
https://ecowatch.com/2016/03/09/whole-foods-solarcity-nrg-solar