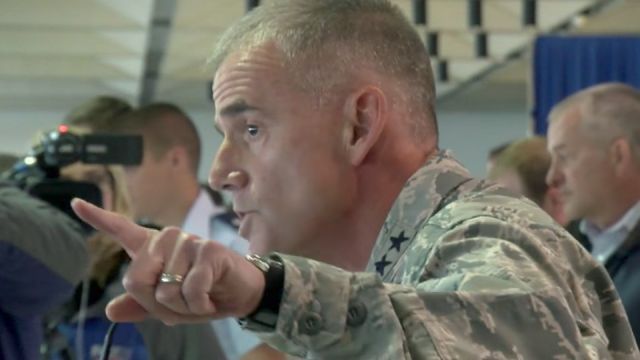 When racial slurs were scribbled on the doors of African American students at the U.S. Air Force Academy in Colorado, one Air Force leader had a strong message for racist students. Here's what happened.
N-word inscribed on cadets' rooms
According to reports, "Go home [n-word]" was inscribed on several cadets' dorm rooms at USAFA. Below is a picture of one message:
"[N-words] go home" written outside 5 Black military cadets' dorm rooms; Air Force Academy offers weak response https://t.co/BhXzb8bMn8 pic.twitter.com/deEdoCVHIH

— The Root (@TheRoot) September 29, 2017
'Treat people with respect, or get out' says Silveria
This sparked Superintendent Lt. Gen. Jay Silveria to gather all 4,000 cadets, plus other staff, in a hall so they could hear his message loud and clear. "There is absolutely no place in our Air Force for racism," Silveria said. "I've said it before: the area of dignity and respect is my red line. Let me be clear, it won't be crossed without significant repercussions. Treat people with respect, or get out."
Watch his statement below:
"If you can't treat someone with dignity and respect–then you need to get out."-Lt. Gen. Jay B. Silveria, Superintendent @AF_Academy pic.twitter.com/njCktv5Fmp

— U.S. Air Force (@usairforce) September 28, 2017
As seen above, Silveria makes his message loud and clear. The video is currently the #12 trending video on YouTube and it already has over 50,000 views. It was uploaded by the Air Force Academy's official YouTube account yesterday.
Silveria's five-minute speech was driven by his urge to address the incident head-on. More than 5,500 people were in attendance, which included coaches, faculty, airstrip personnel, senior officers and staff of the 10th Air Base Wing. "The appropriate response for horrible language and horrible ideas — the appropriate response is a better idea," Silveria said. "So that's why I'm here. That's why all these people are here."
"If you're outraged by those words, then you're in the right place," Silveria said of the racist graffiti. "That kind of behavior has no place at the prep school, it has no place at USAFA and it has no place in the United States Air Force."
Silveria mentioned that these events on campus took place when racial tensions are already high across the nation due to the national anthem protests and Charlottesville. "We would be naive to think we shouldn't discuss this topic," he said. "We'd also be tone deaf not to think about the backdrop of what's going on in our country. Things like Charlottesville and Ferguson, the protests in the NFL. What we should have is a civil discourse, and talk about these issues."
After Silveria's speech, the room was in utter silence. The incidents are being further investigated, but it appears as if there is only one vandal involved due to the hand writing.
Twitter responds to Silveria's speech
Silveria's speech has lead to lots of discussion on social media, especially on Twitter:
"Go home n**ger" found outside black cadets dorm room at USAFA.

Big credit to Lt. Gen. Jay B. Silveria for being a leader of men. https://t.co/ZpCeUL7s2x

— Josina Anderson (@JosinaAnderson) September 29, 2017
Been a week. Reminded of what service and sacrifice means by watching Vietnam. Reminded what class is by listening to Lt. Gen. Silveria

— American Veteran (@amvetsupport) September 29, 2017
More leaders like Lt Gen Silveria that clearly & effectively shut down racism & bigotry is what this country needs. I salute you sir.

— Simar (@sahluwal) September 29, 2017
Silveria further clarified his stance during an interview on CNN today:
Air Force Lt. Gen. Jay Silveria talks about his comments to cadets that racists "need to get out" https://t.co/LxVowH26gR pic.twitter.com/hKGZiFA3A6

— CNN (@CNN) September 29, 2017
Do you think Silveria handled this situation properly? In your opinion, are racial tensions being handled in the best possible way across the United States? We would love to hear your input on this subject in the comments.
— Peter Amirata