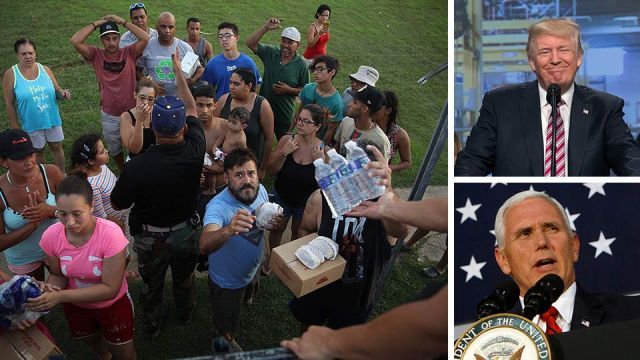 Earlier this week, President Trump announced he would be traveling to Puerto Rico on October 3. Today, Vice President Pence announced he would be traveling to the island nation next week also.
At @POTUS' direction, @VP will travel late next week to Puerto Rico & the U.S. Virgin Islands. View VP's remarks yesterday re: Puerto Rico. pic.twitter.com/tOg3YpiUmI

— Jarrod Agen (@VPComDir) September 29, 2017
This news comes after intense scrutiny of the Trump administration's response to Puerto Rico, where many thought they weren't supplying nearly as much support as they were to other areas hit by Hurricanes Maria and Irma. Also, it appears the Puerto Rico took a much stronger hit than Texas and Florida, especially due to their infrastructure and power grid, which is currently destroyed.
Vice President Pence continued to defend the administration's efforts by saying in a statement, "Our hearts, our support and our prayers are with our fellow Americans struggling to rebuild their lives in the wake of Hurricane Maria in Puerto Rico and the U.S. Virgin Islands. From the outset of this storm, President Trump directed the full resources of the federal government to support rescue and recovery efforts. I'm proud to say our administration has delivered over 4.5 million meals, 4.6 liters of water and many millions more are on the way," he said.
Also today, President Trump defended his response, adding that aid has been harder to provide to the area because of geography and the island's large debt. "This is an island, surrounded by water. Big water. Ocean water," Trump said during a speech in Washington.
"We will not rest, however, until the people of Puerto Rico are safe," added Trump. "These are great people. We want them to be safe and sound and secure and we will be there every day until that happens."
Yesterday, the president tweeted this:
Puerto Rico is devastated. Phone system, electric grid many roads, gone. FEMA and First Responders are amazing. Governor said "great job!"

— Donald J. Trump (@realDonaldTrump) September 29, 2017

Also today, the mayor of San Juan, Puerto Rico gave an emotional request asking for more federal assistance.
Trump said things in Puerto Rico are going "really well."

San Juan's mayor: "I am begging anyone that can hear us to save us from dying" pic.twitter.com/TiEoR4euq0

— Salvador Hernandez (@SalHernandez) September 29, 2017
Puerto Rico's governor tweeted this on Wednesday:
Briefed @POTUS @realDonaldTrump in #SituationRoom and thanked him for his leadership, quick response & commitment to our people 🇵🇷 pic.twitter.com/hIFKYSMCDY

— Ricardo Rossello (@ricardorossello) September 26, 2017
So far, it appears as if Puerto Rico's governor is content with the president's response, while others in the city are still very upset with how the recovery is going.
Do you think the United States is doing enough to help our own Puerto Rico? Let us know in the comments!
— Peter Amirata