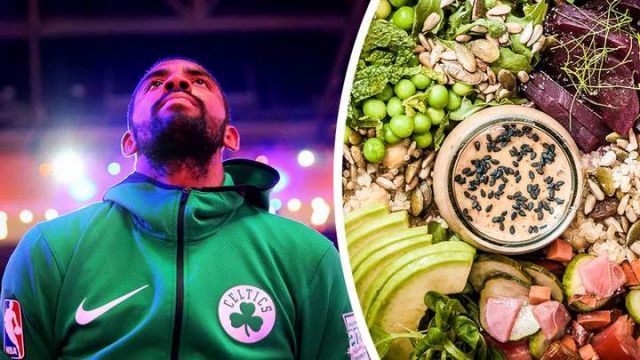 There's a new performance-enhancing technique sweeping the NBA, but it is not the usual suspects (steroids, growth hormones or plasma-boosting therapies). Instead, several very prominent basketball stars are taking their game to new heights by going vegan.
Kyrie Irving, a point guard for the Boston Celtics, is the poster child for this emerging trend, which is literally changing how the game of basketball is played. The emerging superstar has been described as "a Harlem Globetrotter and Houdini all in one" because his dazzling speed, boundless energy and remarkable endurance seem to leave opponents befuddled. In clutch situations, the 6' 3" Irving seems to have that extra burst of energy that leaves the opposition gasping for breath trying to keep up.
A plant-based diet powering high-performance?
Irving himself (and numerous commentators) are crediting his plant-based diet as a key factor driving his performance. You see, Irving is following what is known as a vegan diet, which means that he only consumes foods from non-animal sources. This is even a step beyond vegetarianism, which still includes egg and dairy products, but not food sources that directly and necessarily involve the killing of animals (of course, because of industrial agricultural practices and factory farming, many dairy products like eggs and milk do involve methods that result in harm and death to animals. For example, the practice of culling of male chicks). In contrast, Irving's vegan diet does not include protein sources like poultry, yogurt, eggs, dairy or fish. With a vegan diet, no animals are harmed.
At 193 pounds, Irving is comparatively scrawny compared to most NBA players (who average 6' 7" and about 225 pounds). But observers say nutrition appears to be giving him an edge because speed and endurance are proving superior to brawn in today's fast-paced NBA.
Speaking of Irving, Boston Celtics coach Brad Stevens says, "He's had great energy all year. The nutrition side is huge." That's Irving's take too. As he explains, "[I've] been on more of a plant-based diet, getting away from the animals and all that. I had to get away from that. So my energy is up; my body feels amazing."
NBA players are going vegan
A lot of other NBA players have taken note and are switching to a vegan diet as well. Damian Lillard, Wilson Chandler, Al Jefferson, Garrett Temple, Enes Kanter, JaVale McGee and Jahlil Okafor are among those who are drinking soy milk and eating meatless tacos in place of foods from the paleo diet (like milk and chicken wings). The reasons for the shift are multiple:
NBA athletes say the vegan diet fights game-related inflammation and helps them recover faster.

Recently, a very high number of ex-NBA stars have died young from cardiovascular disease, which is associated with a traditional meat-based diet.

Numerous NBA players have reported watching documentaries such as "

What The Health"

and "

Detox Your Life," 

which chronicle how the food industry profits by abusing animals while utilizing practices that endanger both the planet and human health.
Vegan diet is good for health, animals and the planet
Garrett Temple, a guard with the Sacramento Kings, was so impressed with "What the Health" that he tweeted the following (which drew an encouraging response from PETA too):
https://twitter.com/peta/status/889602857737039872
John Salley, a former NBA all-star agrees. He's been pushing NBA players to eat healthier for years because exceptionally tall people are at greater risk for heart problems. As Sully notes about "What the Health," "If you ever see that movie and you still eat meat, then you're just stupid."
Vegan style diet in the NFL
The NBA isn't the only professional sports franchise where veganism is making an impression. Five-time Super Bowl champion, Tom Brady, eats a mostly plant-based diet. Brady's personal chef says the NFL's leading QB does incorporate some lean meats (mostly wild salmon and organic free-range chicken), but 80 percent of his diet is plant-based (and only organic). It's not quite vegan, but it's been described as "vegan style."
Perhaps there is a lesson here. Namely, plant-based diets aren't just good for you — they are good for animals, the planet and high-performance.
— Scott O-Reilley