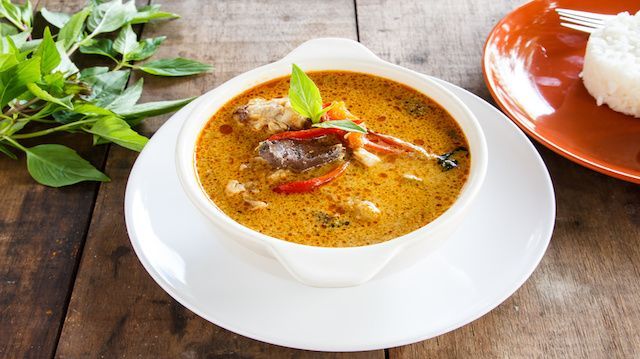 Packed with exotic spice and flavor, these simple soup recipes will warm you up without weighing you down.
Hit your local Asian grocery store and pick up some gluten-free fish sauce, kaffir lime leaves and bird's eye chilies or Thai chilies. These unmistakable Thai flavors will make your soup sing! 
Hot and Sour Thai Chicken Soup
4

cups

organic chicken stock

1

small bunch

of cilantro (coriander leaves plucked from the stalks)

2

small

Thai chilies, halved lengthwise and deseeded

1

stalk

lemongrass, white base roughly chopped

1-inch

piece

of fresh ginger, peeled and thinly sliced

2

medium

tomatoes

2

skinless chicken breasts

3

spring onions, trimmed and finely sliced

1/4

cup

fresh shelled peas

1/4

cup

sugar snap peas cut in half

1

tbsp

high-quality, gluten-free Thai fish sauce

1

tbsp

tamarind paste

2

tbsp

fresh lime juice
Place the chicken stock in a large pot over medium to high heat. Add the cilantro, 1 chili, lemongrass and ginger. Bring the stock to a boil and stir to combine. Reduce the heat to a gentle simmer; cover the pot and cook for 15 minutes, allowing the flavors to infuse the stock.

Pour boiling water in a bowl. Add the tomatoes and allow them to sit for 1 minute. Drain the water and skin the tomatoes. Cut them into quarters, remove the seeds, and slice each quarter lengthwise thinly. Set aside. Slice the chicken breasts into small, thin strips, and set aside.

Strain the chicken stock through a sieve over a large glass bowl and discard the coriander, chilies, lemongrass and ginger. Return the stock to the pot. Bring to a simmer.

Add the chicken and half of the sliced spring onions. Cover and poach the chicken gently for approximately 5 minutes, or until cooked through.

Uncover the stock; add the remaining chili, peas, sugar snap peas, fish sauce, tamarind paste and lime juice. Gently simmer for 2 to 3 minutes. Add the sliced tomatoes and remaining spring onions, and ladle into bowls for serving.
Thai Coconut Soup with Mushrooms
10

cilantro roots

6

stalks

lemongrass, white base only

10

kaffir lime leaves

2

cans

unsweetened coconut milk

3

shallots, peeled and thinly sliced

2

small

Thai chilies, halved lengthwise and deseeded

1-inch

piece

of fresh ginger, peeled and thinly sliced

4

cloves

garlic, peeled and pressed

1/4

cup

coconut sugar

1

cup

white button mushrooms, washed and thinly sliced

2

limes, juiced

2

tbsp

high-quality, gluten-free Thai fish sauce

1

cup

spring water

1/8

tsp

sea salt, optional

1/8

tsp

pepper, optional
Wash the cilantro well until completely free of dirt, and remove the upper portion of the stems. Set them aside for garnish.

Pound the lemongrass to release the fragrance. Tear the kaffir lime leaves into smaller pieces.

Pour the coconut milk into a medium saucepan. Add the cilantro roots, lime leaves, lemongrass, shallots, chili, ginger, garlic and coconut sugar. Cover and bring to a very gentle simmer for 15 minutes.

Strain soup through a sieve into another saucepan. Discard all ingredients. Add the sliced mushrooms, lime juice, fish sauce and enough water to achieve a light, creamy consistency.

Bring soup up to a light simmer again and cook the mushrooms slightly. Do not boil. Season with salt and pepper and serve immediately. Garnish with cilantro leaves, a thin slice of chili, extra lime juice and thinly sliced lime leaves.
As always, choose fresh, organic ingredients when available.  Enjoy!
—Katherine Marko
Katherine Marko is a freelance writer, author and blog creator. Her areas of expertise include food, health, style, beauty, business and nutrition. Marko holds a Bachelor of Arts in English, a diploma in photography, graphic design and marketing, and certification in esthetics.