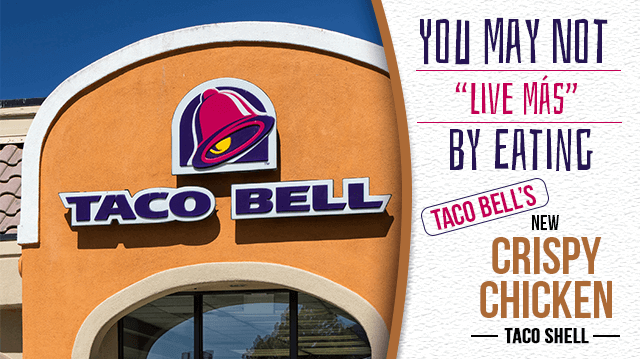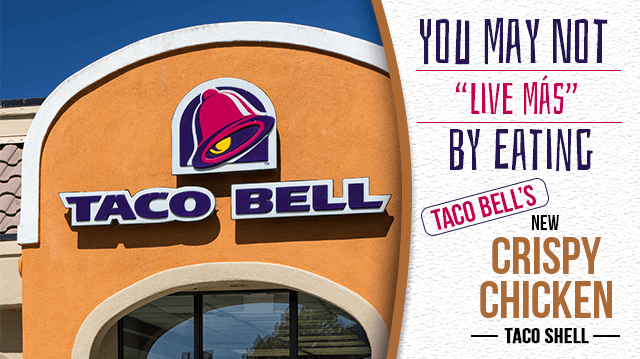 Taco Bell has taken their menu to new bizarre heights by introducing the "Naked Crispy Chicken Taco," a taco designed without the traditional tortilla, which is swapped out for a bendable slab of fried chicken. Your arteries may have just gotten a little tighter by the mere thought of such a bizarre, fried oddity.
I think after eating a few of those Naked Crispy Chicken Tacos, you may not want to see yourself naked! Taco Bell's newest creation contains lettuce, cheese, tomato and an avocado ranch sauce, all wrapped in fried chicken. Wait, avocado ranch sauce? What's wrong with regular avocados?
Traditional Mexican tacos — and most traditional Mexican dishes for that matter — are delicious, and in most respects, they are very healthy. I ate tacos every night on a recent trip to Mexico, and I lost weight. Traditional tacos are made with fresh ingredients on handmade tortillas. They even boast regular old avocados, which are magnificent for your health and taste buds. So why mess with a good thing?
 Taco Bell is a corporate food entity always on the hunt for the next big marketing boost via new and novel menu items. The Naked Crispy Chicken Taco is the company's newest creation, but not its first by any means. Let's take a glance into some of Taco Bell's most odd and unhealthy food choices over the years.
The not so "Live Más" menu
 The Waffle Taco. It appears Taco Bell is under the impression that Americans do not like regular tortillas. In 2013, Taco Bell launched the Waffle Taco in hopes of boosting their bottom line by upping sales to the breakfast crowd. It included a sausage patty and scrambled eggs, wrapped in a waffle blanket and served with maple syrup, a substitute for salsa. You may be speechless.
 Mountain Dew Kickstart Orange Citrus. If you are thirsty after eating the clogging Waffle Taco drenched in maple syrup, then you can wash it down with a Mountain Dew Kickstart Orange Citrus. The Taco Bell Menu Page created this enticing marketing copy, "Mtn. Dew Kickstart Orange Citrus combines the great taste of DEW with real fruit juice and just the right amount of kick to start your day." Real fruit juice? According to Diet Spotlight, only five percent of this carbonated beverage is real juice. It also offers you 80 calories and 20 grams of sugar per 16-oz cup.
 XXL Grilled Stuft Burrito. With obesity, diabetes and heart disease running rampant in America, why do we need XXL anything? The XXL Grilled Stuft Burrito is bigger than most of the Taco Bell burritos and offers more calories and fat. One XXL beef burrito contains 860 calories and 41 grams of fat. Combine that with a carbonated drink and you meet almost half of your daily 2,000 calories recommended by the U.S. Food and Drug Administration (FDA).
 Cap'n Crunch Delights. Another heart-stopping way to start your morning is with Taco Bell's Cap'n Crunch Delights, one of their limited-time offers. This oddball combination includes Cap'n Crunch cereal with a warm milk icing in the middle of a calorie-busting pastry. Taco Bell's marketing copy states, "The new Cap'n Crunch™ Delights™ are warm, light pastries, coated with fruity Cap'n Crunch's Crunch Berries™ cereal and filled with creamy, sweet milk icing." They are also filled with calories, sugar and fat. A 12 pack offers up 990 calories, 41 grams of sugar and 65 grams of fat.
Eat fresh and restore Mexican tradition and your health
 Have you tried any of these Taco Bell oddities? I will admit, I have eaten a few of the items listed on Taco Bell's menu. But there are better alternatives to Mexican night, like traditional Mexican food, made with fresh, local ingredients that are delicious, more nutritious and healthier. The National Institute of Diabetes and Digestive and Kidney Diseases found that 74 percent of men and 64 percent of women in America are overweight or obese. You can fight obesity and the chronic health issues associated with obesity — like heart disease, hypertension, type 2 diabetes, stroke and cancer — by eating fresh and not fast.
 There is no need to mess with tradition when it comes to Mexican food. A great natural taco recipe consists of a few nutrient-rich ingredients like mushrooms, avocados, zucchinis, corn, tomatoes, and of course, a freshly made tortilla. Hold the fried chicken!
–Stephen Seifert
Stephen Seifert is a writer, professor, adventurer and a health & fitness guru. His flare for travel and outdoor adventure allows him to enjoy culture and traditions different than his own. A healthy diet, routine fitness and constant mental development is the cornerstone to Stephen's life.
Sources:
https://www.tacobell.com/m/menu
http://www.dietspotlight.com/mountain-dew-kickstart-review
http://www.tacobell.com/nutrition/information
http://www.fda.gov/Food/IngredientsPackagingLabeling/LabelingNutrition/ucm274593.htm
http://www.niddk.nih.gov/health-information/health-statistics/Pages/overweight-obesity-statistics.aspx