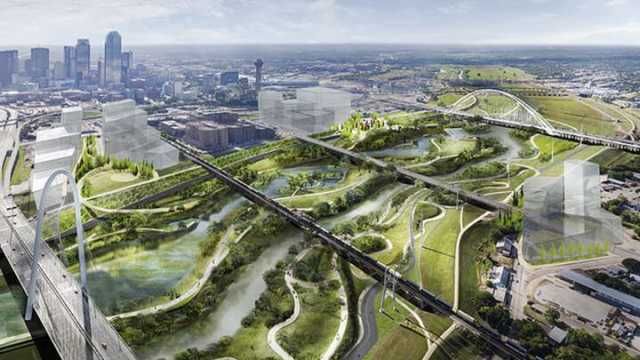 Dallas, Texas is looking to put $250 to $500 million towards the creation of "Nature District," a planned urban park more than 10 times the size of New York's Central Park. There's still a few hundred million dollars left to raise for the project. But a recent $50 million donation from local philanthropist Annette Simmons has increased optimism that the city of Dallas will one day be home to the country's largest urban park.
The park's design
The bold and almost utopian designs were released by architectural firm Michael Van Valkenburgh Associates earlier this month. The plans call for more than 10,000 acres of forests, parks and trails. The designs also include floodplains to protect the city from frequent river flooding.
Park-goers would be able to walk along the Trinity river, or along the many hiking paths the firm hopes to build. Should this park come to be, as many believe it will, it would provide a place of refuge from the busy urban center that is the city of Dallas.
The idea, according to designers, is to reconnect the city with the Trinity River and its watershed. "For over a century, the Trinity River has shaped the city of Dallas as both a critical resource and a powerful force of nature. Despite its inextricable connection to the city's history and identity, the river today is disconnected from the public by long stretches of undeveloped land and a general lack of access," the firm released in a statement.
The Trinity River
The Trinity River is a 710-mile river contained within Texas with a long and frustrating history of flooding. The river and human inhabitants nearby have had a stormy relationship these last couple of centuries.
Farming in the area has been attempted and abandoned throughout history, as frequent flooding from the river chased farmers away. A flood in 1908 was particularly harmful. It resulted in five deaths, 4,000 people left homeless and $2.5 million in damages. The city of Dallas was without power for three days.
Over the years, levees and flood-control systems have been put in place, but flooding still occurs. Just last spring, local businesses were impacted by floods that left areas south of Dallas difficult to navigate. For the better part of 200 years, nearby residents have been dealing with the river's propensity to overflow, something the designers of the proposed urban park hope to address.
"In addition to providing an extraordinary resource for the citizens of Dallas, the design for the Trinity River floodplain must continue to protect the city from major flood events which have proven catastrophic in past decade,"  said the Michael Van Valkenburgh Associates firm.
Floodplains in the park
To help protect against flooding, designers included floodplains (low-lying areas comprised of river sediment) in the plans. This would allow residents to witness the natural fluxes of the water table, without worrying about water reaching homes and businesses. If all goes well, park goers would be able to witness the water table from up high.
"By working closely with government engineers and other specialists to ensure the infrastructural soundness of the floodplain, MVVA has transformed the flooding of the river from a natural disaster into a breathtaking spectacle," the firm stated.
Why call it the 'Nature District'?
The term "Nature District" might be a tad misleading. "Nature" implies that the surroundings came to be "naturally" without human interference. It is semantically impossible for nature to be designed by architects. Plus there is already a massive golf course nearby. So any hope that the nature district would be managed in an ecologically sustainable way should probably be abandoned even before development begins.
The emphasis is actually on the word "district" rather than "nature." By referring to the plans as a district, it illustrates how large of an area this will be. The term "park" conveys a small area where one might have a picnic. A district is a place you need multiple trips to fully explore.
The idea is that parks do not go far enough. Urban residents need to be able to escape into nature, not just hide from the city for awhile.  This is consistent with what health and well-being experts have been saying for years.
Nature districts and well-being
The plans in Dallas represent a growing mentality. People are starting to see that an increased connectedness with nature is essential to a sense of well-being.
Studies have shown that exposure to natural settings (trails, rivers, trees) decreases activity in an area of the brain associated with rumination. The area of the brain in question, the subgenual prefrontal cortex, is associated with repeatedly thinking about the same issue over and over again. This is regardless of whether the subject is able to do anything about it or not. Subjects who took long walks through nature showed less activity in that part of the brain than those who did not.
Other studies have shown that there are higher rates of anxiety, depression and schizophrenia in urban areas. This further sheds light on the growing connection between time spent in nature and a person's overall sense of well-being.
Unfortunately, many people need to live and work in urban areas. Many people think they must live an urbanized life, be it for family, social or employment reasons. The creation of "nature districts" in cities across the world could potentially enhance quality-of-life on a massive scale.
Will the city actually build this district?
Dallas resident and writer Peter Simek recently reacted to the park plans with some skepticism. In his article for the Dallas local magazine The Big D, Simek gave an account of a meeting he attended with the Trinity Trust where he learned about new plans for the park.
"We left with the general impression that the entire thing still stood more or less where it has always stood. There's a promising new vision on the table, but also the need for hundreds of millions of dollars. There's also still unsettled questions about flood control, hydrology and the utility of a north-south road built-out within the levees of the floodplain," Simeck wrote.
He continued to point out that the city still has very little knowledge of how complicated and expensive some of the designs will be to bring to fruition.
…They sure are some awesome designs, though. As with anything related to municipal politics, adopt an "I'll believe it when I see it" approach. It is usually the safest way to go.
How to support a nature district in your area
After reading this, some of you may be jealous of Dallas residents. You might be thinking,"How come they are building a nature district and I'm stuck in my cold, cement-laden urban jungle?" 
While Dallas may go to the trouble of creating a nature district within their city limits, there are nature districts all across the planet. Many are bigger, more diverse and far more fun to hike through. Unfortunately, most of them involve leaving the city.
In your area, there should be natural areas with associated non-profit organizations working for their protection. Your first step to gaining more nature in your life is to seek out those organizations. Next, learn how you can help them in their efforts.
— Ian Carey