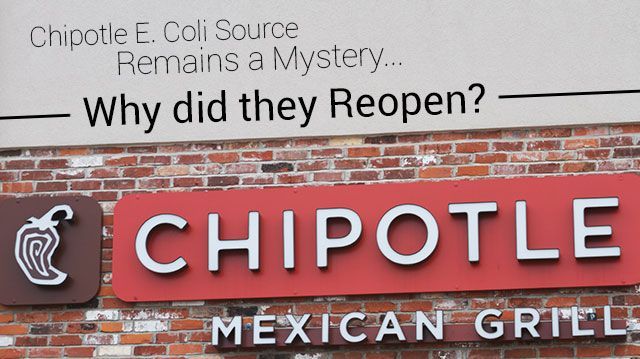 There have been 50 reported cases of E. coli from Oregon and Washington Chipotle restaurants, according to the Centers for Disease Control and Prevention (CDC) update released on November 12th. The source of the outbreak continues to baffle health officials, yet Chipotle has reopened most of its locations in the state of Washington, and in Portland, Oregon.
Health officials have tested hundreds of samples, but the source of the E. coli contamination remains a mystery, according to the Washington State Department of Health. There have been 31 reported cases in Washington and 11 in Oregon since the outbreak began. Fourteen people have been hospitalized between the two states, and luckily, there have been no reported deaths to date, according to the CDC.
Health officials found no trace of E. coli in the samples tested in Washington; however, they are still awaiting results from a few samples taken from Portland, Oregon locations. They did note that this is not uncommon, since contaminated food is often discarded or consumed before testing occurs.
Chipotle issued an Investor Relations press release on November 10th, stating, "Health officials have concluded that there is no ongoing risk from this incident." Chipotle also noted that all Chipotle equipment and surfaces in their northwest locations tested negative for E. coli. "To date, Chipotle has received nearly 900 test results, all of which showed no E. coli," the Chipotle press release encouraged. 
Food-borne illness reports have been on the rise of late, and the recent E. coli outbreak in Washington and Oregon should be considered when you plan to eat out. Even though the 900 samples from Chipotle came back negative for E. coli, eating at a Chipotle restaurant may still be risky. 
Dr. Scott Lindquist, a Washington state epidemiologist for communicable diseases, told The Seattle Times: "I can't say the risk is zero, but they've minimized the risk to a point that they're at baseline or below where they were when this all started." So the risk, however minimized, is still lurking.
Sure, eating fast food is convenient, and some restaurant chains like Chipotle offer healthier alternative menu items, but why not eat at home instead? Eating out has increased significantly among Americans, according to a study published in Preventive Medicine (2004). The researchers who conducted the study found that eating out increased by 40 percent between 1987 and 1999–2000. 
This may be contributing to the increase in obesity, heart disease, type 2 diabetes, and other chronic diseases plaguing America. Another study examining the nutrient intake of people who ate "out of home" (OH), published in Obesity Reviews (2012), found a lack of nutrition associated with eating out. The study authors stated, "We conclude that eating OH is a risk factor for higher energy and fat intake and lower micronutrient intake."
Making nutritious food choices is vital to your overall health and happiness. When you take the time and effort to connect with your food, you build a healthy relationship that will keep your waistline trim, and your nutrition levels optimal. Another bonus to not eating out is that you can have the peace of mind that you won't get severely ill, knowing exactly where your food came from and who prepared it.
Are you brave enough to eat at Chipotle yet?
—Stephen Seifert
Stephen Seifert is a writer, professor, adventurer and a health & fitness guru. His flair for travel and outdoor adventure allows him to enjoy culture and traditions different than his own. A healthy diet, routine fitness and constant mental development is the cornerstone to Stephen's life.
Sources:
http://www.cdc.gov/ecoli/2015/o26-11-15/index.html
http://ir.chipotle.com/phoenix.zhtml?c=194775&p=irol-newsArticle&ID=2111001
http://www.seattletimes.com/seattle-news/health/e-coli-mystery-still-unsolved-but-chipotle-set-to-reopen-today
http://www.sciencedirect.com/science/article/pii/S0091743503002925
http://onlinelibrary.wiley.com/doi/10.1111/j.1467-789X.2011.00953.x/abstract;jsessionid=103D68C4BF847807BF7C86D9E475B201.f02t04?userIsAuthenticated=false&deniedAccessCustomisedMessage=