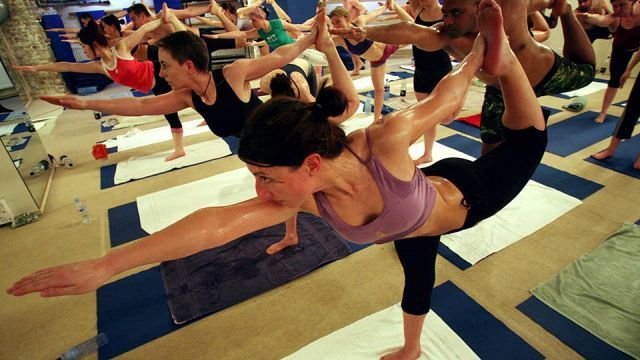 Just when you thought yoga couldn't get any hotter. It turns out Bikram Choudhury, famous for his "hot yoga" studios, has turned up the heat with his allegedly sleazy behavior around women — including his own top executives. Now the California-based yoga chain is filing for Chapter 11 bankruptcy, thanks to more than $16 million in sexual misconduct judgments against the hot yoga guru. Here's what you need to know about Bikram Choudhury.
Who is Bikram Choudhury?
To some, Bikram Choudhury is a spiritual guru of sorts. And through his reputation for healing bodies and minds, he's become an icon for celebrities. Famous followers have included the likes of Brooke Shields and even the late, great Elvis Presley. He also credits Shirley Maclaine for helping propel him into the limelight in 1971 when he arrived from India.
Choudhury, a hot yoga innovator, uses a set series of 26 yoga postures, including two pranayamas (or breathing) exercises. Each of which is performed twice in a single 90-minute class, according to Very Well. Born in Calcutta, India in 1944, Choudhury, a yoga champion in his youth, founded the Yoga College of India in Beverly Hills in 1974.
There he taught his method, which soon became one of the hottest trends in yoga practiced in the west. Drawing members of Hollywood elite to his classes, Choudhury began flaunting a lifestyle that included sports cars and pricey jewelry.
Bikram yoga, the most fashionable and extreme form of yoga, is conducted in rooms of scorching heat that reach 105 degrees Fahrenheit. Bikram yoga is credited for transforming people's bodies and minds, and he has thousands of followers. But now some studios are dropping the Bikram name like a hot potato after the founder has been accused of sexually assaulting six former students — five of them claiming they were raped by Chowdhury.
Too hot to handle
When Choudhury, 73, sat down with CNN to discuss the allegations, he claimed they were false. He added that he felt sorry for the women and that they were being influenced by someone — namely their lawyers.
According to the affidavits read by CNN correspondent, Choudhury purportedly found vulnerable young women who believed in him. Soon a pattern emerged. After getting a woman alone, Chowdhury is accused of becoming physically aggressive and demanding sex. When his advances were refused, Chowdhury apparently became angry and then raped the woman he was with.
But in the interview with CNN, Choudhury — who has been married to his wife for 30 years — claims he would never have to resort to rape, because "women like me, women love me," Choudhury said. He went further on to state, "If I really wanted to be involved with women, I wouldn't need to assault them."   
He wanted someone to brush his hair and have sex with him
One of his accusers, Sarah Baughn, said she looked up to Choudhury for help to relieve her years of back pain and depression. After the first class, and for the first time in a while, she felt better. So, she returned the following day. Baughn said she felt transformed and wanted to be a teacher, prompting her to take out a $7,000 loan so she could attend Choudhury's teacher training program. But after a week, one episode left her feeling uncomfortable.
Baughn claims that after sitting with Choudhury in his office, he told her that he had known her in a past life and they needed to have a relationship. Later she told a staff member, who told her not to be alone with Choudhury again. But late one night after making a group of students watch a Bollywood movie, she claims Choudhury cornered her and climbed on top of her — touching her and holding her down.
Then Choudhury told her he needed someone to be with him, massage him, brush his hair and have sex with him. Baughn said Chowdhury made it clear that she must sleep with him to advance her career. And if she didn't sleep with him, she would not win the yoga competition. Five other women have also come forward claiming Choudhury raped them.
Chowdhury wants to clear his name, but…
Clearing his name may not be possible, says Chowdhury, because the damage has already been done to his family. When asked about his wife's response, a teary-eyed Chowdhury told CNN "we die only once in our lifetime — I die every day."  
Chowdhury, who claims he's worked harder than any human being, feels he is being unfairly targeted as a rapist by "Western culture." When asked by CNN if he did in fact rape and assault the women, once again Chowdhury claims that he "wouldn't need attack them or rape them," because, in Chowdhury's mind, millions of women would line up to sleep with him willingly.
It's statements like these — straight from Chowdhury's mouth — that may prove to be his downfall. The idea that millions of women would line up to sleep with 73-year-old Chowdhury willingly applies a self-perceived power over women and an inflated sense of entitlement.
— Katherine Marko