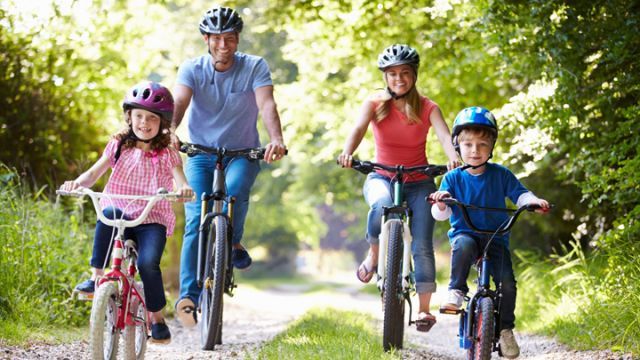 If your family has a habit of spending downtime draped over the couch, or sinking into armchairs, it could be hurting the health of everyone involved. Not to mention, if everyone is constantly staring at a screen, you're probably not getting much quality time together.
While there's nothing wrong with relaxation, too much time spent sitting idly can be incredibly dangerous to your health in many ways. This summer, why not break the sitting cycle and get everyone active — for the sake of health, and to have some family fun. The following are just nine ideas of ways to get active together this summer.
Schedule a daily walk
The weather is nice and sunny: take advantage of the season and make a habit of taking a family walk every day. Choose a time that works for everyone: in the evening before dinner or after your evening meal, are two suggestions. Aim to walk for at least half an hour.
You could simply walk around your neighborhood, visit a nearby park or choose a fun destination, such as an antique shop to browse. Maybe there's a monument in your town that the kids love to see. Walk to it!
If you don't live in an area ideal for walking, take a drive to another part of town that's pedestrian-friendly, park somewhere and take a walk. This routine doesn't have to stop when summer ends, either; walking every day is a healthy habit to get into year-round.
Take a hike
To get your walking in while checking out some gorgeous scenery, schedule a family hiking trip. If there are national parks or trails around your area, great! If not, maybe they're in the next town over, or a bit of a drive away. The fun you'll have will be worth the excursion.
If you have children, some hiking trails may be more accommodating than others. Check online reviews for difficulty levels. Older, experienced hikers may enjoy scaling some craggy rock formations, but children, and those who may not be experienced in hiking, should stick to more relaxed trails.
Go for family bike rides
If you'd rather walk than bike, schedule a time for a daily family bike ride instead! Make sure everyone has their helmets and safety equipment, drive to the nearest bike trails, and go! If you have young children, they can be pulled behind you on a kiddie bike trailer — they'll enjoy the sights while you get some exercise!
Start a dog-walking service
If your family loves animals, but you don't have your own dogs, why not help out your neighbors by walking their dogs? Make some fliers and post them around, or just talk to your neighbors who have dogs and may not have time to walk them as often as they'd like.
Of course, you'll have to make sure the dogs are friendly and good with kids if children are participating, but you'll likely have plenty of neighbors that may take you up on your offer. The whole family can walk the dogs together, or you can take shifts.
Sign up for a community run or walk
Many towns and cities hold annual runs or walks to raise money for charity. Not only does this contribute to a worthy cause, it also gets you and your family active. If you've been sedentary for a while, opt to walk the first time around. Maybe next year you'll be ready to jog or run!
Take a dance class together
This may not be for all families, but if yours has a flair for creative expression, a dance class may be a super-fun way to get active together. Choose a style that everyone will enjoy — swing, jazz, tap or hip hop are just a few suggestions — and sign up for a beginner class. Make sure the class is open to people of all ages, and talk to the instructor beforehand if you have young children.
With a little bit of searching, you're sure to find a class that's perfect for you, and you'll be learning some great new moves while getting fit!
Have a backyard relay race
Instead of sitting around on lawn chairs in your backyard, organize a relay race! You can set up stations such as a potato sack race, an egg-on-a-spoon balance challenge, and a limbo station. Young children may find this especially fun. You could even give small prizes for completing the race.
Of course, adults can participate too!
Go camping
Going on a camping trip is a fun way to enjoy the great outdoors while getting some exercise. There are many activities to choose from, depending on where you go. Hiking, swimming, canoeing, climbing trees… and many more! Choose a campsite that will be age-appropriate for all involved, and make sure to book in advance.
Start a garden
While it's not quite as active as walking or biking, gardening does require a lot of activity, and works your muscles quite a bit. On top of that, it fosters a wonderful relationship with nature, and with food. If you have children, it's a great way to teach them about fruits and vegetables, and eating from the bounty of the Earth.
If you have the space, start a backyard (or front yard) garden, and plant some seeds! If space is limited, you could still do some container gardening inside. It may not be as active, but you'll still get some movement in!
What are your family's favorite summer activities? Please feel free to share your ideas!
–Tanya Rakhmilevich