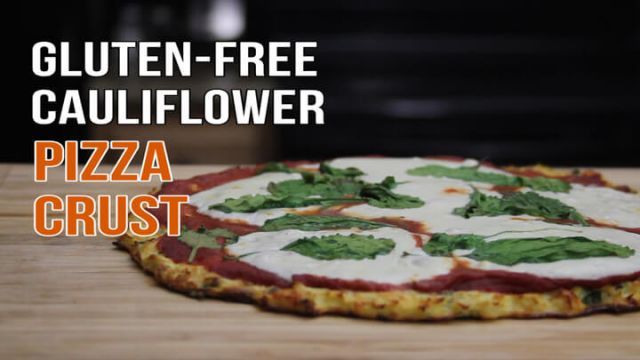 It is hard to deny the tantalizing appeal of pizza. With a filling bread base, tomato sauce layer and wide variety of toppings to choose from, it's no wonder this Italian invention has captured the heart of America. Unfortunately for our waistlines, we have made a few adjustments. What was once hand-tossed, freshly baked, thin crust topped with pesto and dollops of mozzarella has become mass-produced, deep-dish, four-cheese, meat lover's delight. At least, that's the pie that catches my eye!
Toning your pizza down to a traditional Italian recipe would make a huge difference, but you can even go further. Introducing cauliflower crusted pizza! It's pizza, without the guilt. This gluten-free alternative pizza crust is the perfect way to satisfy your cravings while still meeting your personal health goals.
The Best Gluten-Free Pizza Crust Ever
1/2

head cauliflower

1/2

cup

shredded Italian blend cheese

1/4

cup

chopped fresh parsley

1

tsp

chopped garlic

1

egg

salt to taste

Pepper to taste

Preferred pizza toppings
Cheese grater

Cheesecloth (optional)
Steam cauliflower until tender (approximately 15 minutes).

Refrigerate for another 15 minutes or until cool, stirring occasionally.

Stir shredded Italian blend cheese, fresh parsley, chopped garlic, egg, salt and pepper into your chilled cauliflower until evenly mixed.

Place mixture on your cooking pan and shape into pizza crust.

Bake at 450°F for 15 minutes.

Remove from oven, add desired toppings and continue baking for an additional 15 minutes.
Tip: If you'd like a crunchier crust, squeeze the moisture from your cauliflower with a cheesecloth.
— Erin Wildermuth