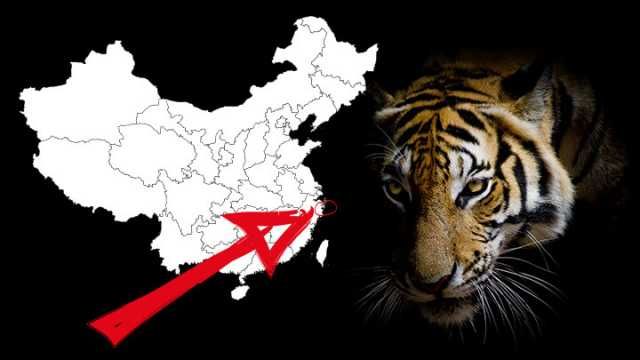 After scaling two walls at the zoo to avoid paying admission, a man and tiger paid the ultimate price. However, the death of the tiger has sparked outrage on social media from those condemning the man for entering its enclosure illegally.
Another horrific accident at a zoo because of human error
A tiger-mauling death at a Chinese zoo is under investigation after authorities say the victim climbed a fence into the tiger's enclosure. The mauling occurred last Sunday at a resort on Dongqian Lake in eastern China's Zhejiang province. The man, identified only by his surname of Zhang, apparently climbed a fence at the Youngor Zoo with his friend Li to avoid purchasing tickets. Li told CCTV News that although the women and children bought tickets and entered the zoo normally, both the men attempted to scale the zoo's three-meter-tall outer wall, despite warnings and wire netting.
Zhang had worked his way through wire netting, according to Associated Press, and eventually climbed a wall to enter the tiger enclosure. However, Li stayed back. A tiger then attacked Zhang inside the enclosure, as visitors to the park — including Zhang's wife and children — watched from a distance.
Tiger shot dead for following his instincts
State television reported one tiger was shot dead by local police. Three others nearby tigers were dispersed using firecrackers. Video posted online shows a tiger gnawing Zhang's body as people can be heard screaming. Zhang later succumbed to his injuries and died in the hospital.
People for the Ethical Treatment of Animals (PETA) has since spoken out against the incident, saying it reflected the problems of keeping tigers and other large cats in captivity. Zoos and safari parks give people the false idea that big cats are little more than cuddly kitties who can be used and abused for our entertainment, says PETA. But captivity does not extinguish their animal instincts.
Last July, in another horrifying incident captured on closed-circuit television, a woman who stepped outside of her vehicle was pounced on and dragged away from her car by a tiger. The woman's mother then left the car and chased after the wild animal. During the attempt to save her daughter's life, she was attacked by another tiger and tragically killed. Now, reports ABC, the woman is suing the park claiming she was not fully informed of the park's dangers and left the vehicle because she was carsick.
Incident sparks outrage
Meanwhile, this recent incident has also sparked widespread criticism on Chinese social media, with many condemning the dead man and mourning the loss of the tiger.
"This visitor's death by mauling really does not deserve any sympathy," wrote one user on the microblogging network Weibo, according to the BBC. "Tigers are the carnivorous kings of the jungle and hunting for food is their instinct, who can you blame if you jump in and get attacked? Rest in peace, tiger."
Unsurprisingly, this is not the first-time lives have been lost as a result of imprisoning wild animals for the sake of entertainment. And, as longs as tigers and other exotic animals are locked inside cages for human amusement, there will likely be more tragedies to come.
"Attacks by captive big cats on people — which occur with staggering regularity — illustrate the profound level of stress, anxiety and agitation these animals experience every day of their lives," said PETA's vice-president of international campaigns, Jason Baker, in a statement.
— Katherine Marko