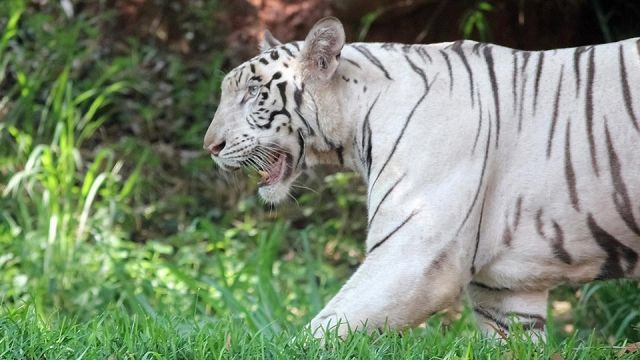 A 35-year-old zoo aide was killed after he was mauled by a pair of 18-month old white tiger cubs. The incident occurred at the Bannerghatta Biological Park, which is near the outskirts of Bangalore in southern India.
Victim forgot to latch the gate
According to Santosh Kumar, the executive director who heads the safari facility, "The victim was assisting the caretaker in pushing the cats into their enclosure for the night when they turned around and pounced on him as one of the four gates was not shut and latched by then."
A gatekeeper of Bannerghatta Biological Park in #Bengaluru was mauled to death by 2 white tiger cubs. pic.twitter.com/gJMSUVb4ZO

— Mirror Now (@MirrorNow) October 8, 2017
Poor training and safety contributed to the tragedy
The horrific incident is raising concerns worldwide about zoo safety and the wisdom of keeping wild animals in captivity. On Sunday, zoo workers at the Bannerghatta park staged a strike demanding both better training and better pay. They also demanded compensation for the family of Anjeneya (the man who was killed).
Anjeneya was hired by the zoo just one week prior to this incident. Both the zoo and the Indian government have subsequently agreed to compensate the man's family. However, as a spokesperson noted, under current rules the zoo is not permitted to hire full-time employees. Tragically, the victim was hired only as a cleaner, but was asked to operate the safari gates (where the tigers were located) only after a colleague failed to show up for work.
Investigators say that the accident was probably caused by Anjeneya's inexperience — he failed to properly close a latch. As one co-worker said about the incident, "Since the zoo no longer hires trained permanent employees, untrained contract workers are used. This is dangerous for them and for the animals."
Other zoo-related incidents
There is no word yet on the fate of Vanya and Jhansi, the young cubs that mauled Anjeneya. This is not the first tiger-related incident at the Bannerghatta Park. Just months before, a tremendous fight broke out between a pack of Bengal tigers and a pack of white tigers when the zoo staff failed to keep the two groups separated. Other prominent zoo-related tragedies in the news recently include:
In May, a British zookeeper was mauled at the Hamerton Park Zoo.

In 2016, a zookeeper was killed by a tiger at the

Palm Beach Zoo

.

In September, a tiger named

Suzy

(a star attraction with the Ringling Bros. and Barnum & Bailey Circus) was killed after she escaped while being transported.

In July, a woman was attacked by a tiger at a Beijing zoo.
Do big cats belong in zoos?
These incidents have called attention to the tremendous downsides of keeping animals in captivity. Too often, people are not aware that animals are not kept in safe or humane conditions. Indeed, many wild animals like (polar bears or penguins) are put on antidepressants to keep them manageable.
Experts say that big cats are predators and keeping them in captivity presents intrinsic difficulties. According to Susan Bass, of the organization Big Cat Rescue, tigers and lions are "the ultimate predator[s], and they're hard-wired to go after and eat meat. People are meat. And they're bored silly in zoos. They're supposed to be roaming hundreds of miles, so they're constantly looking for ways to get out." Unfortunately, that probably means we have not seen the last of these tragic incidents.
— Scott O'Reilly