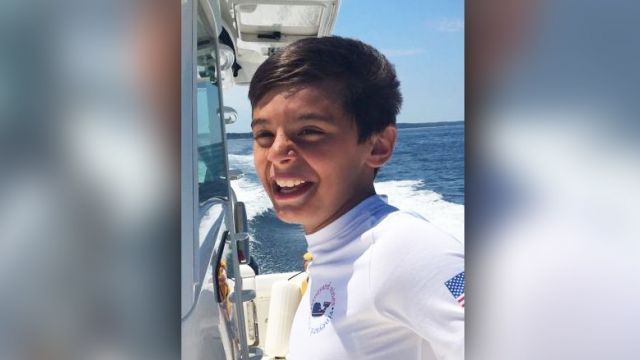 According to reports, a healthy 10-year-old boy named Nico Mallozzi has died from the flu. As expected, this year's flu has brought its usual surge of people to hospitals. However, it also reminds us of the impact that that virus can have on some of society's most vulnerable people, in this case a child. So far, 2018 has been one of the worst flu seasons in recent years.  
Here is a picture of Nico:
Flu Complications, Leading To Pneumonia And Sepsis, Killed 10-Year-Old Nico Mallozzi https://t.co/YmmTdOh124 pic.twitter.com/eUfgvH5Ewi

— Blacklisted News (@BlacklistedNews) January 17, 2018
The Connecticut native was an avid hockey player. He had never had a serious medical problem in his entire life, which makes this case even more shocking.
Before he died, he was in Buffalo, New York with his family for a weekend hockey tournament. He didn't play in any of the weekend hockey games due to his illness. His parents rushed him to the hospital, but he died Sunday morning. Doctors are reporting that the boy had a case of the flu which caused pneumonia, sepsis and eventually death. This particular case is similar to the death of 21-year-old fitness buff Kyler Baughman, who was also very healthy when he got the flu and died last week.
Elementary schools remembers Nico
Columbia Blue Jackets Right Wing Cam Atkinson wrote about his time coaching Nico:
I had the honor of coaching Nico in the summers at Stamford Twin Rinks. He was a ball of energy and just loved hockey. Life isn't fair sometimes. Sending love and prayers to the Mallozzi family 🙏🏼

— Cam Atkinson (@CamAtkinson13) January 15, 2018
Nico was the subject of afternoon announcements at his elementary school. School staff members are currently in the process of providing grief for his classmates, teachers and counselors.
"Whether he was grabbing kids outside to get together to play a football game or in the hallways or in the library, everyone in the building knows Nico, knows who he is and just loved him," said Dr. Bryan Luizzi, the school superintendent.  
According to reports, Nico's older brother is currently in the hospital battling the flu, but appears to be making progress and should be fine. "He was just a carefree, fearless, easy-going child, full of energy," Mallozzi's mother says. "It's actually a nightmare."
A Go Fund Me page has been set up to help the Mallozzi family as they go through this difficult time.   
How to protect your kids from the flu
This year, a strain of the flu, called H3N2, is spreading around most of the United States. This strain is more serious than others because it is difficult to target with vaccines.
Some great ways to stop the spread of the flu are to wash your hands as frequently as possible, use separate cups, cough into your arm, get plenty of rest (10 to 11 hours a night for children), and to make sure you aren't spending a lot of time with people who are getting over the flu. If your own kids want to have a playdate, make sure to consult with other parents to make sure nobody has the flu.
For parents concerned about when to contact a doctor for their children's flu, look for these symptoms:
Fever for three days (especially in children under age five)

Nasal discharge for more than 10 days

Discharge from the eyes

Difficulty breathing or bluish skin color

Child is refusing fluids
Here are some natural remedies to prevent the flu:
CDC shows alarming flu statistics
Currently, flu season is near its peak and present in all 50 states. So far, the virus has killed almost 20 children this year. Here are December flu statistics from The Centers for Disease Control and Prevention (CDC):

— PJ Amirata