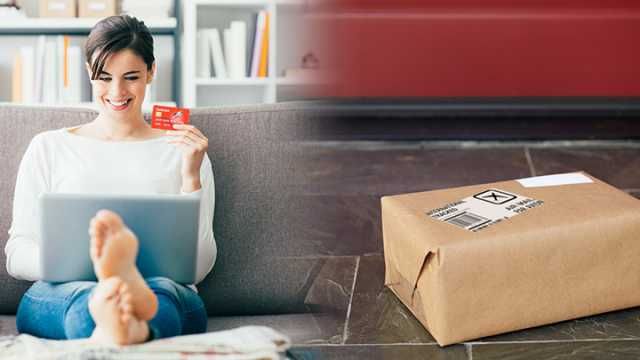 I guarantee that most people reading this article have at one time or another ordered something off Amazon. And why not, it's a relatively easy way to shop — or is it? 
In 20 years, Amazon has evolved into a megalithic e-commerce and cloud computing company that serves roughly 244 million customers. But, what happens after you place your order? You may be surprised to discover that although there are definite pros to shopping at Amazon, there are also a few cons that may negatively impact the environment, your wallet and even your privacy. Here's what you need to know about your Amazon order.
Packaging can be excessive
Even the tiniest of items sold on Amazon seem to need the largest amount of packaging — and that has customers baffled. In 2016, customers once again took to Twitter to ask Amazon: "Why do you insist on wasting the planet's resources with your packaging?" In fact, hundreds of complaints have flooded social media, branding the company's policy as "ridiculous" and "unacceptable" according to The Sun, UK edition. However, Amazon paints a slightly different picture claiming that each year about 31 million customers write to tell them how much they love how their products were packaged. And even go so far as to send pictures and stories about packaging.
To be fair, Amazon recently implemented a multi-year waste reduction initiative called "Amazon Frustration-Free Packaging" which ships products in their own packages without additional shipping boxes. Amazon works with manufacturers to box products in Certified Frustration-Free Packaging, which in theory should reduce the overall amount of packing materials used. However, even certified frustration-free packaging doesn't guarantee that you won't find yourself unraveling yards of paper or bubble wrap to reveal your tiny tube of lipstick.
If you're not paying for Prime, expect longer delivery times
If you're a regular Amazon user then you're probably familiar with Prime delivery. According to the Amazon website, they promise lightning-fast delivery, unlimited free two-day shipments on over 50 million eligible items, with no minimum purchase — all at a cost of $99 per year or about $11 per month. Sounds good, right? Well, what about those who choose not to participate in the Prime delivery program?
According to Amazon customers, the days of your "non-Prime" order arriving in less than three days is basically hasta la vista, baby. Customers complain that Amazon may be delaying the start of the shipping to punish those customers who are not Prime members. In fact, upon further research, standard delivery for non-Prime members is about 20 days. And express delivery? Eight days.
Amazon's AI surveillance has become scarily intrusive
This may be one of the biggest concerns regarding your Amazon order, and it has to do with your privacy. It's not unusual to hear that Amazon has detailed systems in place to track customer spending habits or even the habits of "second-party" gift-recipients. Heck, it's not unusual for any large company to track your habits. But, Amazon is a pioneer, after all.
Amazon has collected information from you longer than most companies, and they use it more proactively. Amazon's success, it seems, not only rests on the careful tracking of your likes and dislikes, but now also depends largely upon speech and facial recognition software. So much so, that Jeff Bezos, the Amazon founder and CEO, spent a good chunk of his latest letter to Amazon shareholders focused on artificial intelligence.
"At Amazon, we've been engaged in the practical application of machine learning for many years now. Some of this work is highly visible: our autonomous Prime Air delivery drones; the Amazon Go convenience store that uses machine vision to eliminate checkout lines; and Alexa, our cloud-based AI assistant," writes Bezos. "But much of what we do with machine learning happens beneath the surface." And here's where it all gets a little too Big Brother-ish.
From speech to facial recognition, they're tracking you
"Machine learning drives our algorithms for demand forecasting, product search ranking, product and deals recommendations, merchandising placements, fraud detection, translations, and much more," Bezos tells shareholders. He then goes on to describe what all this means for Amazon Web Services (AWS).
"Inside AWS, we're excited to lower the costs and barriers to machine learning and AI so organizations of all sizes can take advantage of these advanced techniques."
It seems that now, cloud-services clients can tap into Amazon's suite of AI programs without having any machine learning expertise and use pre-packaged deep-learning frameworks like the systems that power the company's text-to-speech program and facial recognition software. This means that countless large and small organizations can now track their users (like you) more precisely than ever with surveillance that has become much more sophisticated. Amazon is deeply vested in collecting and sharing detailed data about you and your behaviors. And for some, that's intrusive.
E-commerce customers don't take their privacy lightly
Billions of people shop online daily. But, for e-commerce sites to continue to thrive, consumers must be confident that their personal information will be secure and their privacy protected. An overall lack of trust in internet privacy and security may deter economic activities, advises The National Telecommunications and Information Administration. In fact, almost half of American households with at least one internet user have been "deterred" from online activity recently because of privacy or security concerns according to data collected for the NTIA. Their concerns had stopped them either using online banking, posting on social media or shopping.
In Bezos's letter to his stakeholders, he writes that "the outside world can push you into Day 2 if you won't or can't embrace powerful trends quickly." Bezos's plan to fend off "Day 2" — a metaphor for business decline — includes artificial intelligence, which collects and shares the customer's information. And while on paper this may look like good business practice, for those of us concerned with individual privacy, it's just another invasion.
— Katherine Marko
URGENT: Is Your Body Toxic? Find Out With This Short Quiz =>