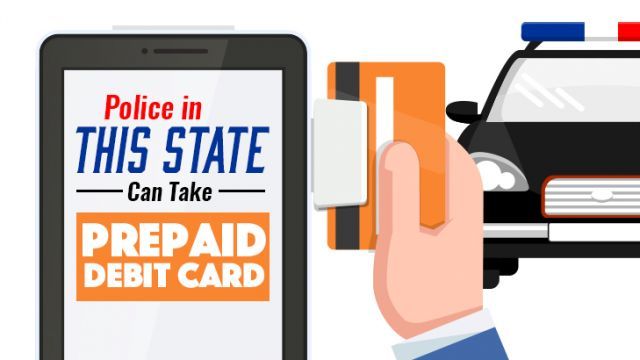 Next time you're on the road in Oklahoma, you might want to leave your prepaid debit card at home. That's because Oklahoma's highway patrol now has a tool that can instantly snatch funds off of pre-paid cards. Known as an Electronic Recovery and Access to Data machine (ERAD), the device is now being carried by some officers and can be used during traffic stops to scan cards found in a vehicle. 
A trooper can then confiscate electronic funds, even without a warrant or making an arrest. The practice is totally legal under the state's controversial civil forfeiture laws, which allow police to seize items or cash if there is a suspicion the property can be linked to a crime. The civil forfeiture controversy garnered national attention in 2014, when comedian John Oliver discussed the relatively little known topic on HBO's "Last Week Tonight."
Police have argued that law-abiding citizens have nothing to fear from having their cash confiscated on the spot. "If you can prove that you have a legitimate reason to have that money it will be given back to you. And we've done that in the past," Oklahoma Highway Patrol Lt. John Vincent told Oklahoma's 9 News.
"I know that a lot of people are just going to focus on the seizing money. That's a very small thing that's happening now," he said, arguing prepaid cards could be used by criminal organizations to quietly move large sums of cash.
The use of the ERAD has sparked a wave of public criticism. State Senator Kyle Loveless has said he doesn't trust police to use the new technology responsibly. "Whether someone has 100 debit cards or one, that in and of itself is not illegal," he told The Huffington Post.
Social media firestorm
A group of local activists has launched a petition calling for the devices to be dumped. The petition claims, "This device allows cops to scan any credit or ATM cards and seize any money connected with that card."
The petition quickly prompted a firestorm on social media, with some news outlets inaccurately reporting the device could be used to empty bank accounts.
However, as the rumor debunkers at Snopes point out, ERAD can't actually be used to remove funds from most bank cards — only prepaid and "closed loop" cards. According to the company behind the new device, the Texas-based ERAD Group, "closed loop gift cards are typically issued by a single retailer and valid for use only at that retailer's location(s).
"Best Buy, Costco, Macy's and Walmart gift cards are examples of prepaid card(s)," it stated on the company website.
The only other type of card that can be accessed by the device are "open loop" prepaid debit cards. "Debit cards attached to a valid checking account or valid credit cards cannot be processed," the company stated.
Leaked contract
While that may come as a relief to some residents concerned a run in with a trooper could leave their bank account empty, the controversy doesn't stop there.
The company itself already has made more than $6,000 in implementation and training fees from the Oklahoma Department of Public Safety, according to a contract leaked to Oklahomawatch.org.
On top of that, the firm will receive a 7.7 percent cut of any funds seized by police using their machines. In other words, the company will make a pretty penny every time police use the device. Prepaid cards can hold as much as $15,000 at a time, meaning the company could make up to $1,155 from every card confiscated.
That might sound like a lot, but it's a relatively small amount compared to some of the larger seizures made by the highway patrol in recent years. Earlier this year, Oklahoma troopers confiscated $53,000 from the vehicle of the manager of a Myanmar Christian rock band, Eh Wah. The cash included earnings from the band's recent tour, and much of it was earmarked for charitable purposes, such as donations to an orphanage in Thailand.
Police eventually returned the money — months later. The seizure was made under the same legislation that allows troopers to use ERAD, civil forfeiture.
According to the legal group that represented Eh Wah, the Institute for Justice, Oklahoma police seized nearly $99 million in civil forfeitures between 2000 and 2014. Seventy percent of those seizures were in cash. The Institute for Justice says that civil forfeitures have skyrocketed in recent years due to a "financial incentive for law enforcement to forfeit property."
"Starting in the mid-1980s, forfeiture revenue … went to a newly created fund controlled by federal law enforcement. As a result, all federal forfeiture revenue can go back to the very agencies charged with enforcing the law, giving them a financial stake in forfeiture efforts," it said in a 2015 report.
Cash cow
Allegations like these have prompted concern that civil forfeiture could be used by some police departments as a cash cow.
In April, Oklahoma's former Wagoner County Sheriff Bob Colbert and Deputy Jeffrey Gragg were indicted for allegedly seizing $10,000 in cash from a motorist as part of an attempted extortion plot. A grand jury alleged the pair had sought to shake down the motorist by offering to seize the cash in exchange for not pursuing narcotics charges.
Bolbert and Gragg have denied any wrongdoing, arguing they carried out a legal civil forfeiture. At the time Institute for Justice attorney Dan Alban said the case represented the dangers of broad civil forfeiture laws. "This shows the very fine line that there is between extortion and civil forfeiture," he told The Huffington Post.
—Ryan Mallett-Outtrim