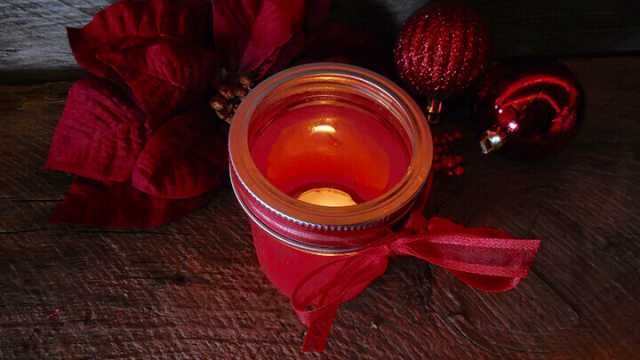 If you're anything like me, you love easy and beautiful ideas for candles during the winter holidays. I have just the thing — this project is so fast to whip up!  It would be great for a quick hostess gift or look lovely placed around your home in different rooms. It adds such a sense of warmth and coziness, especially when there are a number of lit candles.
This idea can be used on any kind of jar, in any shape or size. You can also use any color of paint to coordinate with the colors in each of your rooms. For example, I have turquoise jars in my living room. The warm glow they give off adds an extra feel of relaxation and comfort.
Painted Mason Jar Ingredients
Any jar of your choice

Red paint (or color of your choice)

Red glitter paint (or glitter)

Small foam paint brush

Votive candle

Small amount of rice

Ribbon or any decoration for the lid
Instructions
1. Place a small amount of paint on a plate, then paint your jar.
2. Allow the paint to dry. If you are impatient, like I am, use your hair dryer. It works great.
3. Place a small amount of glitter paint on the paper plate. Paint over the red paint, making sure to cover the jar completely. You might want to add a second coat to give it more glitter.
4. Allow to dry, or help it dry faster with your hair dryer.
5. Once the jar is completely dry, place a small layer of rice in the bottom of the jar. This gives the votive a more secure place to rest.
6. Now, carefully place the votive in the jar. To light the votive, use a long lighter so it's much easier, especially for taller jars. 
7. The jar is now ready for any decorations you want to use. I like to place a ring of ribbon around my jar. Any decoration will look great!
— Leilani Hampton