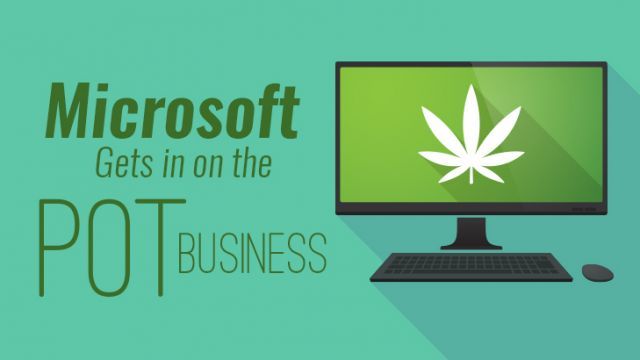 As more states legalize marijuana for medical or recreational purposes, Microsoft has boldly stepped forward to announce that it's diving into the growing cannabis trade. Microsoft just got a little more hip, and the global tech giant could be joined by a slew of big brands in the coming years.
Wait, Microsoft and weed?
If you're scratching your head wondering what exactly is Microsoft doing in the weed business, you're not alone. Microsoft has partnered with cannabis industry software company Kind Financial to help businesses and government agencies track legalized marijuana "from seed to sale."
Cannabis growers use software to track inventory, navigate laws and handle transactions through Kind software systems. Microsoft will add Kind software to their government solutions package and refer government clients to Kind — truly mainstreaming marijuana.
The partnership marks the first major tech company to join in the growing industry of legal marijuana. Start-ups long have flocked to the lucrative pot trade, which is currently legal for both recreational and medical purposes in five states. The partnering between Microsoft and Kind facilitates the industry's specific need for data tracking to optimize plant growth and other logistics.
Why big business stays away
Big business, however, mostly has stayed away because of the legal issues that surround the nascent cannabis industry. Marijuana remains illegal nationwide. Businesses risk getting caught up in contradictory federal and state laws on weed.
The financing situation is even more complicated, since banks are discouraged from working with marijuana businesses. In fact, federal law prohibits banks and credit unions from taking marijuana money. That means that in states such as Colorado, where marijuana sales are legal, business owners can't get credit or bank their cash.
Some community-based financial institutions do serve the cannabis industry. Recently, too, the U.S. Treasury and Justice Departments agreed not to go after banks for legit cannabis clients if they keep a close eye on things and report wrongdoing, such as criminal gang activity.
There are risks for businesses who take cannabis across state lines, since there could be different legal standing between states. And there's another challenge: A change in government leadership, such as the coming U.S. presidential and congressional elections, could result in a backtracking of relaxed marijuana laws and result in the shutdown of some businesses.
There is as well a negative connotation to dealing in the trade, Zach Bogue, a venture capital investor, told The Wall Street Journal.
"[My company] has stayed away from investing in the cannabis industry because it's like investing in the porn industry. I'm sure there's a lot of money to be made, but it's just not something we want to invest in," said Bogue.
Changing times
Is the Microsoft deal a sign of things to come? I'd say so. There is definitely room for growth. Twenty-five states have legalized medical marijuana, and five allow recreational and medicinal use.
With the November election five more states, including California, will vote on legalizing marijuana for recreational and medical use. There is increasing speculation that the Drug Enforcement Administration may look to reschedule marijuana's drug classification, opening the market even further and possibly making cannabis a highly lucrative business for big corporations.
As Bob Dylan sang, "The times, they are a-changin'." Microsoft, once a tech startup itself but now a huge and somewhat sluggish global brand, might be back to leading change once again.
—Katherine Marko