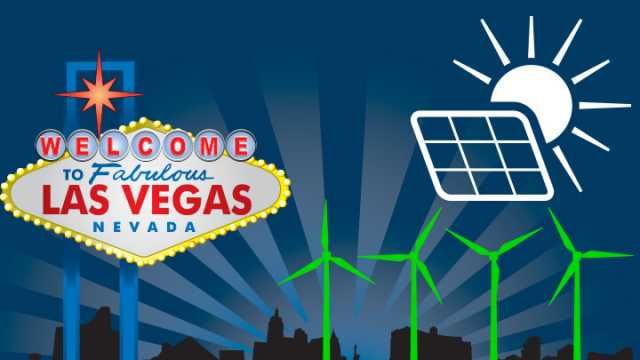 Everything owned by the city of Las Vegas is now powered by renewable energy. Thanks to a new solar plant in Boulder City, all of the city property will operate sustainably, from the public buildings to the street lamps.
"We can brag that the city, this city of Las Vegas, is one of the few cities in the entire world that can boast using all of its power from a green source," said Las Vegas Mayor Carolyn Goodman to the press. She continued to say that Las Vegas is now a "world leader in sustainability."
The city's energy conservation
The majority of the energy will be sourced from solar energy through the city's partnership with NV Energy. The company's new solar plant is located just outside of Las Vegas (in Boulder City). It will play a large role in supplying the city with clean, renewable solar power. Energy conservation has also played a role; the city has reduced its energy consumption by 30 percent in recent years.
Las Vegas is also a renewable energy producer. The city utilizes pretty much any available space to collect energy from the sun. Las Vegas has put solar panels up around the city hall plaza, on top of their wastewater treatment plan and on rooftops of city-owned buildings. The city is also using "solar shade canopies" at city parks. This is all to generate as much renewable energy as possible.
Up next: hydroelectric power
The city is also expected to receive a smaller percentage of their energy from hydroelectric power in the near future as well. While hydroelectric power can disturb local ecosystems and waterways, it is still a renewable source of energy. It's one that does not require the use of fossil fuels.
The city proudly announced on their tumblr page (yeah, tumblr!) that their carbon footprint is now back to the size of what it was in 1950. That's a pretty impressive feat. Las Vegas does have somewhat of a geographical advantage over other areas in terms of solar energy production. But still, this is a big deal!
Will the casinos follow suit?
Unfortunately, the new energy plan does not mean every slot machine, casino and drive-thru marriage window is also running on renewables. It covers any energy used in city-owned buildings or infrastructure, such as street lamps. Still, it's a pretty remarkable task for such a booming city. And many of the casinos hope to join the city shortly in the 100-percent renewable energy-powered club.  
Many casinos have followed the city's lead and installed solar panels on rooftops. Even without government subsidy or feed-in-tariff programs, the hot Nevada sun has been a safe investment for Las Vegas business owners. MGM Resorts boasts that they produce enough solar energy to power 1,000 homes for a year.
"It's no accident that we put the array on top of a conference center. This is good business for us," said chief sustainability officer for MGM Resorts, Cindy Ortega. "We are looking at leaving the power system. And one of the reasons for that is we can procure more renewable energy on the open market."
Casinos want to leave the power grid
MGM resorts and many other casinos are now in a position to power operations through the solar power they generate on their own. Or, casinos can supplement that energy from many nearby California and Nevada-based solar farms. The problem is that if all of the big energy consumers in Nevada begin to leave the power grid, it will cause rate hikes for others who do not.
"They need to maintain the grid. You cannot let these utilities go bankrupt or else every business in the city dies," said Bill Ellard from the American Solar Energy Society. If MGM resorts and others want to leave the power grid, it may cost them millions in taxes to do so.
Other cities switching to renewable energy
Las Vegas is not the first city to make the switch to renewable energy. Burlington, Vermont, Greensburg, Kansas and Aspen, Colorado have already done so. Many other cities across the U.S. are on the way to achieving exactly what Las Vegas has. Here are a few examples of cities working towards being powered completely by renewables:
Georgetown, Texas – aiming for 2017

San Jose, CA- aiming for 2022

San Francisco, CA – aiming for 2030

East Hampton, NY – aiming for 2030

Rochester, MN – aiming for 2031

San Diego, CA – aiming for 2035
The city of New York, which perhaps never sleeps due to excessive light pollution, is hoping to power 50 percent of the city-owned infrastructure with renewables by 2030.
Encourage your city to go with green power
Do you know what percentage of your city's energy comes from clean and renewable sources? In many of the above examples, politicians chose to push forward a path towards a sustainable future because of demands and concerns from their constituents. If there is not a push in your area to get your city-owned property powered by renewables, then perhaps you could be the one to start the pushing.
It wouldn't take more than five minutes to contact your city councilor or mayor's office. Then you can find out your city's energy plan. Doing so could be the first step to your city developing a plan to switch to renewables.
— Ian Carey