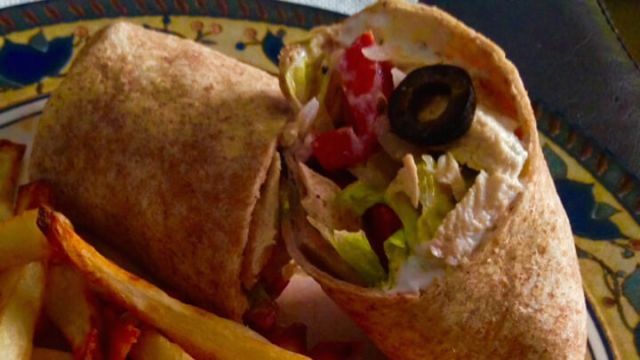 Perfect for a quick lunch or dinner, this healthy Greek chicken wrap is loaded with lean chicken, Greek salad and great taste. If you love olives, feta cheese and Greek flavor then this is your go-to wrap.
A little about tzatziki
Growing up Greek, tzatziki was always a staple in our home. If you haven't tried this garlicky, dill yogurt sauce, then you're in for a treat. I only use Greek yogurt, because I never miss an opportunity to add gut-healthy probiotics into my diet. Tzatziki is an excellent condiment for chicken or pork; I even use tzatziki as a dipping sauce for baked fries or to top my baked potato!
Load your wraps with veggies
I'm a sucker for a good Greek salad and a delicious sandwich wrap. This recipe combines both. Apart from being so darn easy to prepare, wraps are a great way to hide extra veggies in your family's daily diet. This recipe is a traditional Greek chicken wrap recipe, but that doesn't have to stop you from throwing in shredded carrots, red peppers or whatever other vegetables you crave. Even of tzatziki isn't your thing, then go ahead and change it up by adding hummus. And if you prefer a vegetarian diet, leave out the chicken or replace it with chickpeas.
Healthy Greek Chicken Wrap with Tzatziki Recipe
Serves 4
Prep time: 10 minutes
Cook time: 30 minutes
Step One: Tzatziki Sauce
Ingredients
2 cups Greek yogurt

1 cup peeled, seeded and mashed cucumber (discard liquid)

2 tbsp chopped fresh dill

1 tbsp lemon juice

2 tsp minced garlic

1/4 teaspoon sea salt
Instructions
1. In a medium bowl, combine all ingredients and blend well.
2. Cover and refrigerate until serving. Sauce can be made up to 2 hours in advance.
Step Two: Marinated Chicken Breast
Ingredients
1 large boneless, skinless chicken breast

1 tbsp olive oil

1 tbsp lemon

1/4 tsp pepper

1/4 tsp sea salt

1/2 tsp dried oregano

1/2 tsp raw honey
Instructions
1. Preheat the oven to 400°F. In a baking pan add olive oil, lemon, pepper, salt, oregano and honey. Whisk to combine.
2. Add the chicken breast to the baking pan and turn to coat. Roast for 15 minutes. Remove from the oven, and turn chicken to coat in the sauce again. Add a little water to the bottom of the pan so the sauce doesn't burn.
3. Place chicken back in the oven and cook for another 15 minutes. Chicken should be cooked through but still juicy. Allow to sit until cool.
Step Three: Wraps
Ingredients
1 skinless chicken breast roasted and sliced (or shredded)

1 tsp olive oil

1 tsp lemon juice

1/2 tsp oregano

1/4 tsp pepper

1/4 sea salt

2 cups chopped romaine lettuce

1 medium tomato, chopped

1/2 cup thinly sliced red onion

1/4 cup crumbled Feta cheese
Instructions
1. Place chicken on a cutting board and slice thinly; set aside.
2. In a small bowl, mix the olive oil, lemon juice, oregano, pepper and salt.
3. In a medium bowl toss together romaine lettuce, tomatoes, red onions, feta cheese and sliced olives. Add the olive oil dressing and toss to coat.
4. Place one pita on a plate and spread a couple of tablespoons tzatziki sauce on the wrap. Add 1/2 cup of Greek salad and 1/4 of the chicken slices on top. Fold over each side of the wrap about one inch and then roll the wrap tightly. Repeat with remaining pitas.
5. Serve immediately with additional tzatziki on the side. Enjoy!
— Katherine Marko