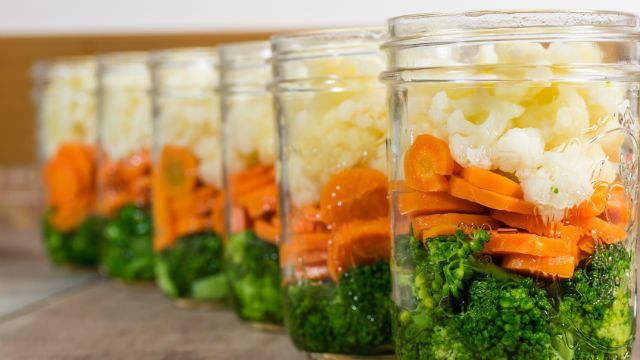 Buying lunch every day not only causes your health to decline, it also costs a ton. The average person who buys lunch every workday spends 2,500 dollars per year. Wow. Just think of the savings you'd accumulate if you brought your own healthy, easy-to-make, mason-jar salads.
To make each salad, simply place the ingredients, in the order listed, in a quart-sized wide mouth mason jar. When ready to eat, dump the salad out on a plate and enjoy.
Pomegranate Pear Salad
1 pear, chopped thinly
3 cups spinach leaves
½ cup pomegranate seeds
¼ cup pecans, chopped
2 ounces blue cheese, crumbled
3 tablespoons homemade sherry vinaigrette
Three Berry Salad
½ cup strawberries, sliced
½ cup blueberries
½ cup blackberries
¼ cup almonds, slivered
4 tablespoons citrus dressing
Apple Radish Salad
3 tablespoons raw almond butter
1 tablespoon rice wine vinegar
1 pinch of sea salt
1 tablespoon maple syrup
2 teaspoons sesame seeds
Place first 5 ingredients in the jar, close the lid, and shake to combine. This makes your dressing. Then, add:
2 radishes, sliced thinly
¼ green apple, chopped
1 stalk celery, chopped
⅓ cup walnuts, chopped
2-3 cups mixed greens
Southwest Salad
¼ cup homemade salsa
1 tablespoon plain yogurt
¼ cup cherry tomatoes, chopped
¼ red onion, chopped
½ can black beans, drained and rinsed
¼ cup frozen corn, thawed
½ avocado, chopped
1 ounce pepper jack cheese, cubed
1 cup romaine lettuce, chopped
1 tablespoon fresh cilantro, chopped
Caesar Salad
¼ cup romaine lettuce
1 cup cucumber, diced
½ cup cherry tomatoes, diced
½ avocado, diced
3 ounces grilled chicken, cubed
2 cups kale
1 tablespoon parmesan cheese
Cobb Salad
2 teaspoons olive oil
1 teaspoon red wine vinegar
½ teaspoon dijon mustard
Salt and pepper to taste
Place the above ingredients in the jar. Close the lid and shake to make dressing. Continue adding other ingredients on top.
4 ounces cooked chicken, cubed
¼ cup cherry tomatoes, halved
1 hard boiled egg, chopped
¼ medium avocado, chopped
2 cups romaine lettuce, chopped
1 tablespoon blue cheese, crumbled
Sweet Potato Salad
4 tablespoons homemade dressing of your choice
¼ cup quinoa
1 sweet potato, cooked, peeled, and diced
½ cup black beans
¼ red pepper, diced
2 cups baby spinach
1 tablespoon dried cranberries
1 tablespoon sunflower seeds
Healthy and delicious… what could be better?
-The Alternative Daily