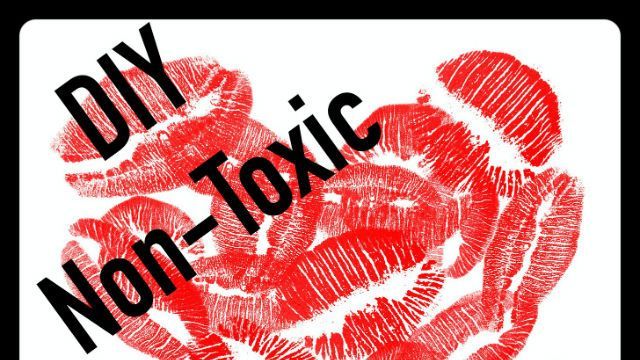 If you've been using standard lipstick you may want to reconsider and make your own. A 2013 study conducted by researchers at the University of California-Berkeley's School of Public Health, found that commonly sold lipsticks and lip glosses contained lead, cadmium, chromium, aluminum and five other metals — some at potentially toxic levels.
Prior research has also discovered lead in lipstick, including a December 2011 survey of 400 varieties by the Food and Drug Administration that found low levels which the agency said posed no safety concerns. The Berkeley study looked at more metals and estimated health risks based on their concentrations and typical lipstick use.
Co-author of the study, Katherine Hammond, professor of environmental health said that finding the metals was not the issue, it's the levels of them that are a concern, noting that "some of the toxic metals are occurring at levels that could pose health problems in the long run."
The average user is said to ingest 24 milligrams of lipstick each day, and heavy users may ingest as much as 83 milligrams on average daily.
If you'd like to avoid ingesting those toxic metals, consider these five ways of making your own, healthier version.
Basic lipstick recipe
This is a great basic recipe that can be tweaked a number of ways to achieve your desired color.
Ingredients:
1 teaspoon beeswax pastilles
1 teaspoon shea butter or cocoa butter
1 teaspoon coconut oil
For a red hue, add ⅛ teaspoon beet root powder or one drop natural red food coloring. For brown, add ¼ teaspoon organic cocoa powder and a small pinch of cinnamon or turmeric. You can also add a drop of essential oil of your choice for a nice scent.
Melt the beeswax, shea butter/cocoa butter and coconut oil in a glass jar without a lid by placing the jar in a small pot of simmering water. When the mixture is completely melted, remove the jar from the heat and add any optional ingredients listed above. Mix well and use a dropper to pour it into a container. Keep in mind that it will expand slightly as it cools, so you don't want to fill it all the way to the top. Store in a cool place.
Beet lipstick
Beets offer an intense red hue, great for making natural lipstick. The sunflower oil and beeswax in this recipe also helps to soften the mouth and soothe chapped lips.
Just melt one tablespoon of sunflower oil and one tablespoon beeswax in a double boiler or the microwave. Slowly add dried beet root in order to achieve your desired color, which can range from a pale pink to deep red. Stir constantly. Allow the mixture to cool and then apply to the lips. Store inside in a clean container for later use.
Fruit lipstick
Simply applying the juice from raspberries, cherries or strawberries can also add nice, natural color to your lips. To add shine, use a bit of coconut oil with it.
Crayon Lipstick
While it may sound strange, you can even use crayons to make lipstick as they're made from paraffin wax which is considered to be totally safe and harmless.
Ingredients:
½ crayon in your desired color
½ teaspoon of jojoba oil or coconut oil for gloss
A small dab of Shea butter, about the size of an almond
Crush the crayon into tiny pieces and then mix them with jojoba or coconut oil and Shea butter in a small bowl. Simmer some water on the stove and put the bowl on top, stirring until the mixture is well-blended. Place it into containers and then inside your refrigerator. Tap the containers while they're cooling to prevent bubbles from forming. When the mixture has cooled, you can apply it on your lips.
Flavored lip balm
If you don't necessarily want color, these flavored lip balms are a great non-toxic option.
Ingredients:
1 teaspoon Beeswax beads
3 teaspoons olive or sweet almond oil
up to 1/8 teaspoon of lip safe essential oil like peppermint, cinnamon or lavender (avoid lime, orange, grapefruit and bergamot which can cause the sun to burn your lips)
Gently melt all ingredients together on low heat. Remove from heat and allow the mixture to cool for several minutes. Add essential oil and mix well. Pour into lip balm tubes or pots. This recipe makes 3-4 tubes or 2 small pots of lip balm.
Making your own lipstick and lip balm is not only a lot better for you, it's fun!
-The Alternative Daily
Sources:
http://ehp.niehs.nih.gov/1205518
http://www.usatoday.com/story/news/nation/2013/05/02/toxic-chemicals-lipstick/2125325
http://www.projectinspired.com/diy-make-your-own-lipstick
http://simplelifemom.com/2012/11/28/homemade-lipstick
http://www.emaxhealth.com/1020/3-ways-make-safe-natural-lipstick