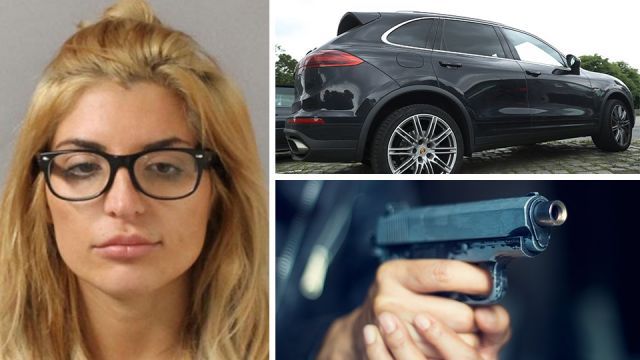 A woman has been charged with attempting to kill a homeless man after being asked to move her Porsche SUV. However, the woman's father now claims that the man had threatened to harm her, The Tennessean reported.
Homeless man was trying to sleep
Local police reported that the man, 54-year-old Gerald Melton, was "trying to sleep on the sidewalk" at around 3 a.m. in Nashville, when he was disturbed by exhaust fumes and loud music coming from the Porsche.
Melton then asked the driver of the Porsche, 26-year-old Katie Layne Quackenbush, to move it, and a yelling argument between the two ensued. Police stated that after Melton walked back to where he'd been trying to sleep, Quackenbush got out of her car armed with a gun and continued the argument. She fired at Melton twice, wounding him in the abdomen. According to Melton, she then got back into her car and drove off.
Quackenbush's father, however, tells a different story. He claims that Melton threatened to kill her and made sexist remarks at her. "She didn't try to kill this guy, she had no intention of killing him, she didn't know that she hit him," he said.
Quackenbush was booked into jail on Monday night and given a $25,000 bond. She is scheduled in court for on October 6.
A woman shot a homeless man in Nashville who asked her to move her Porsche SUV, police say https://t.co/OsYLd0N0KI pic.twitter.com/ppTp3kuum8

— CBS News (@CBSNews) September 13, 2017
Violence against homeless people declining, but still too high
There has been a spate of attacks against homeless people in the U.S., according to one report, with 77 reported attacks in 2015. However, many attacks, especially those by police, go unreported, as homeless people have few relatives or resources they can call to take action.
Last year, a 36-year-old man was arrested in San Diego for four attacks on homeless people, burning and beating two of them to death, and severely injuring two others. Two brothers also tied up homeless man George Lowery, 50, then robbed and beat him to death.
Earlier this year, a homeless man curled up in a blanket was bludgeoned to death with a blunt object in Las Vegas, and then a month later another homeless man was killed at the same intersection, in the same way. Some days later a third was killed in the same way, with what appeared to be a hammer. The police set a trap, putting a mannequin under a blanket at the same corner, and captured 30-year-old Shane Schindler on camera after he swung a four-pound engineer's hammer down on the mannequin's head several times.
As of just last week, a man from Tulsa is being held in connection with two hit-and-run crashes that authorities believed were targeting homeless people.
Some states, such as California and Florida, are classifying attacks on homeless people as hate crimes. "Many attacks occur because they are simply dehumanized in the bigoted minds of violent offenders," the report stated.
— Tamara Pearson
(Mugshot photo: Katie Layne Quackenbush, Courtesy of MNPD)