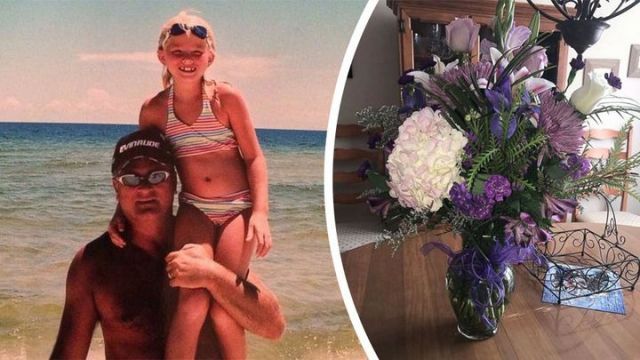 Bailey Sellers didn't want the birthday flowers to stop coming, but she knew one day they would no longer arrive. The bouquets were one of the last links to her father, who had made arrangements with a florist before he passed away from pancreatic cancer. He wanted to send his then-teenage daughter a reminder of his love each year until she reached 21.
On Nov 24, Bailey turned 21. On that day she received the last bouquet from her departed dad. She had anticipated that the moment when the flowers arrived would be bittersweet, but she never expected the note that accompanied them would be so emotional or uplifting. They said:
"This is my last love letter to you until we meet again. I do not want you to shed another tear for me my baby girl for I am in a better place… I will still be with you through every milestone, just look around and there I will be."
A story of heartbreak, but also a father's undying love
This amazing story, which has subsequently touched millions of people across the world, began nearly five years ago. In 2013, Michael Sellers, just 56, was battling pancreatic cancer, which took his life. Before he died, he asked a local flower shop to send his daughter a bouquet once a year on her birthday.
Michael passed away in August of 2013. Each year, beginning when Bailey turned 17, a different-colored bouquet arrived, which was accompanied by a brief note.
Bailey has always marked the occasion by posting photos of the flowers and the note on social media to her circle of friends. But this year was different. When she shared the handwritten letter from her dad, which was decorated with colorful butterflies, people were so deeply touched that Bailey received millions of likes and more than 300,000 shares in just a matter of days.
https://twitter.com/SellersBailey/status/934143458637500417
A heartwarming response from total strangers
Bailey never had any idea that so many people would respond with love and affirmation to her post. As she explains, "I woke up one morning with my phone completely frozen. It's crazy… I have no idea, I have no idea how it went viral."
But Bailey says she is deeply touched by the response and support she has been receiving. She says that she and her father were incredibly close. As she explains, her dad was very caring and nurturing as she struggled with health-related adversity growing up.
In fact, Bailey was diagnosed with Ehlers-Danlos Syndrome, a genetic disorder that affects the connective tissues. As a result, Bailey experiences constant pain and has spent a lot of time in hospitals.
One time, when Bailey was still a teenager, her father drove 200 miles after work just to deliver a bouquet of flowers to his daughter. Bailey remembers her father saying at the time, "You didn't expect me to miss this, did you?"
Just before he died, Michael told his daughter "I will be watching over you from heaven." She has since had those words tattooed on her wrist. They are another reminder, Bailey says, that her father is always with her.
Next year will be Bailey's 22nd birthday. The gesture her dad began is likely to inspire countless reminders of her father's love. You can see more about Bailey's uplifting story in the video below:
— Scott O'Reilly