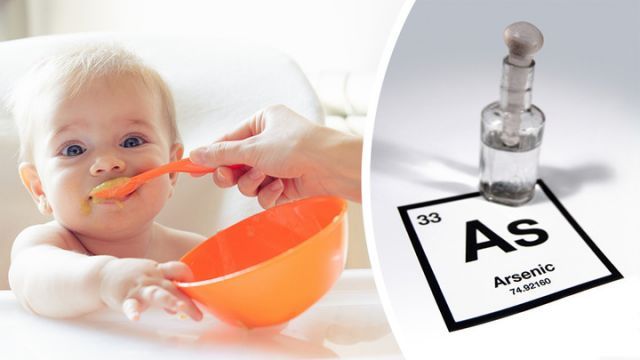 According to a new report by a health advocacy group, moms need to be aware that some rice-based infant cereals may contain harmful levels of the toxin arsenic.
Infants are at risk for arsenic exposure
The warning, which was published on the Healthy Babies Bright Futures website, suggests that parents take immediate steps to help reduce exposure to baby food containing arsenic, which is a known neurotoxin.
How serious is the threat, and what can parents do about it? Here are some things you need to know:
The concerns center around infant

rice cereals

, which contain six times the levels of arsenic than cereals made with other grain (such as oatmeal, buckwheat and barley).

Scientists agree that early exposure to arsenic can adversely interfere with normal brain development.

There is no safe exposure level to arsenic. It is a toxin that poses a particular danger to infants, but it can be harmful to adults too. As epidemiologist Margaret Karagas notes, "It's not an essential nutrient like zinc and selenium, which you need but can be toxic if you take too much — there's no known benefit to arsenic exposure."

Arsenic is ubiquitous in the environment, but higher concentrations have been found in rice because the grain is particularly good at absorbing toxins out of the soil.

Exposure to high levels of arsenic has been linked to numerous cancers. Low-level exposure has been correlated with cognitive and behavioral problems.
According to Jane Houlihan, a health advocate and the research director at Healthy Babies Bright Futures, "Infants are especially vulnerable because their bodies are so small, and on a per-pound basis, they're getting much higher exposure than anyone else in the population. They're also vulnerable because it is a neurotoxic compound, and their brain is developing."
But Houlihan adds that "Parents have a lot of easy ways to reduce their babies' exposure now because there are so many new cereal options on the market, many are fortified with iron that babies need, and many are just as affordable as rice cereal."
You can check more of what Houlihan has to say on this safety issue by following her on Twitter:
Our new study found arsenic in 9 brands of infant cereal, with the highest levels in rice cereal https://t.co/PHT3X13b1z #GetArsenicOut

— Jane Houlihan (@aimtobegreen) December 7, 2017
Protecting your family
What can parents do to reduce the chances of exposing their infants to arsenic?
Many pediatricians and naturopathic physicians agree that

breastfeeding

your child can reduce arsenic exposure. In addition, introducing infants too early to solid foods (particularly commercially processed brands) can elevate their

risks

in many other ways. If you do buy jarred baby food, then always look for organic products from brands you can trust.

Cereals made from oatmeal, barley, buckwheat, wheat and rice-free multi-grain had substantially lower levels of arsenic than rice-based cereals (buckwheat and barley tested lowest of all).

If you do cook rice for your family, then experts recommend using excess water, which can help drain out more toxins. Be sure to pour off the excess water before serving.
If you need some additional resources on how to protect your family, look here, here and here.
— Scott O'Reilly