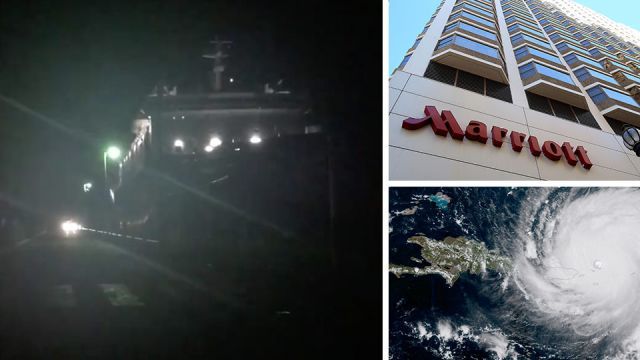 Imagine being trapped on a devastated island with dwindling food, water and shelter — when suddenly you see a rescue boat on the horizon. Now imagine that boat isn't for you, because you booked the wrong hotel.
That's exactly what happened to dozens of people on the hurricane-stricken Caribbean island of St. Thomas, who say they were left behind by a half-empty rescue boat reserved for guests of a Marriott resort.
"It was really hard to see people with kids and elderly people who don't have anywhere to stay get turned away by this boat… For some people, that was the only [glimmer] of hope," professional storm chaser Cody Howard said, according to The Washington Post. "After the boat left, they just felt hopeless and helpless," he said.
One of those people was holidaymaker and Dallas resident Naomi Michial Ayala, who was among a group of around 35 tourists turned away by a U.S. Coast Guard rescue boat that had been chartered by Marriott. "Marriott Hotels turned 30 [people] away to leave St Thomas. The boat said yes. Marriott said we could not board to escape #hurricanejose to go to San Juan [Puerto Rico]," she said in a Facebook post. "The boat actually holds 1800. They had 500 passengers. 1300 open seats," she said.
Both Howard and Alaya said the boat staff were willing to take on additional passengers, but Marriott top management refused, allegedly because they didn't want to take "liability."
"It was Marriott's decision. Marriott did not let us on this boat to get to San Juan so we can get on flights back home. Instead, we have to ride out Hurricane Jose on St. Thomas when we just went through Hurricane Irma," Ayala said.
An island in crisis
The incident allegedly occurred on Friday, after St. Thomas had already been crippled by Hurricane Irma. Part of the U.S. Virgin Islands territory, St. Thomas, was among the worst hit by the hurricane, with buildings flattened and much of the island's 50,000 residents in need of emergency aid. "There were houses that weren't even standing anymore," local business owner Julius Jackson told ABC. "You could see just the debris and the stairs," he said.
Another local, Pastor Jeff Neevel, said there's not a leaf left on a tree. "It looks like a deserted planet," he told ABC. "I have 15 families [in the congregation] that have lost their homes… and the entire population of the island is half homeless now because of roofs blown off," he lamented.
Homelessness isn't the only problem for residents, with mounting fears emergency supplies could run short. "Gas and diesel are starting to run out," resident Kurt Nose told NBC. "Fresh drinking water is starting to get scarce," he continued. "How long the food we have here will last and how quickly they can get food in here is a question."
Another local, Conn Davis, simply said, "The island has been totally destroyed… It looks like a bomb went off everywhere."
That was before a second hurricane, Jose, was expected to hit the island. In the face of such devastation, Howard said that by failing to aid travelers, Marriott had effectively "denied humanitarian aid to women, elderly people and children."
"The whole sense that I got out of it was: We didn't pay enough money to stay at a Marriott place, therefore, we weren't good enough to get on that boat," he said.
Marriott responds to criticism
Marriott has responded to the allegations it left people behind at the dock in St. Thomas by admitting they weren't able to help. "There were a number of additional people gathered at the dock who were not our guests who also expressed a desire to leave St. Thomas," Marriott said in a statement. "We very much wanted to assist these other travelers to Puerto Rico, however, the Marriott team on-the-ground was told they had no authorization to board additional passengers."
They added, "We continue to work with local authorities in St. Thomas to help support the relief efforts there." However, residents of St. Thomas and other Caribbean islands say it's not just Marriott that they feel has abandoned them.
"The weather channels didn't even include us," said Laurel Brannick, a park ranger on the isolated Virgin Island of St. John. "All they kept saying was that Irma was in the Caribbean and headed to Florida," she told the Miami Herald.
Another Virgin Island resident, Matt Gyuraki, went further, accusing the mainland of largely forgetting the Americans on the front lines of the Caribbean's hurricane season. "It feels like we're the bastard step-children of America and now nobody wants to help us," he said. "America wanted us at one time, but now they really don't."
The U.S. Virgin Islands have been hard hit by this year's hurricanes, with local authorities still assessing the damage. Both St. Thomas and St. John are "pretty devastated," Virgin Islands Representative Stacey Plaskett told USA Today. Speaking to MSNBC, she said, both islands have lost almost all public infrastructure and are in desperate need of aid. "We've lost practically 70 percent of our infrastructure in terms of utility system on the island St. Thomas and all of the utility system on the island of St. John," she said.
Recovery is expected to take years.
— Ryan Mallett-Outtrim