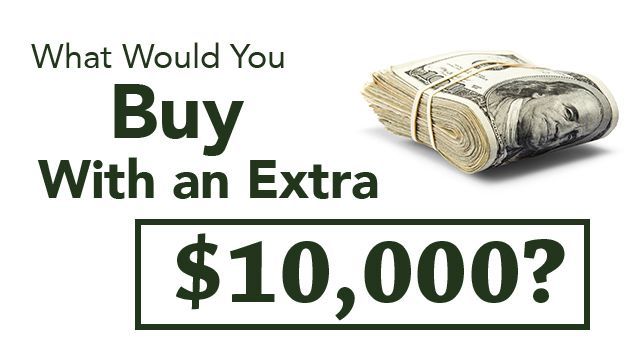 We'd all love to have an extra $10,000. I mean, an extra $10,000, aside from savings, college fund money, and an emergency security blanket. This would be money on top of all that — money you could spend on whatever you wish, without worrying about financial security.
The question is: What would you do with it?  
Recently, the Money section of Time magazine's website ran a list of 24 ideas on how to spend an extra $10,000. There were some great ideas in the mix, including these:
Self-publishing a book. The $10,000 could go towards the costs of editing, designing, formatting, and publicizing a career-kickstarting book in your area of interest or expertise.

Learning a new language in an immersive environment.

Time

's idea was taking a "language vacation" and taking a course in the country of your choosing. After all, being in an environment where everyone speaks the language you're learning may be the best way to pick it up quickly.

Renovating your home and getting it ready to sell. You could upgrade a home significantly with $10,000 to spend, potentially increasing its market value.

Purchasing a home in an area popular with students in order to rent it out. In the right area, the rent you can charge may be significantly higher than your mortgage payment.

Opening a donor-advised fund, to give money to the charity (or charities) of your choice.

Placing your $10,000 in a CD (certificate of deposit), to grow interest with little risk.
Time also had some great travel ideas, such as an excursion through the Amazon rainforest, a ski vacation, or a cruise through Europe on the Danube. These were just a few of the ideas listed, and it got me thinking of a few more.
With the idea of self-publishing a book in mind, you could also use $10,000 to invest in any creative pursuit you may have. If you're a painter, sculptor, or any other type of visual artist, this chunk of change could buy a lot of art supplies, and you could even set up your own studio. If you have a lot of pieces done already, you could open a small gallery of your work.
Maybe there's a hobby you've always wanted to try, such as glass-blowing, but haven't had the money. You could take lessons, and get the equipment to set up a workstation in your garage. If you've always wanted to ballet dance, $10,000 would cover a lot of lessons, ballet shoes, and tickets to see the pros in action. Whatever your dream activity, this money could help you get started, and then some.
When it comes to traveling, with $10,000, you could go anywhere in the world, and take family and friends along for the trip! If there's nowhere you want to go at the moment, you could choose to set up "travel funds" for your children, so that they can go on their dream vacation once they graduate high school or college. If you don't have children, maybe you have a friend who's been dying to see the cherry trees bloom in Kyoto: you could help them get to their dream destination.
Giving is the most noble — and most rewarding — thing we can do, and with an extra $10,000, you have a lot to give. Giving to charity is one idea, and though you have to be careful which charities you choose — some only give a small percentage of donations to the actual cause — there are many shelters, soup kitchens, hospitals, community organizations, and international efforts striving to do good for people, animals, and the planet. A sizeable donation could help these types of organizations significantly.  
Along with donating, you could also simply give personal gifts, just because. Maybe you know someone in your community who has been struggling to make ends meet. You could help them out! This could be done anonymously, if you so choose. Maybe a friend of yours really wants to adopt a dog or cat, but is low on cash: you could help bring their new best friend home. There are so many ways to give, the possibilities are endless.
If you had an extra $10,000 to spare, what would you do? Take our poll:

—Tanya Rakhmilevich
Tanya is a writer at The Alternative Daily with a passion for meditation, music, poetry, and overall creative and active living. She has a special interest in exploring traditional Eastern remedies and superfoods from around the globe, and enjoys spending time immersed in nature.
Source:
http://time.com/money/3144888/invest-save-spend-10000-now