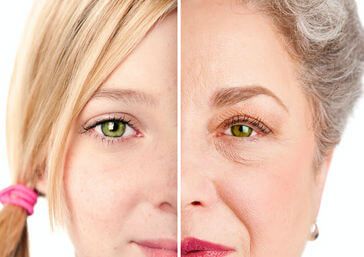 The ads seem so convincing, don't they? Just put this cream or that cream on your face one time a day and BINGO, the wrinkles will disappear.
This is hard to believe, really, but many women, distraught at the skin changes that often accompany aging, are often desperate to make the lines go away.
There is no clinical evidence of a topical beauty product's effectiveness in scientific literature, no matter how hard you look. In fact, you are more apt to find research that explores the dangers of such personal care products.
Numerous products that claim to reduce wrinkles and fine lines actually damage the top layer of skin, which leaves it vulnerable to damage from toxins and sunlight, according to Dr. Sam Epstein, chairman of the US Cancer Prevention Coalition.
Epstein says that creams should be more closely monitored in the United States and that many leading brands contain the dangerous ingredient, alpha-hydroxy acids (AHAs). In this case, it is the cream, more than aging, that consumers should fear.
In Support of Botanical Extracts
Researchers from the United Kingdom searched through popular health databases including Medline, Embase, Cinahl, Central, and AMED, and also got in touch with skin product manufacturers and professional groups to find random clinical studies that assessed the ability of botanical extracts to reduce wrinkles and signs of aging in skin.
What they found were 36 relevant studies of which 11 trials involving botanical extracts met their examination criteria. These were not studies supplied by anti-aging groups, cosmetic organizations, manufacturers or professional bodies.
Here are four botanical extracts that were found effective against wrinkles and fine lines:
Date kernel – when date palm kernel was investigated, 60% of study participants had a visual improvement in wrinkles
Cork extract – when study subjects applied a gel of 3% cork extract, or a placebo on each forearm, 73% of volunteers experienced a skin smoothing effect with the cork extract. The results demonstrated that cork extract could be of great use in anti-aging skin care products
Soy extract – when volunteers in a Japanese study took an oral dose of the soy isoflavone, aglycone, many experienced a noticeable improvement in wrinkles and skin elasticity around the eyes after 8 weeks compared to the control group.
Peony extract – peonies are not just beautiful flowers; the root is antioxidant-rich and acts as a skin brightener and free radical fighter that will nourish and protect the skin from toxic insult.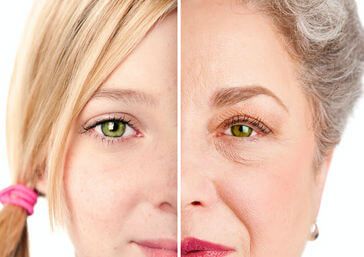 Keep in Mind
The average person's skin weighs 8 pounds and measures 22 square feet. Our skin changes as we age, regenerating itself about every 27 days or so. In order to keep your skin looking its best and healthiest, proper care and treatment are essential.
It is vital to understand that the skin is a semi-permeable membrane, even though it does act as a barrier of sorts. Whatever you slather on your skin is absorbed into the body. A good rule of thumb when dealing with aging skin is to do the following:
Eat a healthy, non-processed diet containing plenty of organic fruits and veggies
Cut out refined sugar and flour
Drink at least 10 glasses of filtered water daily
Exercise your face – you can even do this by smiling more
Do not put anything on your face that you would not eat
– The Alternative Daily