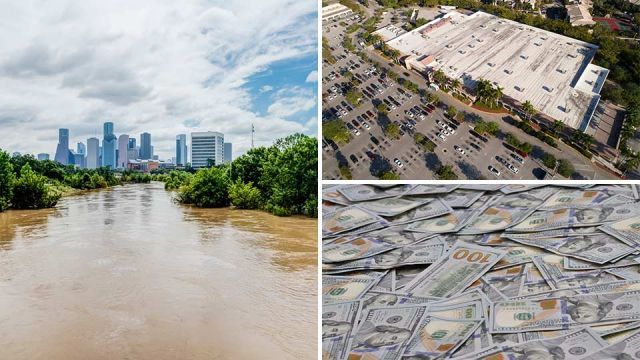 Although the tragedy of natural disasters, like Hurricane Harvey, bring sadness and destruction, they also tend to bring out what is best in mankind — even in the cesspool of corporate America!
Such is the case with Walmart, a superstore that I am not particularly fond of. The company has stepped up its game to help the victims in the Gulf region who have been heavily impacted by the latest hurricane. Way to go Walmart! Or, dare I say, this should be expected of such a massive entity. Either way, it's good news.
While you, like me, may not be a huge Walmart fan, I am thrilled at the way they have responded to the needs of storm victims and their associates. They are leading the way by example for other big businesses to step in and help as well!
"Our Texas family of customers and associates are experiencing devastating impact from this storm," said Doug McMillon, President and CEO of Walmart. "We are on the ground to help our friends and neighbors in the Gulf region, and we'll continue to be in the tough days, weeks and months ahead."
Thank you @Walmart @SamsClub for all you've done to support @CMNHospitals & other great causes. #HurricaneHarvey 💛🙏🏼 https://t.co/Dw9CdYIXFu

— Marie Osmond (@marieosmond) August 31, 2017
What Walmart is doing to help
Walmart and the Walmart Foundation will give up to $20 million in response to the hurricane. They will support the efforts of the American Red Cross shelters, giving them $10 million for provisions. They will give $2 million to the Hurricane Harvey Relief Fund at the Greater Houston Community Foundation.
Also, Walmart will give cash and donations to support the Salvation Army, Feeding America, Convoy of Hope and Team Rubicon. Local stores in the Gulf have been given supplies from Walmart such as baby food and batteries, as well as kayaks for first responders, the National Guard and police. Originally, Walmart committed to $1 million of in-kind donations for immediate relief, but the company has expanded its efforts considerably.
That is not all — Walmart is also doing the following to aid those so desperately in need:
Working to open stores impacted by the storm.
Helping store associates in more than 16 counties in Texas by providing meals, allowing access to earned wage and disaster support assistance and setting up support centers in impacted areas.
Shipping more than 930 truckloads of water to impacted areas.
Providing food, water and comforts like clothing, TVs, games and daily essentials to the George R. Brown Convention Center sheltering operation in Houston.
Setting up a mobile pharmacy staffed with Walmart pharmacists in the Kay Bailey Hutchinson Convention Center in Dallas. This effort is providing prescription related counseling at no cost to hurricane victims.
Walmart believes in giving back
Thankful to Officers @HoustonPolice and impacted areas. Thank you for keeping people safe. #BetterTogether #HurricaneHarvey pic.twitter.com/bzchKYkVLU

— Walmart (@Walmart) September 1, 2017
Walmart has stores in 28 countries and employs more than 2.3 million people. The company does business with thousands of suppliers who also employ millions of people. Here is what the company has to say about philanthropy:
"Our philanthropy helps people live better by supporting upward job mobility and economic development for the retail workforce; addressing hunger and making healthier, more sustainably-grown food a reality; and building strong communities where Walmart operates and inspiring our associates to give back.
Whether it is helping to lead the fight against hunger in the United States with $2 billion in cash and in-kind donations or supporting Women's Economic Empowerment through a series of grants totaling $10 million to the Women in Factories training program in Bangladesh, China, India and Central America, Walmart and the Walmart Foundation are not only working to tackle key social issues, we are also collaborating with others to inspire solutions for long-lasting systemic change."
Since 2005, Walmart and the Walmart Foundation has donated over $60 million in cash and in-kind donations in response to disasters. To learn more about Walmart's giving, visit www.giving.walmart.com/foundation.
How Walmart is helping us help
Walmart customers can donate any amount to the American Red Cross at Walmart stores and Sam's Clubs, or online at Walmart.com and Samsclub.com. You can also text WALMART to 90999 and donate ten dollars via your wireless carrier. For every dollar donated, Walmart will donate two dollars worth of cash.
Sure, all this aid is going to provide Walmart a massive tax break, but I encourage you to focus on how this aid is going to do great things for those in need. We should keep our focus on what matters, how people's lives have been rocked by this natural disaster and how long the rebuilding process will take. This should inspire us to contribute to the greater good and do whatever we can to help.
A universal spirit of sympathy and sacrifice is what is needed now by citizens and corporations alike. We need to set aside what is important to us for the good of others. This is the way we should live each day but most definitely now when our fellow Americans are suffering.
If you want to learn more about Walmart, visit the website here or follow on Facebook and Twitter.
— Rich Everfail