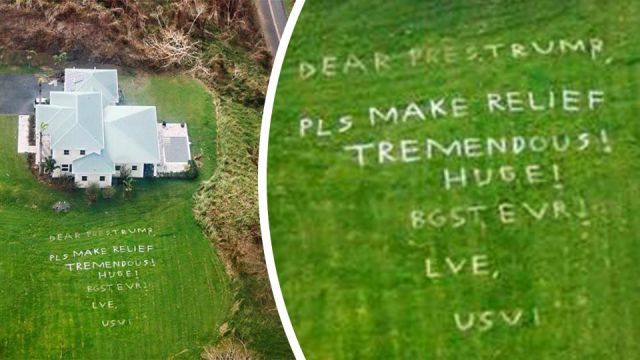 A photo has gone viral on the internet of a home somewhere in the United States Virgin Islands (USVI) asking for the best possible relief efforts from the Trump Administration.
As seen below, it reads, "Dear Pres. Trump, Please make relief tremendous! Huge! Best Ever! Love, USVI."
Letter to @realDonaldTrump from fellow Americans. pic.twitter.com/sAG33wksxU

— ian bremmer (@ianbremmer) September 26, 2017
Appropriately, it is written in a similar tone that the president uses on Twitter. In a way, it is great to see that sense of humor in such a disheartening time for the area, which, like Puerto Rico, got hit extremely hard by category 4 Hurricane Maria last week.
After complaints of President Trump not being attentive enough about the devastation that Puerto Rico and the Virgin Islands took last week, the President announced that plenty of water and food are on the way. Today, he also announced that he would be traveling to the island nation next Tuesday. Apparently, that is the absolute earliest he could travel there due to scheduling.
"Thank you to Carmen Yulín Cruz, the Mayor of San Juan, for your kind words on FEMA etc. We are working hard. Much food and water there/on way," Trump wrote on Twitter.
Some people on Twitter have complained about the lack of attention to the USVI, claiming that Puerto Rico wasn't the only unincorporated territory controlled by the U.S. that the deadly storm hit.
One user tweeted this:
St.Thomas St.John St.Croix is all US territory what about us it's not just Puerto Rico DAMN! #USVirginIslands pic.twitter.com/tjZBipUC7F

— Malache Hunt (@BeautymebyChe) September 20, 2017
Another user pointed out that both Puerto Rico and the USVI need help:
#USVirginIslands could use aid as well. Actually, just helping everyone in the devastation would be good. https://t.co/iYL3ckbDBV

— DarkFerret (@FujoshiFerret) September 24, 2017
What are your thoughts on this situation and viral picture? Let us know in the comments!
— Peter Amirata