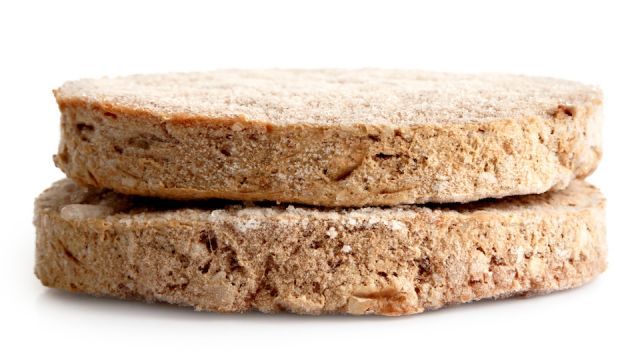 AdvancePierre Foods, a subsidiary of Tyson foods is pulling 20,300 pounds of ready-to-eat beef patties from stores because it may be contaminated with plastic. Tyson acquired AdvancePierre Foods in 2017 and is now faced with the possibility of a major recall. According to the U.S. Department of Agriculture's Food Safety and Inspection Service, (FSIS), consumer complaints regarding soft purple plastic found in ready-to-eat beef patties have raised a flag.
FSIS is concerned that some of the product which was produced Nov. 30, 2018, at AdvancePierre's Enrid, Okla, plant, may be frozen in food service freezers. Cases weighing 14 pounds each and containing three bags of thirty pattie each were shipped out to food service locations nationwide. According to the USDA, this includes schools.
No adverse reactions reported… yet
Although there have been no health issues reported from eating the patties, people are urged to be cautious. Foodservice locations who have purchased patties should not serve or consume them. Unused patties should be thrown away or returned.
Cases are labeled "CN Fully Cooked Flamebroiled Beef Patties Caramel Color Added," with case code 155-525-0 and package code 8334. The recalled products have the establishment number "EST. 2260E" inside the USDA mark of inspection.
More recalls in 2019
As we reported in our 2018 Food Recall Roundup, it is always good to be informed. Here are more recent recalls.
68,000 pounds of  Organic Purdue Chicken Nuggets recalled

–  In late January, the USDA's Food Safety and Inspection Service announced that consumers reported finding wood in ready-to-eat nuggets This recall was classified as a Class 1 meaning it is a health hazard with a reasonable probability that the use of the product could cause serious health issues, even death. There have been no adverse reactions reported yet.

The potentially contaminated bags will have a best by date of October 25, 2019, and a UPC Bar Code reading "72745-80656" on the back label. The front of the bag has a plant code of P-33944 in the bottom right corner. If you have any of these bags in your freezer, toss them out!
General Mills Unbleached All Purpose Flour (5lb bags)

– Although there have been no reported illnesses, there is a possibility that bags of flour in this recall could contain Salmonella. Salmonella can cause abdominal pain, diarrhea, nausea, vomiting, and fever. Although bacteria are killed by heat such as in baking, frying, boiling or sauteing, General Mills warned consumers not to eat anything that contained raw flour.

If you have a 5 lb. pound bag of Gold Medal Unbleached Flour in your home (with a best if used by date of April 20, 2020), you should dispose of it. You can contact General Mills at 1-800-230-8103 for questions or a replacement coupon.
North Country Smokehouse Ready-to-Eat Sausage Products –

 On  March 23, 2019, 2,686 pounds of ready-to-eat sausage products that may be contaminated with metal were recalled

.

The ready-to-eat kielbasa sausage items were produced on February 7, 2019, and February 8, 2019.
For an entire list of all recalls so far in 2019 for supplements, food and pet products check here. Remember, shopping locally and knowing where all of your food comes from is the safest bet when it comes to avoiding potentially dangerous contaminants. Also, eat as many whole foods as possible and avoid processed ready-to-eat products. For produce and fruit – grow your own or visit a local farmer's market for fresh, local produce.
Stay safe, eat well!
-The Alternative Daily