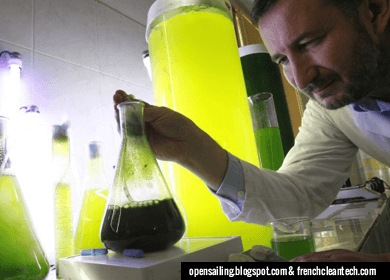 French biochemist Pierre Calleja has harnessed the potential of green algae in a truly revolutionary manner: to control carbon emissions from traffic exhaust via street lamps powered solely by photosynthesis and sunlight. One quarter of worldwide carbon emissions are caused by traffic, and these remarkable, tube-shaped lights would do wonders in controlling our planet's urban pollution problem. Each of the lamps can absorb up to a ton of carbon dioxide per year, which is about 200 times more than a tree.
Green algae has inhabited our planet for millions of years, and grows in a wide array of locations and climates, mainly aquatic. The group is composed of over 7,000 species. Green algae contains two forms of chlorophyll. It feeds on light and carbon dioxide in order to produce glucose.
Pierre Calleja's street lamps, filled with green micro-algae, contain a battery which is charged by the photosynthesis process, taking in damaging carbon from the surrounding atmosphere.
They present the world with an exciting lighting solution for a variety of urban locations where trees are scarce. The prototype of Pierre Calleja's street lamp has been installed in a parking lot in Bordeaux, France, and is undergoing beta testing.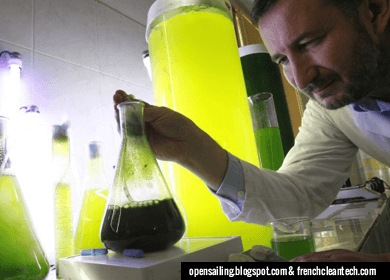 Pierre Calleja envisions that his lamps will someday be used in underground garages and on the sides of roads and highways, along with other locations with constantly high levels of carbon emissions. He states, "my dream would be to go into people's homes and see micro-algae lamps being used… that would be great." Check out the algae lamp in the video below:
The technology that these lamps use to harness the power of green algae is potentially far-reaching, and could prove to be an important wordwide step towards the use of natural, renewable energy sources. Calleja summarizes, "it's our earth, and we want to show that micro-algae can have a part in saving it." If his dream comes true, you may soon see these amazing green lights in a city near you.
What do you think of the algae lamp? (You probably had a lava lamp, didn't you)
– The Alternative Daily
Sources:
http://odewire.com/algaestreetlights
http://www.designboom.com/technology/self-powered-microalgae-street-lamp-absorbs-co2/