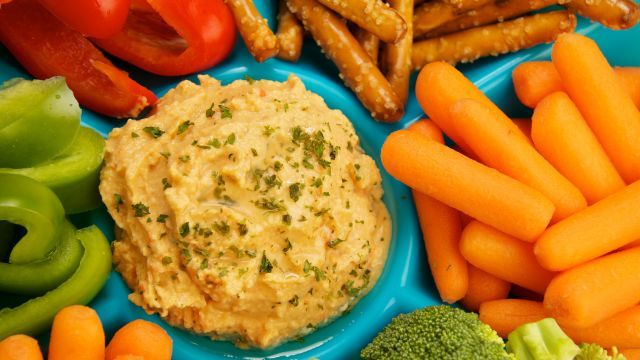 So, you're a new vegetarian. It's been a few weeks, you're taking it day by day, and finding some really yummy new recipes that celebrate your favorite fruits, veggies and legumes. Only one problem: you can't shake the craving for meat!
This is a very common problem for vegetarians, many of whom revert back to eating meat because they simply miss it too much. If this is you, have no fear, we've got you covered. When cooked a certain way, certain vegetables take on an almost meat-like quality, and can help satiate a meat craving in a meatless, healthy way.
Try cooking up one of the following so-simple-it's-silly dishes next time you have a hankering for hamburger, and see if it does the trick!
Tender-Roasted Oregano Carrots (for lacto vegetarians because of the butter)
1 lb fresh carrots, peeled, halved, and cut into 2-inch chunks
½ tablespoon organic coconut oil
½ tablespoon grass-fed butter
A few sprigs of fresh oregano
2 or 3 cloves of garlic, sliced
Sea salt and fresh black pepper, to taste
Preheat your oven to 375 degrees F. In a large pan, heat coconut oil and butter over medium heat. Sprinkle with salt and pepper. Brown the carrots on each side until they have a caramelized look to them.
Halfway through browning, add the garlic and oregano, making sure they do not burn. Move carrots and garlic to a baking pan, spread in a single layer, and bake for about 15 minutes, until they are tender.
Marinated Portobello Sandwich Stuffers
1 to 1 ½ lb portobello mushrooms, sliced thickly
½ cup olive oil
⅛ cup pure balsamic vinegar
A sprig of fresh rosemary
Sea salt and fresh black pepper, to taste
In a large bowl, combine olive oil and balsamic vinegar. Add the rosemary. Marinate portobello slices in the mix, in the fridge, for about two hours before cooking. Sprinkle with a bit of sea salt before throwing them on the grill, and finish with a bit of black pepper.
Slide these slices onto your favorite gluten-free sandwiches, use to top salads, or simply eat them like little steaks!
Two secret weapons: cauliflower and eggplant
Cauliflower, especially when added to curries and slow-cooked stews, has the effect of making them feel heartier. Try it in a thick, warm curry made with a bit of saffron – it may help to control cravings even further.
Eggplant makes another great stew and slow cooker addition, is great sliced, marinated and grilled (just like the portobello mushrooms above) and can also be added to pasta sauces for some "meaty" texture.
While eating meat is a personal choice, the aforementioned superstar veggies can make the transition to going meat-free easier for those who are dedicated. They may not make you entirely forget meat – but they'll certainly give you a satisfying, hearty flavor to remember in its place.
Experiment with your own recipes to see what works for you!
-The Alternative Daily