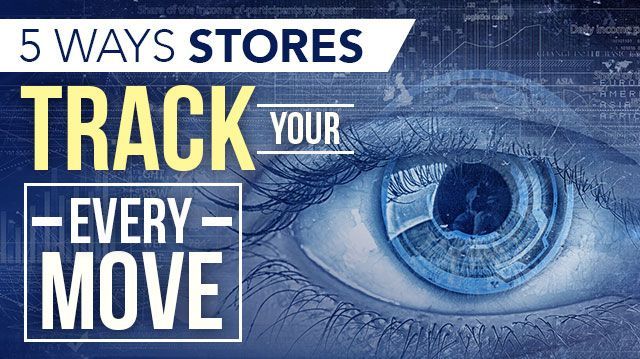 Advertisements that pop up on your computer screen are not random. Every time you go online, marketers monitor and track the websites you search, the links you click on and the things you buy. Companies then tailor content and ads specifically correlated to your expressed interests and spending habits. While online, you are being watched, whether you know it or not.
Yet there is a marketing phenomenon afoot that is even more invasive, and it's happening generally without your knowledge. Here are five ways you're being surveilled when you shop in the real world, often without even knowing it.
Video monitoring
Think being accosted by salespeople as you enter a store is annoying? Well, some retailers now use video cameras to track customers walking the aisles of their stores. By using video analytics, companies can determine the age and gender of each customer while monitoring exactly what each person touches, looks at and picks up as they peruse the shelves. 
RetailNext, the software that enables these tracking analytics, allows companies to pinpoint high traffic zones in their stores. Heat sensors are used to determine the most highly visited areas of each shop. This gives retailers valuable information as to where to place specific merchandise in order to maximize sales.
Smartphones
Yes, your phone may be "smart," but when it comes to privacy your mobile device may not be doing you any favors. When you connect to a store's free Wi-Fi, you are unknowingly allowing them access to track your movements as you shop. You are also giving them free rein to directly market to you.
By using GPS-type coding, companies can tell where you go and where you spend the most time in their stores. This "predictive modeling" information gives retailers important marketing information, like what merchandise you're interested and in which department you spend the most time.
Store loyalty cards 
Signing up for a store card might sound like a good idea at the checkout counter, but you're getting more than store discounts by doing so. Grocery store discount cards are an important marketing tool, tracking and storing your spending habits each time you shop. In fact, store cards are one of the first ways retailers began specifically tracking consumers as individuals.
When you use your loyalty card, companies record each transaction you make under your specific customer profile and use your spending trends to predict future transactions. Retailers take your spending habits and use the information for marketing campaigns. While it is nice to get coupons for items you are actually interested in buying, it comes at a cost — your anonymity.
Smart lights 
"Big Brother is watching" is taking on a whole new meaning with the advent of this new technology. Philips, the electronic company, recently released an LED lighting system that can be used in stores to track and communicate directly with your cell phone.
By connecting to your phone's camera, these lights can tell marketers exactly where you are in a given store. There's even an app that can be connected to this technology, allowing retailers to send real-time coupons for products located exactly where you're standing in their shop. It may be nice to get some discounts while you're shopping, but remember that rebates are not without cost. For one, your ability to withstand impulse buying is diminished.
Apps
When you download a store app in order to get discounts and promotions, you are also giving marketers direct access to your spending habits. Opening an app in its specific store allows the company to track your movements and send you promotions to "close the deal" on a purchase.
If you have used the app to make a shopping list, retailers can tell whether you've forgotten or decided not to buy a certain item on your list. The company can then send you additional promos or coupons to lure you back into buying that product.
Opt-out law
With the pervasiveness of online data collection, retail stores are given the ultimatum of either using ethically debatable tracking methods or be overrun by savvy Internet retailers. By shopping online, customers constantly give cyberspace marketers invaluable consumer information that allows them to specifically target their market audience. In order to compete with the ever-growing online market, physical stores are being forced to act like Internet sellers to keep up.
Luckily, there have been campaigns to limit consumer tracking, both on and offline. The Federal Trade Commission (FTC) is pushing for a "Do Not Track" bill to be passed by Congress. This law would make it easy for online consumers to curtail being personally monitored by cyber marketers. Likewise, the FTC is also working to make a consumer disclosure law for the use of retail video surveillance in stores. This would also enable customers to opt out of being monitored in certain situations.
Do you think it's creepy to have your shopping tracked or monitored in stores? Or do you enjoy the benefits of receiving discounts specific to your tastes and interests? 
—Stephanie Catudal
Stephanie Catudal is a mother, writer, hiker and outdoor enthusiast.  She can often be found exploring the Ponderosa pine forests of Northern Arizona, or splashing in the cool waters of Sedona's red rock canyons with her husband and two daughters.  Steph is a holistic health enthusiast and finds strength in her personal pursuit of fitness and wellness.  She has degrees in Media, Peace and Conflict studies and is passionate about building peace both abroad and within her community.
Sources:
http://money.cnn.com/gallery/luxury/2014/11/24/retailers-watching-shoppers-technology/index.html
http://www.nbcnews.com/id/42239031/ns/business-consumer_news/t/whos-watching-you-online-ftc-pushes-do-not-track-plan/#.VuxYKZwrLIU
http://www.moneycrashers.com/ways-retailers-track-spending-protect-personal-data