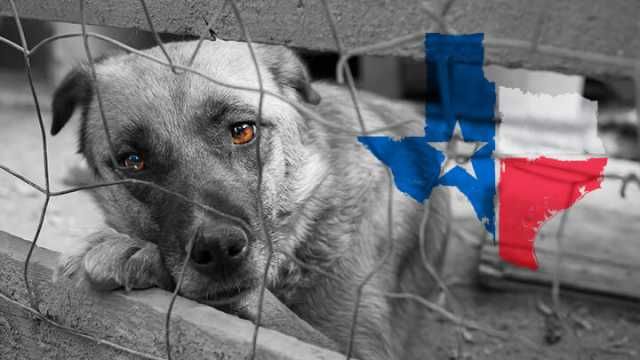 For years, all neighbors heard was incessant barking from the 20-acre property next door. But now the Liberty County Sheriff's Department and Houston SPCA have teamed up to rescue 150 dogs, six cats and one horse from Puppy-Dogs-R-Us — a self-proclaimed animal rescue property in Dayton, Texas.
Animals found living in squalor
When the SPCA workers arrived at the property, they found appalling conditions. They encountered animals surrounded by their own waste, standing on top of kennels to avoid flooded floors. They also found animals confined to rusty wire cages stacked on top of one another, some in dark sheds without heat.
"That place was horrendous," said Capt. Ken DeFoor of the local sheriff's office. He noted that the animals had been "virtually abandoned on the outskirts of the property without food, clean water, care or human interaction for weeks."
Sick animals now under veterinary care
The veterinary staff at the Houston SPA are now evaluating and caring for the animals, many of whom have diarrhea, hair loss and other medical issues as a result of being neglected. Permanent custody of the animals will be determined by a judge once the case moves to a civil hearing next week. Most likely, as is typical in animal cruelty cases, the SPCA will be granted custody of these animals so they can be adopted.
"What we found today at this facility is unacceptable," said Tara Yurkshat, the vice president of animal welfare at the Houston SPCA. "We hope we are awarded custody so we can continue their journey towards health, happiness and finding them new homes."
Why did it take years to rescue the animals?
Prior to the seizure, authorities received several complaints from neighbors."You put up a fence so you don't see it, but you still have the animals coming through all the time," said neighbor Robin Summers to KHOU news.
Officials started investigating the property in 2009. They sent several warnings to the owners, urging them to heed the state's animal welfare requirements. The owners refused to comply, though the reasons why are unclear.
Cases like this are not uncommon. Massive animal rescues take all kinds of resources — staff, rescue equipment and veterinary supplies. The Houston SPCA alone responds to more than 7,000 animal cruelty cases every year. Each case can take an immense amount of time and effort. The faster people report animal cruelty, the better.
What to do if you suspect animal cruelty
If you suspect animal cruelty, here are the steps to take so that the issue can be handled as swiftly as possible. The SPCA recommends the following steps:
Contact your local animal organization

, humane society, animal control agency, animal shelter or police department. Not sure where to turn? Find your

nearest shelter here

.

Take photographs

of the animals, property and living conditions, without trespassing on private property or putting yourself in harm's way.

Give names of other witnesses

to law enforcement officials. The case is more likely to be pursued if there are multiple complaints.

File a report

with as much detail as possible. While you can file anonymously, the case will go farther if there are named witnesses who can provide testimony.

Keep track of your progress

and any documents given to you by authorities. You'll have a concrete timeline and see when it's time to follow-up.
Don't prolong animal cruelty — if you see something, say something. Signs of animal abuse include open wounds, matted hair, emaciation, weakness, limping, timid behavior, aggressive behavior, skin conditions, flea infestation and overgrown nails. There's also the more obvious signs as well, like watching an owner physically punish an animal or keeping a pet confined in unhealthy conditions.
How to help rescued animals
This story is just another example of why it's always best to adopt pets from a shelter — there are countless animals in desperate need of families who will care for them. Instead of buying purebreds from a puppy mill or paying thousands for a show-quality animal, please give abused animals a chance to have a safe, permanent home.
If you can't adopt pets from your local shelter, consider supporting them in others ways. You can become a volunteer, provide supplies or support organizations financially. If you'd like to support the group who helped rescued the animals in this story, donate to the SPCA here.
— The Alternative Daily