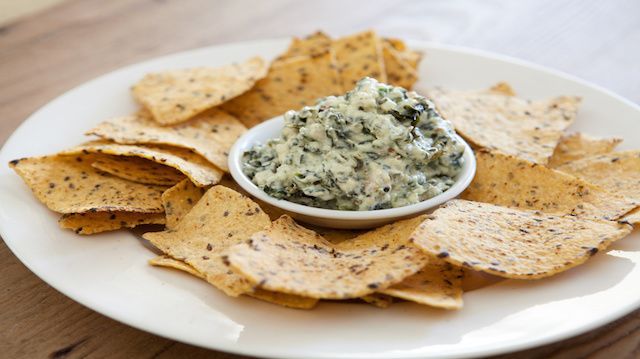 Hummus has become a go-to dip for health-conscious folk and foodies alike. It's a delicious, high-protein dip that is easy to make and easy to buy. Over time though, eating the same dip can get old. So what do you do when you feel like a change? Here are four dip recipes that are sure to tempt your taste buds and keep you coming back for more.
White Bean and Spinach Dip
1

bag (6 oz.)

organic baby spinach

1

can

organic navy beans, cannellini beans or great northern beans, rinsed and drained

2

tbsp

olive oil

2

chopped garlic cloves

1

tbsp

tahini

1

tbsp

naturally-fermented, organic soy sauce

1

tbsp

finely-chopped yellow onion

1/2

tbsp

red wine vinegar

1/2

tbsp

dried chives

1/2

tsp

red pepper flakes

salt to taste
Turn on your stove to a medium heat. Add one tablespoon of olive oil to a small pan, then add the spinach, red pepper flakes, dried chives, garlic cloves and yellow onion.

Once the oil is heated, stir in the remaining tablespoon of olive oil, soy sauce, red wine vinegar and tahini.

Add water to the pan as needed to keep the mixture from sticking.

Cook until the onion pieces are translucent, the garlic is lightly toasted and the spinach is wilted, about 5 minutes.

Remove from the heat and allow the pan to cool.

Meanwhile, blend or mash your beans. When the spinach mixture is cooled, stir in the beans. Add salt to taste. Serve warm or cold.
1/2

can

organic black beans, rinsed

1/2

can

fat-free refried beans or 1/2 avocado

1/4

cup

non-GMO, organic corn

1/4

cup

red bell pepper, diced

1/4

cup

cherry tomatoes, chopped

1/4

cup

red or yellow onion, diced

1/8

cup

fresh cilantro

1/2

lime, juiced

1

tbsp

Mrs. Dash Southwest Chipotle seasoning or Fiesta Lime seasoning

dash

of paprika

1/2

jalapeno, chopped (optional for more heat)

salt to taste
This is one of the easiest bean dips you will ever make. Once everything is chopped up and the lime has been squeezed, you can just stir all the ingredients together and eat. Don't wilt the onion, cherries or cilantro. Leave it fresh to add some bite and crunch to this creamy dip. If you can't find refried beans, use half an avocado instead. I, personally, think the refried beans makes it more of a bean dip. But as with all recipes, ingredients can be substituted or added as you see fit.
2

cups

water

1

cup

uncooked, organic red lentils

1

yellow onion, sliced

4

chopped garlic cloves

3

tbsp

lemon juice

2

tbsp

tahini

1/2

tbsp

Bragg's Liquid Aminos (optional for flavor)

1/2

tbsp

olive oil

1/2

tsp

cumin

1/4

tsp

paprika

1/4

tsp

salt
Rinse the lentils to remove any impurities and indigestible phytic acid, which causes gas and bloating.

In a pot, boil the water and add the lentils. Return to a boil, cover and simmer for 10–15 minutes.

Take the pot off the heat and allow time for the lentils to cool. Meanwhile, in a pan, heat the olive oil over a medium-low heat. Add the onions and cook until they are translucent. Sprinkle with salt, cover and allow to continue cooking for 20 to 30 minutes until the onion slices are caramelized.

Add water as needed to keep the onions from burning.

Turn off the heat and add the garlic while the pan is still hot. Wait about one minute or until the garlic is aromatic but not browned.

Dump the onion/garlic mixture onto a cutting board and loosely chop the sliced onion into smaller pieces.

Scoop into a bowl and add remaining ingredients, including the lentils.

Stir until well combined. To make the dip more creamy, mash some of the lentils in the bowl with a fork, leaving some of them whole to add variety. Serve warm.
Split Mung Bean and Pea Dip
1

cup

peas, cooked

1/2

cup

organic split mung beans, rinsed and cooked

1/8

cup

fresh basil, chopped

1/8

cup

green onions, chopped

1

chopped garlic clove

1 1/2

tbsp

lemon juice

1 1/2

tbsp

olive oil

1/2

tbsp

red wine vinegar

1/4

tsp

salt
Cook the split mung beans and peas according to the directions on the packages. Meanwhile, chop your basil, green onions and garlic clove. Allow beans and peas to cool.

Strain liquid and dump the beans and peas into a food processor or high-speed blender. Add all the other ingredients and pulse until well combined.

Add more lemon juice or salt to taste, depending on your preference. Refrigerate until cooled or serve at room temperature.
Hummus may have brought new life to the bean dip craze, but these dips offer a variety of flavors, textures and beans to explore. Like hummus or any dip, you can play with ingredients and make it your own.
These are exceptional dips to share with family and friends as they are all gluten free, dairy free and many are soy free. If you are allergic to soy or have thyroid problems, you can easily substitute soy sauce in these recipes with Bragg's Liquid Aminos. You can make these fat free by removing the oil and tahini and using water or vegetable broth instead.
Use these recipes as dips for chips or vegetables, spread them onto your sandwich, or add a little water and pour over rice as the base for a stew or as a bean sauce. Regardless of how you choose to enjoy them, let us know what you think of these recipes in the comments below!
 —Nicole Manuel
Nicole Manuel, CPC is a certified life coach with a degree in economics and over five years of professional writing experience. Her goal is to help others discover ways to incorporate sustainable solutions that can improve their health and well-being on a budget. 
Sources:
http://www.foodnetwork.com/recipes/giada-de-laurentiis/spinach-and-cannellini-bean-dip-recipe.html
http://allrecipes.com/recipe/heathers-cilantro-black-bean-and-corn-salsa
http://www.thetwokitchens.com/caramelized-onion-lentil-dip
http://www.thugkitchen.com/green_pea_and_garbanzo_bean_dip