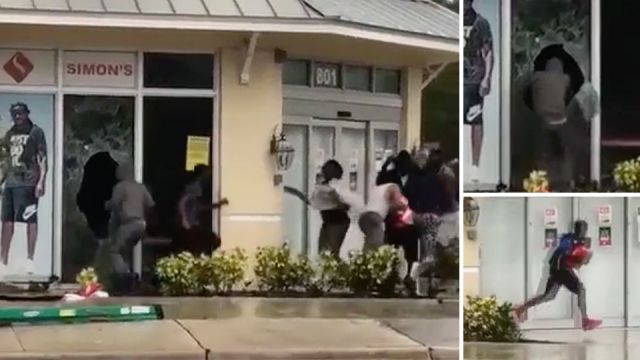 Catastrophic events such as Hurricane Irma bring out the best in people, and unfortunately, the worst in some. Sadly, storms and other natural disasters, present opportunities for looters to have their way… or so they think!
In Fort Lauderdale, a group of overly energetic looters made their way into a store in hopes of getting off with some new footwear. Nine people were arrested after a local television crew from WPLG filmed the crooks entering a broken window in The Simon's Sportswear shop on West Sunrise Boulevard.
According to Fort Lauderdale Police Department, the same crooked gang was seen targeting a nearby CashAmerica pawn shop.
"Going to prison over a pair of sneakers is a fairly bad life decision," Fort Lauderdale police Chief Rick Maglione said in a statement. "Stay home and look after your loved ones and be thankful they are all safe."
The looting out of control in St Maarten
The looting situation is much, much worse on some of the heavily battered Caribbean islands. In St. Maarten, for instance, looters are raiding hotels and shops, wielding knives, guns, and machetes.
Those people stranded in the Dutch territory describe the situation like a 'civil war' as looters take advantage of the vulnerable state of the island and inhabitants. Dutch soldiers were deployed on Friday to help the authorities regain control after the storm.
On Friday, Massimiliano Napoliello, the manager of a bar in Maho Beach, made a desperate plea on social media to help get families, children, and babies off the island.
The local media reported seeing a group of men overpower security and staff at Simpson Bay Resort before they went into rooms and took money and jewelry.
'They even punched and kicked another tourist for trying to stop them from looting. Thank god for marines and police who came and got the situation under control,' a tourist told The Daily Herald.
While the army and police are working hard to enforce the curfew and the law, it is likely that looting will remain a problem until order is established.
Miami men are not taking any chances
These men from Miami send a strong warning to anyone who thinks that they are going to start looting!
Looters beware, don't pick the wrong spot in Miami to bust up in. #IrmaHurricane2017 pic.twitter.com/bQI74OW6d9

— Anthony Palmberg (@palmberg15) September 10, 2017
It's a sad truth
It is a sad truth that the aftermath of major storms such as Irma has to be further complicated by people with evil spirits who desire to take advantage of business owners and individuals left vulnerable by the storm. Everyone should be careful of this reality and report any suspicious behavior to local authorities.
-Susan Patterson