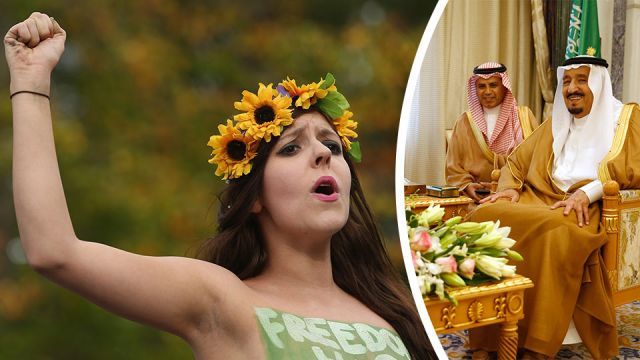 Saudi Arabia, a culture that has for years resisted the idea that women deserve the same opportunities as men, announced on Tuesday that the Kingdom will finally allow females to drive for the very first time.
News of the policy shift comes as something of a surprise. In the past, women who have defied the ban on female drivers have been arrested and detained, which has led to protests by human rights activists, who contend that the misogynistic policies harm both women and Saudi society.
The announcement was made by the government-run press agency, which announced that women will soon be eligible to apply for driver's licenses. Apparently, a committee has been appointed, which will look into how the new edict will be implemented. If all goes according to plan, women could be on the road on Saudi highways as early as June of 2018.
A spokesperson for the U.S. State Department, Heather Nauert, reacted positively to the development by saying it was "a great step in the right direction for that country."
In the past, women have faced prison sentences for attempting to drive. For instance, Maysaa al-Amoudi was imprisoned for two months for defying the ban against female drivers. In the process, she attracted more than 136,000 followers on social media, which called attention to the unequal way women have been treated in the kingdom.
The reform is being credited to Crown Prince Mohammed bin Salman, 32, who is trying to modernize and overhaul the kingdom's economy and society. His plan, apparently, envisions a much greater role for women in Saudi society. This is a developing story.  Stay tuned for further developments.
As you might expect, the reaction on social media has been euphoric:
Today, the last country on earth to allow women to drive #Women2Drive#Daring2Drive we did it 💪🏼❤️☺️ https://t.co/8x4LP2Gly8

— منال مسعود الشريف (@manal_alsharif) September 26, 2017
Congrats!!!! Happy for Saudi women's victory 🎉🎊

— ॐ Mofeeda Al Aradi (@MeeMeeAlAradi) September 26, 2017
#Women2Drive done#IamMyOwnGuardian in progress

— منال مسعود الشريف (@manal_alsharif) September 26, 2017
— Scott O'Reilly