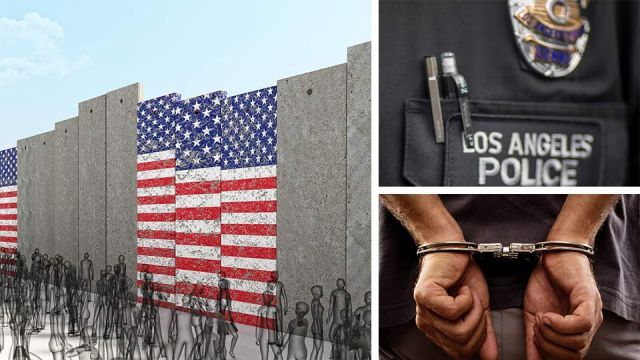 This week, federal contractors began building prototypes for President Donald Trump's proposed border wall with Mexico. Though President Trump had declared that Mexico would pay for the wall, the six contractors building eight different prototypes in San Diego are from the U.S.
Half of the prototypes are made of concrete, and the walls range in height between 18 and 30 feet. After they have been built — a process expected to take 30 days — they will face testing by the Department of Homeland Security, and a winner will be chosen.
Mexico will pay for the wall!

— Donald J. Trump (@realDonaldTrump) September 1, 2016
Construction on 8 wall prototypes began today in San Diego. The prototypes are designed to deter illegal border crossings. (1/2) pic.twitter.com/WB1rIojgLj

— CBP (@CustomsBorder) September 26, 2017
Meanwhile, on Wednesday, House Republicans revealed a plan to provide $10 billion for the border wall, though Politico argues the proposal is unlikely to clear the Senate. Homeland Security Committee Chairman Mike McCaul said his panel would be voting on the proposal next week. It would add 10,000 more border patrol agents to the border and target people who have overstayed visas.
Protests against the building of the prototypes — which brings Trump's wall one step closer to reality — are likely. However, officials in the area have designated a "free speech area" for potential protests some 1.5 miles away from the actual construction sites.
One local activist, Hiram Soto, a spokesperson with Alliance San Diego, dismissed the wall building, calling it "political theater … there's no funding for it in Congress." The wall prototypes are costing up to $500,000 each — funded by money reallocated from other programs while estimates of the cost of building the full wall range up to $38 billion.
The border between Mexico and the US is nearly 2,000 miles long, and 580 miles of those already have border walls. The exact nature of the walls, or lack thereof (often where there are natural barriers like mountains or rivers) varies with the landscape. Some walls are made of cement, others steel mesh or corrugated metal.
Immigrants arrested in 'sanctuary' cities
Although it's unclear if Trump's plans for the wall will ever be a reality, immigration officials have cracked down on sanctuary cities, where local laws defy federal immigration laws. Yesterday, the Immigration and Customs Enforcement (ICE) said it arrested 167 people in and around Los Angeles, and a total of close to 500 people across the country, including in San Francisco and San Jose.
Officials in these cities have policies restricting what police can and can't do for ICE agents. "Sanctuary jurisdictions that do not honor detainers (sic) or allow us access to jails and prisons are shielding criminal aliens from immigration enforcement and creating a magnet for illegal immigration," ICE Acting Director Tom Homan claimed.
But Talia Inlender, an attorney at Public Counsel, which advocates for immigrants, argued, "It's clearly a political move that is not actually geared toward public safety."
ICE arrest 450 in nationwide raids on Sanctuary Cities in retaliation for immigrant friendly policies. #StopTheRaids https://t.co/Heq9U2qT8J pic.twitter.com/fWnPwqopVg

— BAJI (@BAJItweet) September 28, 2017
ICE raids in the small town next to mine today. 😢 Businesses closed, arrangements for kids to be gotten from school.

— 🇺🇸ResistaSista🗽 (@debiowens) September 20, 2017
Three Nicholasville restaurants are closed tonight after ICE raids earlier today. Story tonight on @WKYT pic.twitter.com/JughiMb6cO

— Angela Reighard (@AngelaWKYT) September 19, 2017
— Tamara Pearson