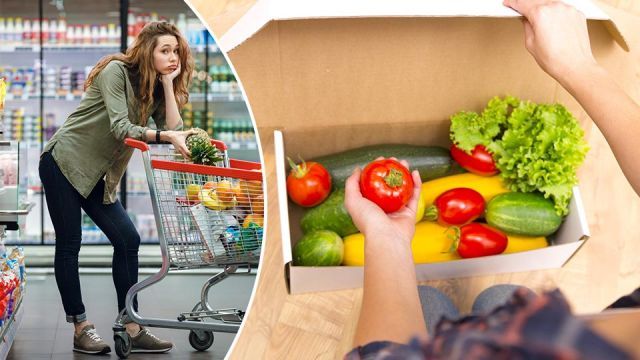 For years now, many grocery stores, especially in large cities, have offered a delivery service. You go to the store, fill your cart with the items on your list, and pay a fee to get your groceries delivered to your home. I used such a service years ago when I lived in the downtown area of Ottawa and did not have a car. I would walk to the grocery store, get a week's worth of groceries, choose the delivery option and walk home in time for the groceries to arrive. It was super convenient.
While grocery delivery itself is nothing new, there are a few services nowadays taking things to the next level. I'm talking about fully online grocery ordering and delivery. Services including Amazon Pantry, AmazonFresh and Google Express allow you to shop for groceries at home and have them delivered straight to your door. Sounds pretty great — no slogging to the grocery store after a long day, after all — but these services have their ups and downs.
Here are a few pros and cons to help you decide whether grocery delivery is right for you:
Pro #1: Convenience
This is the most obvious benefit of grocery delivery, and the reason you're probably considering using it. It's no secret that online grocery shopping and subsequent delivery are pretty much the pinnacle of grocery convenience. If you've been going through an especially busy or hectic time in your life, and grocery shopping has just been adding additional stress that your family can't handle right now, grocery delivery may just be what the stress doctor ordered.
Pro #2: Time savings
Along with convenience, grocery delivery can save you a lot of time. Especially if you live in a busy area, grocery shopping may take a significant chunk out of your day. There's the commute to the grocery store, the time it takes to find everything on your list, the time you'll spend waiting in line and the commute back with everything in tow. Add another sizeable chunk of time if you're grocery shopping with small children — it can get pretty dramatic.
Using an online grocery delivery service can cut all of this out of your food acquisition equation. Plus, AmazonFresh and Google Express both give you the option of having your groceries delivered same day.
Pro #3: Great for people with limited mobility
Online grocery delivery can be a real game-changer for people with disabilities, people recovering from illness or anyone that is stuck at home for any number of reasons. If you have limited mobility or can't get out of the house right now, and you have been relying on someone else to help with groceries, using an online delivery service may give you back your shopping independence.
Con #1: May cost you more
As you might expect, there are costs associated with using online grocery delivery services. AmazonFresh, for example, requires a Prime membership ($99 per year), and then a fee of about $14.99 per month. Google Express is slightly less costly, but it's pretty close. Additionally, reviews have found that with most online grocery delivery services, prices of many food items (especially fresh produce) end up being higher than if you'd just taken a trip to the store. And, of course, there are delivery fees depending on the amount of your purchase, and how many boxes are coming to your door.
Con #2: No generic brands to choose from
This one is specific to Amazon Pantry, which delivers only non-perishable items, but other grocery delivery services may have this drawback as well. When you shop for items on Amazon Pantry, you are only able to choose from name brands. This means you can't save a few bucks by choosing generic brands. So, if you're on a budget, ordering these items is not the most cost-effective way to go. Be sure to check whether the delivery option you are using offers generic brands, or another cost-saving option.
Con #3: Not available in all areas
Both AmazonFresh and Google Express are only available in limited cities. If you're in one of these cities, then you're good to go. However, if you're not, you're pretty much out of luck until the service expands. Besides these big two services, there are other up-and-coming grocery delivery services, such as Shipt and Instacart, but these are only available in select cities, as well. So, you'll just have to check what's around in the area where you live, and go from there.
Con #4: You may have to wait a while if you just order Pantry
Ordering through Amazon Pantry is a convenient way to get your pantry stocked up (if you're okay with only buying name brands), but your food won't be there same day. Unlike AmazonFresh and Google Express, Amazon Pantry only offers four-day flat rate shipping. If you're okay with waiting, that's fine, but it won't work if you're looking to order pantry items that you want to cook with right away.
Con #5: A more distant relationship with your food
There is something about being able to hold, smell and touch fresh fruits, vegetables and legumes before you buy them that really adds to your culinary experience as a whole. When planning a delicious meal, it really helps to be able to choose your ingredients yourself, to make sure they are as fresh, aromatic and attractive as you need them to be.
When you use grocery delivery, you can't see your food as it is being picked out. According to some reviews, the produce you'll get is likely to be fresh, but if you had been at the store yourself, maybe you would have chosen the bigger bunch of kale, or the especially inviting looking peaches. Letting someone else choose for you takes something away from the whole meal plan-to-execution process.
What do you think about these new grocery delivery services? If you've used them, what have your experiences been like?
— Tanya Mead