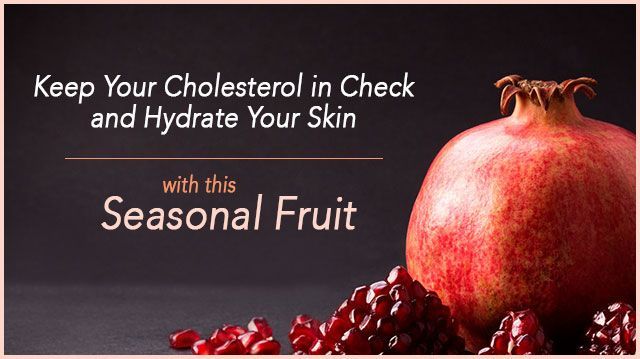 Get ready to make pomegranate part of your regular routine! This gorgeous bejeweled fruit is a powerhouse of nutrients that are important for natural health and beauty.
Here is a list of creative ways to make use of the juice, flesh, seeds and even the skin, so you can take full advantage of the benefits of pomegranate.
How to use pomegranate juice for natural wellness
Consume fresh homemade pomegranate juice regularly for a boost of vitamin C. This will help maintain your immune system and keep away illness during cold and flu season. Vitamin C also supports the production of collagen and elastin, which keep skin looking youthful.
Pomegranate juice has been studied for cancer-fighting properties. In particular, it has been found that certain compounds in pomegranate juice destroy prostate cancer cells.
Another reason to consume pomegranate juice is to maintain healthy cholesterol levels. This brightly colored fruit is full of antioxidants, tannins, anthocyanins and polyphenols, which help boost "good" cholesterol (HDL) while fighting inflammation and controlling blood pressure.
Benefits of pomegranate seeds and fruit
Did you know that pomegranate contains more antioxidants than green tea, blueberries and oranges? These compounds protect cells and tissues from damage and prevent unhealthy changes in DNA. Consuming pomegranate is a natural way to prevent signs of aging.
In fact, eating pomegranate regularly can help protect against many diseases and conditions, such as Alzheimer's, anemia, arthritis, infertility and diabetes. The powerful therapeutic potential of the fruit is due to its detoxifying, anti-inflammatory, and antioxidant properties. Pomegranate consumption also results in lower cortisol levels, which means the fruit even fights stress, anxiety and depression!
Further, pomegranate seed oil is an excellent natural sun protector. It is rich in antioxidants, including a particular compound called ellagic acid, which is known to prevent skin damage from UV rays. The oil also promotes the regeneration of skin cells.
Pomegranate seed oil also makes a great natural treatment for dry, frizzy or coarse hair. Apply a small amount to your hair for an hour before washing, and your hair will become shinier and more manageable.
Health and beauty benefits of pomegranate peel
Bet you never knew you could use the skin of a pomegranate for health and beauty! This unexpected ingredient has many incredible uses. See the recipe below to make your own powder at home.
Heal acne and skin conditions by applying a mask made with pomegranate powder, lemon juice and rose water.

Prevent wrinkles and other signs of aging with a paste made from pomegranate powder and a little milk. Use twice a week.

The ellagic acid found in pomegranate peel hydrates and protects the skin. Mix the powder with good-quality yogurt and leave on the face and neck for ten minutes before rinsing.

Create an excellent antioxidant exfoliating scrub with pomegranate powder, brown sugar, honey and avocado oil.

Scrub the scalp with a mixture of pomegranate powder and hair oil to fight hair loss and dandruff. Leave on for at least two hours, or overnight, before washing clean.

Mix powdered pomegranate peel with water and use as a gargle or a mouthwash to soothe a sore throat, protect against chronic inflammation, and improve dental and gum health. You can also drink the powder to ward off heart disease, prevent loss of bone density, and improve intestinal health.
How to make sun-dried pomegranate powder
Making your own pomegranate powder at home is easy! Ensure that the fruit is organic, or at least washed very thoroughly with a natural produce washing agent.
Start with four pomegranates, and cut them into quarters. Remove all of the fruit and seeds, then cut the peel pieces in half again to create eighths.
Now you have two options. If you wish to use the powder for topical applications, keep the yellow flesh inside the red skin intact. If you want to consume the powder, peel the yellow part away and discard, as it can add a bitter flavor.
Now spread out the peel and leave in direct sunlight for a few days until it becomes hard and dry. Then grind it in a blender for a minute or two until you have a powder. Store the powder in a clean, dry, airtight jar.
Be sure to add pomegranate products to your weekly shopping list. Check out more powerful superfruits here!
—Liivi Hess
Liivi is an Integrative Nutrition Health Coach and is training to become a doula. She inspires women to find peace and personal power by taking control of health and fertility naturally. Liivi's passion is ancestral nutrition and primal lifestyle design. She and her partner Will live between Toronto, Canada and Queenstown, New Zealand.
Sources:
http://lpi.oregonstate.edu/infocenter/skin/vitaminC
http://www.ncbi.nlm.nih.gov/pubmed/16221534
http://www.ncbi.nlm.nih.gov/pubmed/21376769
http://www.ncbi.nlm.nih.gov/pmc/articles/PMC2835915
http://www.ncbi.nlm.nih.gov/pmc/articles/PMC3004287
http://onlinelibrary.wiley.com/doi/10.1111/j.1600-0625.2009.01044.x/pdf