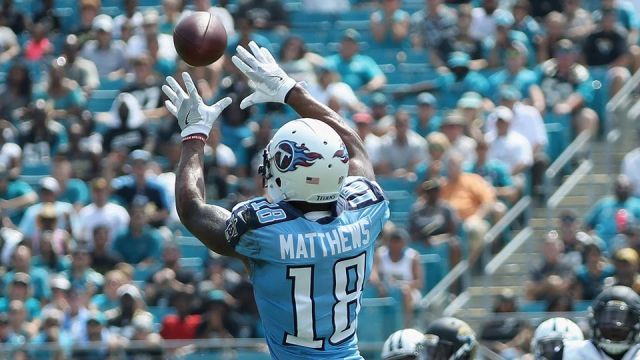 It was announced by Commissioner Roger Goodell that new protocols for the national anthem would be talked about by all 32 NFL owners during a meeting this week.
The move to talk about a change on the issue stems from lower NFL ratings and constant pressure from President Trump to force all players to stand.
However, many players are continuing to protest during the anthem, either by kneeling or sitting on the bench.
For example, last week, nine Seattle Seahawk players chose to sit on the bench during the anthem:
Nine Seahawks sit on bench during national anthem https://t.co/jk08M8nbzs pic.twitter.com/TXLqa6LrGs

— #Q13FOX (@Q13FOX) October 2, 2017
Some players, like Tennessee Titans Wide Receiver Richard Matthews, have chosen to stay in the locker room while the anthem is played.
This week, when asked if he would stay in the locker room and face a fine or other penalty with the possible new rule change, he responded by saying he would 'be done playing football'.
Tennessee Titans Richard R. Matthews says he will resign if he is forced to stand on the… https://t.co/wblbTGyTqE pic.twitter.com/s553zB4vpp

— Breaking112 (@breaking112) October 13, 2017
Interestingly, Richard Matthews played college football with famous anthem protester Colin Kaepernick at the University of Nevada.
Matthews comes from a family with an extensive military background. His father was a marine for 23 years, and his brother died in Afghanistan two years ago.
Matthews posted this on his Instagram last November to further salute his brother.
He has been very vocal about bring attention to racial injustice. He didn't protest the national anthem during games until after President Trump's comments towards players who had previously chosen to. He refrained out of respect for his brother who might not have agreed with him.
That being said, Matthews now believes that with the escalated situation, his brother would definitely understand.
After Goodell's memo to NFL owners was released, the NFL the NFLPA released a statement saying that his message was interpreted in the wrong way and that no changes have yet to be made.
NFL and NFLPA announce no changes to national anthem policy, players can remain kneeling https://t.co/bFDCcF0psf pic.twitter.com/EEzdxJ4AYx

— Bleacher Report NFL (@BR_NFL) October 11, 2017
Some NFL players, NFL owners, and NFL executives will further decide how to handle the situation, especially in discussions next week.
To further exemplify his stance, Matthews tweeted this last week:
It's very unfortunate that fans choose not to watch because players are exercising their rights! Just shows you we still have a long way to https://t.co/hVPKVOqwyR

— Rishard Matthews (@_RMatthews) October 5, 2017
Okay Shoot! What's your reasoning for being against peaceful protesting? https://t.co/YEoAIW2Chr

— Rishard Matthews (@_RMatthews) October 5, 2017
Last month, Matthews pledged to donate $75,000 to organizations that support oppressed communities. He says that he was slightly influenced by his former teammate Kaepernick to address the seriousness of the issue, especially in this manner.
"Moving forward, I don't want this to be a publicity stunt," Matthews said. "I don't want to take away from what the whole protest is about, which is oppression, police brutality and inequality in this country. I fully stand with my brother Kap, and I plan to continue to do that."
So far, all 32 NFL teams have had some form of protest to the anthem, from sitting on the bench to kneeling, to linking arms.
"I'm not going to just stick to sports," said Matthews.
What are your thoughts on Matthews saying he would quit if forced to stand? Do you agree with him? Let us know!