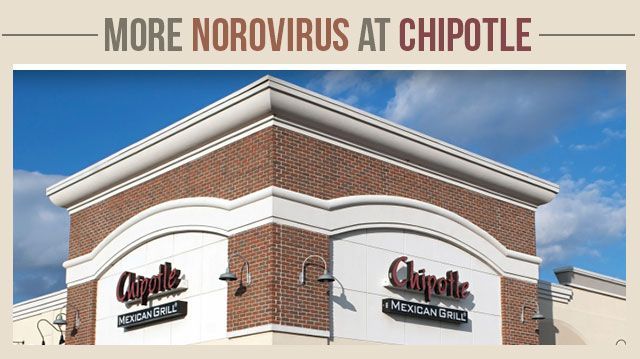 Just when Chipotle thought it was out of the foodborne illness woods — more norovirus. This time, trouble hit Chipotle in Billerica, Massachusetts, where three employees called in sick on Tuesday, March 8. One of these employees was found to have a confirmed case of norovirus.
A fourth employee is suspected to have also been afflicted with the virus. So far, no Chipotle customers have reported contracting the illness.
According to the Centers for Disease Control and Prevention (CDC), norovirus "causes inflammation of the stomach or intestines or both," and is also known as acute gastroenteritis. Affected individuals commonly develop some pretty nasty digestive symptoms, including vomiting, diarrhea and stomach pain. Some people also develop fever, body aches, and headaches.
The CDC adds that norovirus symptoms generally appear between 12 and 48 hours after exposure to the virus. The illness usually lasts between one and three days.
Reports of this latest Chipotle incident claim that no employees handled food while sick. It is unknown whether any employees were contagious prior to Tuesday, when the norovirus was reported.
According to the Billerica Board of Health's Sandra Giroux:
"The employees did not come into the restaurant. They called in sick. Chipotle has voluntarily shut down and are throwing away all of the food items in the store and are sanitizing everything according to their new protocol."
This "new protocol" was put in place after a series of instances of both norovirus and E. coli erupted at various Chipotle locations, starting in 2015. Several months ago, approximately 140 people became ill with norovirus after eating at a Boston Chipotle location. Most of those affected were Boston College students.
Another huge problem surrounding Chipotle has been the mysterious outbreak of E. coli, which has sickened people across 14 states since 2015. The exact source of this E. coli outbreak remains unknown, though Chipotle locations have reopened and have assured customers that the danger is over.
The outbreak was officially said to be over on February 1, 2016, according to the FDA. Still, many former Chipotle-goers remain concerned, and rightly so. Infection with E. coli, a bacteria found in human and animal feces, can be very serious. In some cases, it can lead to bloody diarrhea. In other cases, it can lead to a urinary tract infection. In serious cases, it may lead to death through anemia or kidney failure, according to WebMD.
Now, only about a month after Chipotle was declared "safe," norovirus rears its ugly head again.
On Wednesday, March 9, the Billerica Board of Health performed a follow-up inspection of the franchise in question, and was reportedly "satisfied with the sanitation." Will Chipotle see more outbreaks of foodborne illness, or is the danger over? Only time will tell. It seems they are doing the best they can, but there are no guarantees. 
With any restaurant — Chipotle is not alone in this — it's impossible to know if our food is truly safe. We don't see it prepared, we don't know who handles it, and mistakes happen. When we choose the convenience of grabbing a quick meal on the go, we are also putting ourselves at risk for foodborne illness, or other types of contamination. This convenience comes at a price — sometimes a highly unpleasant one.
In order to truly know our food is safe, and healthy, the solution is to cook it at home. If you feel like you don't have time, prepare your meals in bulk once a week and freeze them! It's easy to defrost a portion when you're ready to eat.
If you're craving some delicious Mexican fare, give this gluten-free chicken enchiladas recipe a try!
—Tanya Rakhmilevich
Tanya is a writer at The Alternative Daily with a passion for meditation, music, poetry, and overall creative and active living. She has a special interest in exploring traditional Eastern remedies and superfoods from around the globe, and enjoys spending time immersed in nature.
Sources:
http://firstwefeast.com/eat/chipotle-norovirus-massachusetts
http://www.wcvb.com/news/chipotle-employees-ill-with-norovirus-billerica-restaurant-shut-down/38407562
http://www.cdc.gov/norovirus/about/symptoms.html
http://www.webmd.com/a-to-z-guides/e-coli-infection-topic-overview