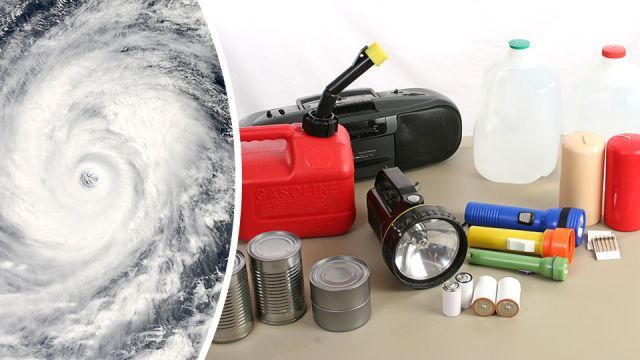 While Houstonians are still in the thick of shock and awe from Harvey, another hurricane is rearing its ugly head. She is churning in the Atlantic and has quickly developed into a robust monster capable of calamitous destruction of anything in her path. At present, Irma has strengthened into an angry category 5 hurricane and shows no signs of slowing down. This fierce storm is now officially the strongest hurricane in the Atlantic since 2007!
If you are anywhere near any of the forecasted potential paths for this angry beast, you should be preparing now!
#HurricaneIrma is now a Category 5 with winds reaching an incredible 175 mph, this will be a catastrophic event for the Leeward Islands pic.twitter.com/32kIf5R9KV

— ⛈Tropical Forecats🌀 (@tropicalforcast) September 5, 2017
Where is she now and where is she going
At 8 a.m. the storm was 270 miles east of Antigua. Her winds are maximum 175 m.p.h. sustained and she is pushing west at 14 m.p.h. Hurricane warnings have been issued for Antigua, Barbuda, Anguilla, Montserrat, St. Kitts and Nevis, St Martin, Saba, St. Eustatius, St. Maarten and St Barts. Landfall on the island of Anguilla is expected early Wednesday. Furthermore, a hurricane watch is also in effect for Puerto Rico, Vieques, Culebra, and the British and U.S. Virgin Islands and Guadeloupe. A tropical storm watch was also issued for Dominica.
The National Hurricane Center forecast cone shows a possible threat to South Florida as well as the Florida Keys and Cuba. The Keys are especially susceptible to flooding If Irma even skirts close. Evacuations could begin within the next couple of days. As of now, the approach for south Florida is just four days out.
To keep up to date on where the storm is, follow the National Hurricane Center on Twitter here.
#Irma is the strongest #hurricane in the Atlantic basin outside of the Caribbean Sea & Gulf of Mexico in NHC records https://t.co/tW4KeGdBFb pic.twitter.com/P8ebbQJR4k

— NHC Atlantic Ops (@NHC_Atlantic) September 5, 2017
Florida governor says it's never too soon to be prepared
Although it is too soon to tell what, if any, impact Irma will have on residents along the southeastern coast, it is far better to be prepared than not! Florida Gov. Rick Scott has declared a state of emergency in all counties. Scott has urged all Floridians to remain watchful of this storm and encourages residents to visit FLGetAPlan.com to prepare.
"In Florida, we always prepare for the worst and hope for the best, and while the exact path of Irma is not absolutely known at this time, we cannot afford to not be prepared," Scott said in a statement released late Monday afternoon. "This state of emergency allows our emergency management officials to act swiftly in the best interest of Floridians without the burden of bureaucracy or red tape."
Massive destruction is possible
Irma has the potential to become a major weather event for residents along the southeastern coast. It could also strain already taxed governmental resources occurring so quickly on the heels of Harvey. According to emergency officials, Irma could pour up to 10 inches of rain, unleash deadly landslides and floods along with waves up to 23 feet as she draws closer to the U.S. This is definitely one monster you want to be ready for.
Get your hurricane disaster kit together
Anyone living in an area prone to hurricanes should have a well-rounded knowledge of what to do before, during and after such an event. This is essential and can be life-saving. According to the National Hurricane Center, here are some things that those in the path of a hurricane should have on hand:
Water:

Have at least three days worth of water. This includes one gallon per person — and don't forget about your pets!

Food:

Gather a three-day supply of non-perishable food for everyone in your home. Some examples include canned food that does not need to be cooked, seeds, nuts, dried fruit, jerky, power bars. Don't forget a manual can opener.

Radio:

A battery powered, crank or solar radio is best. Be sure you also have access to the NOAA Radio weather station and extra batteries.

Cell phone:

You should have extra phone batteries and a solar charger for your phone.

Flashlight:

Keep a couple of powerful flashlights and extra batteries on hand.

First aid kit:

Everyone should have a basic first aid kit in their hurricane preparedness box.

Medications

: If you or anyone in your home takes a regular medication, be sure that you have at least a week of extra medication.

Pet supplies:

Pets will need food, water and medications for at least a week. In addition, be sure that you have pet carriers, leashes and food bowls available in case you have to evacuate.

Gas:

Fill up all of your vehicles prior to the storm and have extra gas just in case.

Documents:

Have copies of personal documents including your insurance information, birth certificates and social security cards.

Footwear:

Pack a pair of rainboots and sneakers for each member of your family.

Generator:

A generator is useful if you plan to ride the storm out or even for cleaning up afterward. Be sure you have plenty of gas as well.

Cash: Because banking systems could go down during a storm, it is a good idea to have cash or money orders on hand.
Extra clothes, pillows and blankets:

Have at least three changes of clothing for each person in your family along with blankets and pillows.

Plastic sheeting and tarps:

Strong winds can make quick damage of a roof. Have tarps and plastic sheeting on hand to keep rain out of your home.

Whistles and flares:

If you have to signal for help, whistles and flares will help draw attention to you.

Toolbox:

Keep a toolbox with all of the essentials on hand and easily accessible.

Personal hygiene products:

Staying clean and sanitized during a storm can be a hard thing to do if water supplies are low. Poor hygiene can spread disease so pack what you need to stay clean and fresh.
What you should be doing right now
For those in the path of Irma, there is no time like the present to be getting things in order. In addition to your hurricane preparedness kit, it is a good time to be doing the following:
Protect your home and property:

Cut dangling and dead limbs from trees on your property. Clean out your gutters and be sure that all roof shingles are secure.

Review your home insurance:

Review your insurance policy and be sure you have your contact numbers handy.

Secure your boat: If you own a boat make arrangements to protect it during the storm.
Gather items that will fly:

Pick up all outdoor items around your home that may become dangerous flying objects during a storm. This would include things such as patio furniture, swing sets, trampolines, barbeques, picnic tables and bikes. A good rule of thumb is to secure anything that is not anchored firmly to the ground.

Board windows:

If you don't have hurricane-proof windows, it is a good idea to board up. You may have heard that duct tape will protect your windows. However, The National Hurricane Center says that taped windows can create larger pieces of glass flying through your home. It is always best to buy or make your own shutters.

Know your evacuation route:

Be sure that you are well aware of your evacuation route before the time comes to leave. This knowledge needs to be shared with all family members living in your home. Keep in mind that you should have more than one evacuation route and destination in mind in case roads become blocked or impassable.

Know where your local shelters are:

As the storm approaches, local shelters will open in your area. Be sure to know which one will work best for you and identify your plan to get there.

Stay plugged into local weather and news:

Keep tabs on the local news and weather reports, and be sure that you are tuned in to any storm updates. This is essential for your safety.
Never underestimate the power of a hurricane. Even if you don't suspect a direct hit, the residual impact can be devastating. Harvey has proven this well. Weather patterns are unpredictable and things can go from good to bad in the blink of an eye. However, being prepared will take a lot of the stress off and give you some peace of mind in the midst of the chaos!
Don't forget to check in on the elderly, housebound neighbors and animals as this storm approaches. Be safe and be ready!
— Rich Everfail