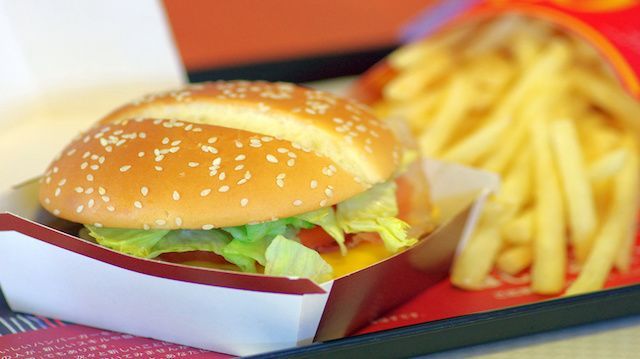 "Healthy" and "McDonald's" aren't words that we usually see in the same sentence, but it looks like we may be able to get used to it soon. That's because, according to a recent press release, diners will be able to order organic hamburgers at Mickey D's in the near future. Crazy, right? Does this mean we'll get organic Big Macs soon?
Back in October 2014, Bloomberg Business reported that McDonald's Corporation would begin infusing its mostly unhealthy menu with select organic foods in an effort to boost sales. "You'll see us in some categories looking to different products, possibly organics," Chief Executive Officer Don Thompson told Bloomberg via conference call. "We actually are doing it in certain markets." Well, that's a whole lot of non-committal language, but it looks like we're really starting to see this come to fruition in a big way.
This time last year, McDonald's served organic semi-skimmed milk in its coffees, Happy Meals and porridge in the U.K. In Germany, diners were able to get their hands on organic milk as well as organic fruit juice. French McDonald's restaurants also offered organic fruit juice. But in the U.S., we haven't seen much in the way of organic options.
Special promotion items, like chorizo burritos and jalapeno burgers, were tested in certain markets, but overall, Americans have come to expect diverse and healthier options at fast-casual and fast-food chains. The promotions did little to boost sales, and by this time last year, McDonald's was reporting its fourth straight quarter of U.S. sales.
The first organic McDonald's burger
In a press release dated September 24, 2015, McDonald's in Germany announced its first 100 percent organic beef hamburger. They're calling it the "McB," and it's available for a very limited time. This is great news for Germany, where the second largest market for organic food is located — after the U.S. — but what does that mean for the American market? Not much, at least for now.
We're not sure what McDonald's is thinking when it comes to the American market, actually. McDonald's is like apple pie and baseball — it's iconic, and there aren't many of us who didn't enjoy our fair share of Happy Meals and Big Macs back in the day. Sure, we've got USDA beef patties with "no fillers, no extenders" here in the U.S., but where's the organic milk for our kids' Happy Meals? Where's our organic beef patties? Surely Americans would love an organic beef Quarter Pounder with organic cheese on a gluten-free bun.
We want convenience first
The sad truth is: Some fast-food companies have tried to expand their menus to include healthier items, but they just don't sell. Lighter meals only make up single-digit percentages of most fast-food chains. Is it because we automatically perceive places like McDonald's and Taco Bell to be unhealthy indulgences sought out specifically for a cheat day? Probably.
However, in recent months it appears that what we want most is food delivered to our door. According to The Washington Post, "More than 60 percent of households are now supported by two working parents," so hot food delivered right to your front door might be irresistible if you're one of the time-crunched. With other companies like Blue Apron ready to deliver fresh ingredients for you to create your own culinary delights, it's no wonder McDonald's is having a hard time in the U.S. As much as we'd love to be able to order organic burgers here, other countries that don't have such an entrenched perception on unhealthy fast food might be better for the company.
Whether we're talking burgers, chicken sandwiches or tacos, the best option is typically the home-cooked route. At home, we can control the ingredients and, therefore, control what goes into our body.
Do you have an organic, gluten-free burger recipe to share?
-Megan Winkler
Megan Winkler is an author, historian, Neurosculpting® meditation coach, certified nutritional consultant and DIY diva. When she's not writing or teaching a class, Megan can be found in the water, on a yoga mat, learning a new instrument or singing karaoke. Her passion for a healthy mind-body-spirit relationship motivates her to explore all the natural world has to offer.
Sources:
http://www.bloomberg.com/news/articles/2014-10-21/mcdonald-s-may-sell-more-organic-foods
http://www.capitalpress.com/Dairy/20150918/mcdonalds-butter-use-latest-checkoff-triumph
http://www2.mcdonalds.com/food/happy-meal/organic-milk.mcdj
http://www.mcdonalds.de/web/presse/uber-uns/article;jsessionid=217c5943e2686faa744799311a6a3754?p_p_id=101_INSTANCE_Wxm7ktf7XswS&p_p_lifecycle=0&p_p_state=normal&p_p_mode=view&p_p_col_id=column-5&p_p_col_pos=1&p_p_col_count=3&assetId=3685300
http://www.eatclean.com/scoops/organic-burgers-mcdonalds
https://www.washingtonpost.com/news/wonk/wp/2015/07/10/why-americans-will-pay-5-for-a-1-taco